With glowing endorsements from thousands of students who have gone on to work for some of the biggest accounting firms, Becker Professional Education is the best test prep company for students who want to pass the CMA exam. Their CMA review courses combine expert instructors with cutting-edge technology to provide several hours of video lectures and thousands of practice questions— which are essential components to a robust CMA exam prep program.
Consider using a Becker CMA Promo Code if you want to save some money on your CMA review course. This is a worthwhile investment in your education, but it doesn't have to be an expensive one— see our exclusive Becker CMA Review Discounts below to find ways to save big:
Becker CMA Promo Codes
Becker CMA FAQs
Not sure if this is the right course for you? Consider these answers to commonly asked questions:
How do I study for CMA with Becker?
The answer depends on whether you enroll in their Advantage or Pro review course. Advantage students will be able to study with an online platform that uses adaptive learning to recommend specific video lectures, practice quizzes, and sections of an included study eBook. Students enrolled in Becker CMA Pro can study with the above features, but they also have a physical textbook and five private tutoring sessions for additional instruction.
Is Becker good for CMA exam review?
Yes! Currently, Becker CMA Review is our top recommendation for students who want some help studying for the CMA exam. You can see our detailed comparison here to learn more about how Becker Professional Education compares to the other courses available for students online.
How much is Becker CMA Review?
The base prices for Becker's CMA courses are $1,499 for Advantage and $2,099 for Pro. However, you can cut down these costs by taking advantage of our exclusive discount codes— just click on the coupon code above that you wish to use and it can be instantly applied to your order!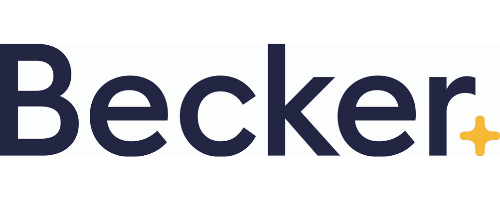 Website: Link
Physical Location: Chicago, IL
Year Founded: 1998
Exams Covered: CPA, CMA
Continuing Education: Yes
BBB Grade: A+
Trustpilot Rating: 4.6
Social Media: Facebook, Instagram, Twitter, Youtube
Contact Page: Link