Becker CPA is our top pick for the Best CPA Review Course of 2024 – Shop Now
Deciding which CPA prep course to use to help you pass the Uniform Certified Public Accountant (CPA) exam is the most important decision you will make at this stage of your career. It's critical that you know the differences between each CPA review course before choosing one to study over the next 6-18 months.
All the CPA exam prep companies claim to have the best product, but picking the wrong prep course could cost you hundreds of valuable study hours and thousands of dollars. Bottom line: You need to find the right CPA exam study materials that best fit YOUR learning style and needs.
You're probably wondering:
What are the Top Rated CPA Exam Prep Courses? Or, more importantly, which study materials will help you pass the CPA exam in the shortest time possible?
The best CPA review course is the one that will help you pass all four sections of the CPA exam, as outlined by the AICPA, as fast as possible. We all learn differently. Some people learn best in a classroom setting, while others learn better by going through the material on their own. To find out the best CPA review course for you and your way of learning, check out my comparisons below.
The CPA Exam Guy website was created to help you find a CPA review course that not only covers all the important information but also the one that best fits your personal learning style. I also hook you up with HUGE discounts, so make sure you check out my promo codes below.
Let's get started!
---
The 5 Best CPA Prep Courses 2024:
Lambers CPA Review Course
Keep reading for the details of the best CPA Prep Courses for you to pass the CPA exam.
---


---
The Best CPA Prep Courses & Study Materials of 2024
| | | | |
| --- | --- | --- | --- |
| CPA REVIEW COURSES | | | |
| RANKING | | | |
| BEST FEATURE | Trusted by CPAs for 60+ years | Best Adaptive Learning Technology | Largest MCQ/TBS Test Bank |
| PRICE | $3,799 | $1,999 | $3,499 |
| DISCOUNTS | Save $1,330 | Save $740 | Save $1,400 |
| MCQs | 8,300+ | 7,700 | 10,000+ |
| SIMULATIONS | 500+ w/400 Coaching Videos | 417+ | 1,300+ |
| VIDEO LECTURES | 800+ Video Lessons | 100 | 100 |
| FINANCING OPTIONS | | | |
| SUPPORT | Unlimited content & Tech Support, LIve 1-on-1 tutoring, Unlimited exam advising | Unlimited content and technical support with responses guaranteed within 1 business day | Personal Counselor and Accounting Experts Support via Phone & Email |
| FULL REVIEW | | | |
| LEARN MORE | | | |
---
1. Becker CPA Review Course: Best for Big4 Backed Credibility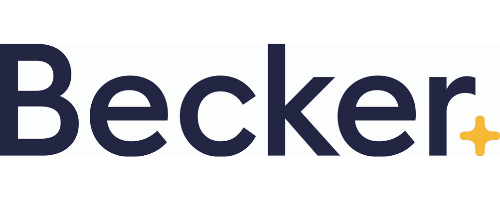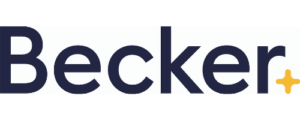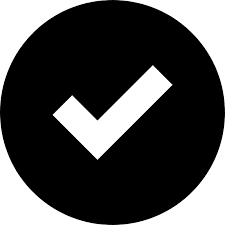 ---
The GOOD
Unique Concierge program that gives world-class instruction and support
Great Award-Winning Adapt2U AI Technology by Sana Labs
Exam prep that closely mimics the CPA exam
Thousands of practice questions and TBS that include SkillMaster videos
Study Bank ensures you never answer the same question twice
Accounting For Empires CPA video game
Flexible format learning, from self-study, live online, and live in-person classrooms, you have all the options.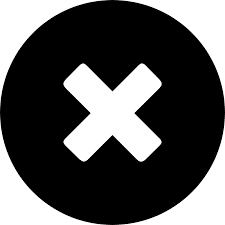 ---
The BAD
Lack of decent audio content
Higher than average price
Becker CPA Review
7,400+ multiple choice questions
500+ task-based simulations
Comprehensive textbooks and eBooks
Interactive Study Planner

Becker CPA Review is one of the most known companies for CPA exam candidates since it is sponsored by most accounting firms (including the Big 4) and universities. This was an issue for many students since they were slow to adapt when other courses changed their platforms and study materials. Fortunately, Becker has undergone several necessary changes over the last few years and is now the best CPA prep course currently available to students.

Becker is a trusted name in the industry and offers tons of benefits to justify students' enrollment in their premium course tiers. Additionally, they've recently added flexibility for students on a tight budget— now, you can enroll in a payment plan over three months, six months, or a full year.
What to Expect With Becker CPA Exam Prep Course?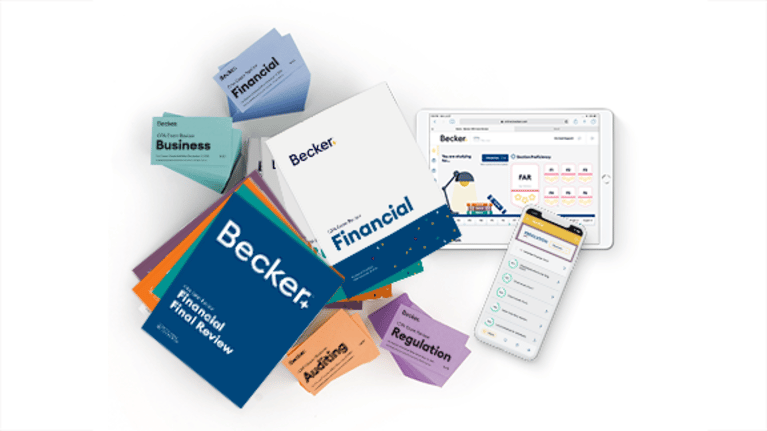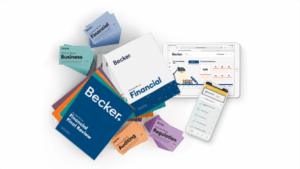 The Becker CPA Review course has one of the largest databases of exam questions— over 8,300 multiple-choice questions (including bonus bank) and 500 task-based simulations. That's a lot to work with, but they also provide a Study Bank that ensures you don't see the same recycled questions repeatedly.
These questions are also used on their mock exams, although the way they're graded differs slightly from the actual CPA exams. They're also more complex. This means that you're likely to get a higher score on the actual exams than you will on Becker's mock exams; students refer to this as the "Becker Bump."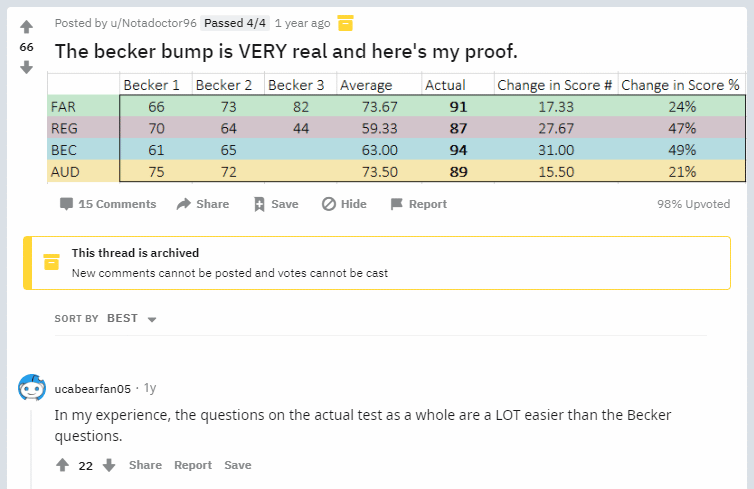 Becker also has live CPA review course classes, which is rare. There is a benefit of having a live classroom setting to gain an understanding of CPA knowledge. Still, the viability of the course is dependent on the quality of the instructor. Fortunately, Becker's instructors are extremely qualified and garner lots of student praise!
Unfortunately, Becker doesn't offer audio content in any of their packages. This can be a letdown if you like studying while exercising, commuting, or doing chores around the house. And while you may be able to work around this by listening to video lectures, it's just not the same.
Who is Becker Best Suited For?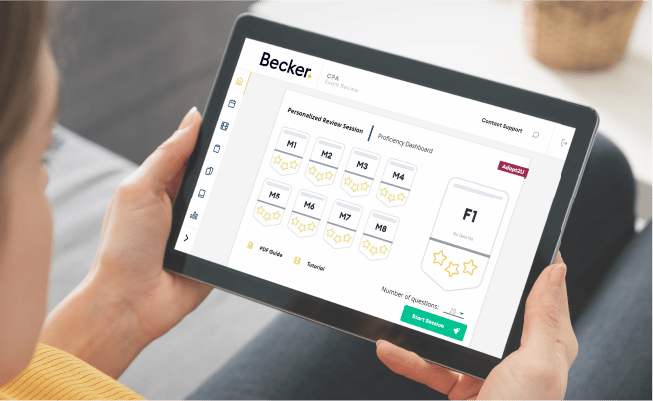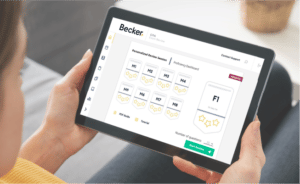 Becker's online course is an excellent option if you don't want to be bothered with deadlines and want to work at your own pace. They're also a fantastic choice because of their high-quality, easy-to-use CPA Exam materials. Becker can also be a good option for those who want to invest in not just study materials but a team of experts who can assist before, during, and after licensure.
Unlike the three traditional Becker CPA Review programs, Becker's newest offering, Concierge, gives you access to a dedicated team of experts and your own success coach. They'll also work with you to create a customized study plan for your needs. Plus, you can receive up to 50 hours of one-on-one tutoring sessions every week, so you can get the help you need to succeed.
As an added bonus, Becker Concierge includes a one-year CPE subscription and CPE certificate, which will keep you up-to-date with the latest changes in the field. With all these resources at your disposal, you can feel confident that you'll be prepared for exam day and your future career as a CPA. And if somehow you're not exam day ready, Becker promises to refund up to 100% of the Concierge CPA review purchase price.
Keep in mind that Concierge is limited to just 300 candidates, so you'll want to sign up right away if you're interested.
Why Choose This Prep Course?
The Becker CPA Review course has a solid curriculum, course materials, and instructors. If you're a student who needs flexibility, as well as in-depth material, Becker's online review course is the way to go. There are also several financing options available, so you can even afford to enroll if your budget is on the smaller side.
Bottom Line: Becker's CPA Review provides flexible, top-notch materials, especially with their "Concierge" program which offers personalized expert guidance and robust benefits like a CPE subscription and a refund guarantee. Given its quality and limited slots, it's a valuable investment for your CPA journey, even on a tight budget. Seize this opportunity before spots run out.
---
2. Surgent CPA Review Courses: Best for Adaptive Learning Software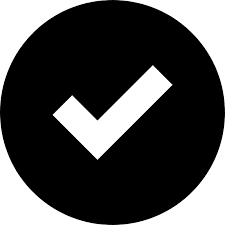 ---
The GOOD
Most experienced instructors in the industry
Personal Study planner
Unlimited access to study materials (no expiration)
Offers a money-back guarantee
Audio course (w/Ultimate Pass)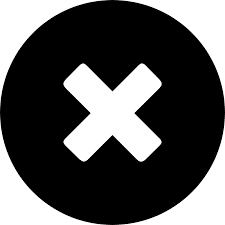 ---
The BAD
Short Trial Period
Study hours needed often exceed Surgent's estimate
Surgent CPA Review
7,700 multiple-choice questions
Document Review Simulations
Over 350 video lectures
All mobile compatible
Pass Guarantee
With the Surgent CPA Review Course, your materials are trimmed down to the essential topics. This reduces the number of hours that you will have to study for your exams. This course is taught by instructors who have over 20 years of experience teaching CPA exam prep. The company released an updated platform, and the 2.0 version really pushes Surgent into the top echelon of CPA prep courses.
What to Expect With Surgent CPA Review Courses?
Surgent CPA Review courses have a strong lineup of instructors who are experts at teaching CPA exam candidates. Combined, they have more experience in the industry than any other CPA review companies on the market.
Your instructors, Liz Kolar (25-year CPA exam prep instructor) and Jack Surgent (leading CPE course provider with 20+ years of experience) created Surgent CPA Review Courses with the vision of making the study process more efficient than other established CPA exam review courses. They offer insightful strategies and study tips in their video lectures that they have accumulated through many years of teaching. We really liked how the videos were concise and to the point, making it easier to absorb and retain information.
You'll find that Surgent's CPA course is extremely easy to navigate through, and you'll be cruising in and out of lessons with ease thanks to the revamped dashboard design that Surgent created. This is something with which other courses struggle, so it's great to see one course put a lot of money and effort into making the prep program easy to use and intuitive.
Their course comes with UNLIMITED access, so you'll never have to worry about the materials expiring until you have successfully passed.
They offer a Money-Back Guarantee, which proves just how confident they are in their product. This offering was completely revamped into a new platform, and 2.0 is really something worth considering when buying CPA review courses. You even have the option to sign up for a 5-day trial just to get familiar with the course before making any buying decisions. This is a lot shorter than the trial period of other reviews. Still, something is better than nothing.
The one other downside we see with Surgent is that although their personalized plan will suggest a number of study hours, most studiers find it not to be accurate. In fact, several Reddit users have commented that their actual hours greatly exceed the time they expected to spend with Surgent.
Who is Surgent's Course Best Suited For?
We would recommend Surgent to you if you are a student who prefers the convenience of studying at their own pace from guided video lectures. If you are looking to pass the CPA exam quickly by studying more efficiently, Surgent would be a great fit for you.
FAQs About Surgent CPA Review:
Will my Surgent course be compatible with smartphones and tablets?
Yes, all of Surgent's course features and CPA study materials are compatible with most smartphones and tablets. The only electronics that don't support Surgent's software are Kindle Fire, Nook Tablets, and E-Readers.
What exactly is adaptive learning?
Adaptive learning is a learning technology that Surgent incorporated into its software so it can quickly reveal your areas of need and automatically create a customized study plan that focuses on where you need the most help. The goal is to reduce study time and increase efficiency.
Bottom Line: Surgent's CPA course excels with its user-friendly design and endless access. Their confidence is underscored by a Money-Back Guarantee and a 5-day trial. However, while the platform is robust, users should approach study hour estimates with flexibility.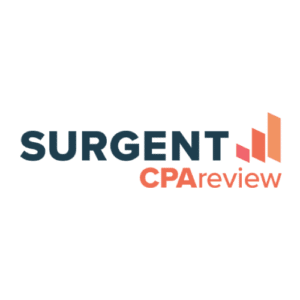 Take $740 Off Surgent CPA Ultimate Pass
41 uses today
Last Used: 50 minutes ago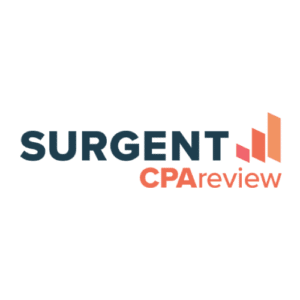 Take $1,000 Off Surgent CPA Ultimate Pass
41 uses today
Last Used: 33 minutes ago
---
How do you rate Surgent CPA Review?
---
3. Gleim CPA Review Courses: Best for Task-Based Simulations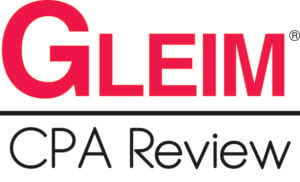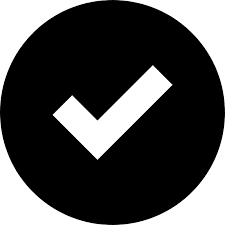 ---
The GOOD
Lots of package options
Phone and email support
Has the largest bank of MCQs and TBS
Unlimited course access (with some packages)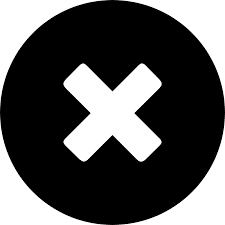 ---
The BAD
Only offers online course format with limited downloadable features
Overwhelming amount of study materials
Gleim CPA Review
Digital and physical copies of our books
Authentic Exam Day Emulation
Online Review Course
Access Until You Pass
Interactive Study Planner
Gleim CPA Review courses offer comprehensive study materials that will take you through all the possible subjects that may show up on the CPA exam.
Gleim's CPA study materials cover all exam topics you need to know. In addition, with their SmartAdapt technology, the software will guide you through the exam topics focusing on your weak areas but still drilling you on topics you've shown mastery.
However, if you prefer a ton of information and want to enroll in a course that fully prepares you for exam day by leaving no stone unturned, then this could very well be the right study guide for you.
What to Expect With Gleim CPA Review Course?
With Gleim's CPA prep courses, their SmartAdapt technology will guide you through every step of the course. This is beneficial when used in conjunction with their extensive study materials since it offers informed recommendations for each step of your CPA study schedule. Gleim includes a huge bank of MCQ tests, Final Exam Reviews, and Task-Based Simulations to give you lots of practice for the real exam. In total, the full Gleim review course includes over 10,000 multiple-choice questions and 1,300 task-based simulations, which is significantly more than any other CPA review course.
Additionally, Gleim's complete course includes an audio lesson for each section of the CPA exam. This 100+ hour library of extra content provides an excellent way to learn the material during non-traditional study times like commuting or exercising. They can easily be downloaded to your phone.
Much like their other study materials, Gleim's textbooks are detailed and use a significant amount of technical jargon. Although many students prefer a highly comprehensive course, you may feel overwhelmed by the information overload. And you're free to take all the time you need to get through your exam review thanks to their Access Until You Pass guarantee.
Who is Gleim CPA Review Best Suited For?
Gleim's SmartAdapt technology will guide the candidate through the course content, continually focusing on their weak areas while still reviewing material where mastery is shown. So, if you are someone who struggles with knowing what to study and when to move on, Gleim CPA Review is the course for you, as it takes the guesswork out of what to do. Additionally, their interactive study planner will lay out course assignments in a calendar, so you know when course modules are due for completion.
Why Choose Gleim?
Gleim provides you with more than enough information and study material to pass the CPA exam. There is so much information provided here. The Premium Pro review course comes complete with the Gleim Instruct Video Series, access to accounting experts and a team of personal counselors for added guidance, private study groups, and an Access Until You Pass Guarantee. However, as stated earlier, that information can be to a fault as it can be a bit overwhelming. If you want a study guide that will provide you with the most information about the exam, then you may want to give Gleim a try.
FAQs About Gleim CPA Review:
Is there a guarantee for this review course?
With Gleim, you get an Access Until You Pass guarantee if you pick Premium Pro and Premium review options. This means that you'll have full access to the entire course, without needing to buy an extension, until you pass the CPA exam.
What's the difference between Traditional and Premium Gleim courses?
The Gleim Traditional CPA Review has many similar features to their Premium option. However, it gives you less student support and only 18 months of access. It doesn't include videos or webinars either. The Premium review comes complete with the Gleim Instruct Video Series, access to Accounting Experts for added guidance, and an Access Until You Pass Guarantee. Premium Pro CPA review upgrades you with Gleim Webinars and the Gleim Sim Bank.
Bottom Line: If you've been out of the classroom for a while and want a personal counselor to help you throughout your studies, Gleim is a great option. Their SmartAdapt tech can guide you through the entire study schedule, and their Premium account will let you talk to Accounting Experts for even more help if you need it. However, if you're looking for a simplified program or downloadable features, you might want to go with another course.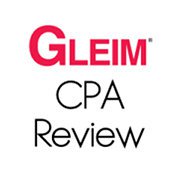 Save $1,400 On Gleim CPA Premium Pro
36 uses today
Last Used: 1 hours ago
---
4. Lambers CPA Review Course: Best For Retaking the CPA Exam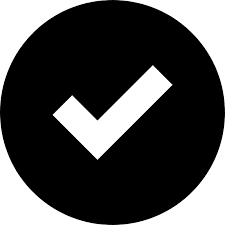 ---
The GOOD
Affordable and flexible pricing structure
Adaptive learning tech helps you eliminate knowledge gaps
Recently updated with lots of exclusive content
Best option for improving your score in a specific exam section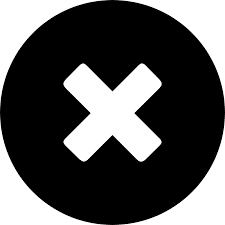 ---
The BAD
Limited number of practice questions and exam sims
Guarantee only applies if you fail the exam twice
Doesn't have flashcards or a mobile app
Lambers CPA Review
1,000
5,000 multiple-choice questions
20+ exam simulations
Over 90 hours of video lectures
Prep courses separated by exam section
If you've already tried to pass the CPA exam and didn't succeed, Lambers CPA Review is the course you need to know about. Thanks to a recent overhaul of their study materials, they now offer Enhanced CPA Review in four separate packages that cover each section of the CPA exam!
What to Expect With Lambers CPA Review?
Did you have a lot of trouble passing one specific section of the exam? Maybe you didn't earn a passing score on Business Environment and Concepts (BEC); in this case, all you need is Lambers' BEC Enhanced Test Prep course.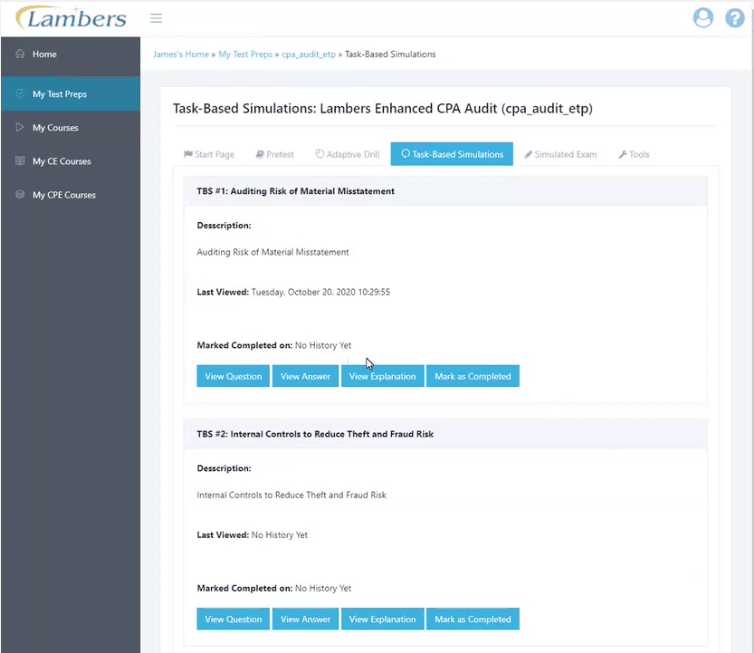 This package — and the other three packages in their catalog — are extremely affordable when compared to other review courses listed above.
Access all of your study materials entirely within your browser— no extra apps or textbooks are required. You can seamlessly jump into specific lectures, practice questions, or task-based simulations when you're ready to study!
Who is Lambers Best Suited For?
There are two types of students who will get the most out of Lambers CPA review. The first is someone who already has a full review course but wants some extra help on a specific exam section.
The second type of ideal candidate is one who is on their second or third attempt of the exam that needs to boost their score in one or two sections.
Why Choose This CPA Exam Prep Course?
Lambers is a good choice if you want a streamlined study schedule with up-to-date materials.
It's not as comprehensive as something like Gleim or Becker, but it's laser-focused to save you time, drill into your weakest content areas, and help you get that passing score.
FAQs About Lambers CPA Review
Does Lambers CPA Review offer a pass guarantee?
Although Lambers does offer a guarantee, it's slightly different than many other companies' pass guarantees. You'll need to fail the exam twice before qualifying for a refund— which is why this is a better option for repeat test takers.
Does Lambers CPA Review have a free trial or demo?
Unfortunately, Lambers currently doesn't provide any free trial or demo for their CPA review courses. However, you can see many screenshots and testimonials on their website to learn more about their catalog.
Bottom Line: If you're looking for some help on a specific exam section, or you just want a streamlined CPA study course that won't take a long time to finish, Lambers CPA Review is an affordable choice. Keep in mind, this isn't a course for those who want a mobile app, flashcards, or lots of review questions.
---
5. Yaeger CPA Review Course: Best for Friendly Support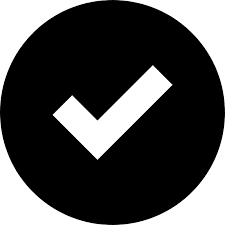 ---
Simple teaching approach
Extremely friendly support
Flexibility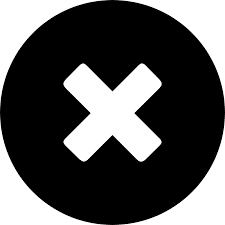 ---
Old School Lectures may be boring to some users
Subpar multiple-choice questions
Higher price point
Yaeger CPA Review
Video Lectures
Multiple Choice Questions
Practice Quizzes
Exam Simulator
CRAM Courses
Yaeger CPA Review is a great course for you if you want the bare bones done well, not great. The customer support for this prep tool is excellent, and the flexible and customized format is a perfect solution for those who don't fit into a specific learning style category.
What to Expect With Yaeger CPA Review?
The Yaeger CPA review course is much more of an old-school style of teaching. If you have a shorter attention span, you may get bored by the traditional lecture videos. They are structured very much like most accounting classes you probably had in college and move a little slower than an independent self-study type of person might prefer.
The lectures include step-by-step instructions to ensure that you are clear about the subject material. Instructors work hundreds of multiple-choice questions with you and help you navigate through those tricky problems, which gives you the repetition needed to be successful. Although some CPA studiers find these very helpful, others have complained about their quality. So, keep that in mind when choosing a CPA review course.
Yaeger does have some of the best customer support available. Yaeger's Live Instructor Hotline provides responsive personal support that is superior to any other review course I've used.
This allows you to directly contact the instructors for help with any questions that arise while you are studying. Yaeger sticks to its promise, "Whether by phone or email—you can contact me and the other instructors personally almost anytime."
Who is Yaeger Best Suited For?
Yaeger is best suited for you if you need a little customization in your studies but don't want to splurge on one of the more comprehensive and expensive options. The additional study help that's offered is also a great way to get more out of your review.
Why Choose This Prep Course?
Yaeger CPA Review has talented instructors who will break down the content for candidates of all types. With excellent support and a number of add-on features, this course is a great low-to-mid level option.
The lectures aren't overly exciting, but they cover all the CPA exam topics in a palatable form.
There is a time limit for this course, meaning no unlimited access. If you're planning on studying for a longer period, this may not be the best fit.
FAQs About Yaeger CPA Review
Does Yaeger CPA Review work on mobile devices?
With Yaeger, you can access the materials via a browser that adapts well to mobile devices. The student portal can be easily entered via any mobile phone or tablet. The flashcards can be accessed via mobile devices, so you can take studying on the go!
Does Yaeger offer personal support with its course?
Yaeger offers a variety of support services: there's an instructor hotline and phone and email support. The instructors who field questions have years of experience in the industry.
Bottom Line: Yaeger CPA Review stands out for its direct access to instructors and tailored, budget-friendly approach. Its traditional lectures offer thorough guidance, especially with multiple-choice questions. However, its time-limited access and mixed feedback on question quality mean it's a solid, no-frills option that might not suit everyone.Yaeger is a great fit for students who want a comprehensive course for an affordable price.
---
6. UWorld Roger CPA Review Courses: Best for Engagement and Motivation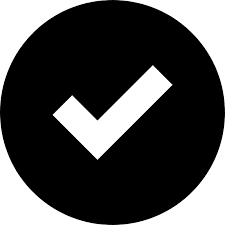 ---
Most engaging video lectures
Excellent Audio CPA review offered
Spaced Repetition, Predictive Technology, and other memory-boosting strategies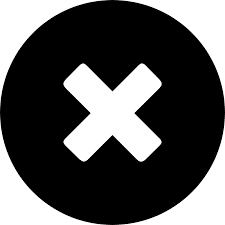 ---
Additional cost for Final Review ($225-$295/part)
Unable to ask questions on Study Hub without Elite-Unlimited
Higher price tag
Less known in the CPA world
Elite Course Package
120+ Lecture Hours
6,000+ MCQs and TBS
CPA Exam Simulator
Customizable Study Planner
SmartPath Predictive Technology
Digital Flashcards with Spaced Repetition
If you want a prep course that will keep you engaged with a combination of passionate instructors and powerful technology, then UWorld Roger CPA Review Course is the perfect course for you.
Are you bad at self-direction; do you need someone to keep you motivated while you study? Do you have trouble staying awake while working through CPA lectures, practice questions, and flashcards.
What to Expect With UWorld Roger CPA Review Courses?
When you choose UWorld Roger for your CPA review course, you can expect to get over 120 hours of entertaining and informative video lectures. Roger Philip teaches each lecture with a lot (and I mean a lot) of humor and enthusiasm. His unique teaching style makes the material much more engaging and helps you stay motivated.
He is passionate about helping students pass the CPA exam. Not only is he knowledgeable about the material, but he can also break down difficult concepts into easy-to-understand lessons. Roger uses mnemonics and other memorization tools throughout his lectures to provide an easier way for students to remember many tedious details that often appear on the exam. Check out his video below and see for yourself 🙂
Your Roger CPA review course software will also come integrated with SmartPath Predictive Technology. This new feature provides you with recommendations on where and how to focus your efforts by comparing your progress and performance to those that have passed the CPA Exam. This efficient tool can cut your study time by hundreds of hours!
Additionally, you can get UNLIMITED access to their online study materials through an Elite-Unlimited package. No need to worry about your course expiring; you'll have your study materials for as long as you desire! Roger also offers free course updates to ensure you'll always be studying with the most up-to-date content if/when any changes are made to the exam.
Now, what about the financing options?
UWorld now offers financing plans if you're a student on a budget. This is a fantastic opportunity; anyone who can afford to pay $149 a month now has access to the best CPA exam review course on the market!
With so many benefits, it may come as a surprise that UWorld Roger is ranked below so many other CPA review courses. Truthfully, it has many features that are equivalent to the top-rated choices: great instructors like Gleim, impressive tech like Surgent, and insightful lectures like Becker. However, it doesn't specialize in any of these categories; instead, it just offers a decent version of each one.
However, UWorld Roger CPA Review's video lectures and digital flashcards are notable exceptions. You're not going to find anything like these within our top 3 picks!
Who is Roger CPA Review Best Suited For?
I would recommend this course to a CPA candidate who has a hard time focusing while studying. If you find yourself struggling to stay awake in some of your accounting lectures, then UWorld Roger CPA Review will definitely keep you from falling asleep.
If you also like to ask a lot of questions while you study, there is a Study Hub available to you around the clock. Since over 17,000 questions have been asked on this platform, it's likely that someone has already answered the one you were about to ask. But if not, you'll have to get the Elite-Unlimited package if you want to ask your own; you'll receive an informed response from an instructor within about one day.
Finally, UWorld Roger is best suited for students who are audible and visual learners. There's an audio-only version of their engaging lecture content that can help you get even more studying in while doing chores or going for a jog.
Why Choose UWorld Roger's CPA Prep Course?

If you need motivation and want to enroll in a course that actively keeps you engaged with the material it covers, then this is the review course you are looking for.
FAQs About UWorld Roger CPA Review Courses
How can I view the video lessons on my mobile devices?
You'll have access to the lectures on your cellular phone, tablet, or mobile device. Many times, the videos are too large for 3G or 4G, so you'll need to be connected to a wireless network.
What happens if I run into a question about my course—either the concepts or homework?
UWorld Roger has an awesome Study Hub to answer questions regarding the CPA exam. You'll most likely find the answer to your question in the massive bank of 17,000+ questions asked by previous Roger CPA students. Moderators are also available to help, as they can provide assistance on conceptual issues or topical questions. This service is meant to be a supplemental support to the content that's covered in the lectures.
Bottom Line: Roger CPA Review dazzles with its engaging video content and top-notch audio options, setting a benchmark for visual and auditory learners. However, the premium experience comes with a heftier price tag and lacks a final review, making it a high-quality yet selective choice for CPA aspirants.
---
7. Wiley CPA Review Course: Best for Mobile Connectivity
Please note that UWorld recently acquired Wiley CPA. This raises questions about Wiley's future support, updates, and continuation making it hard for us to recommend it confidently. Thankfully, we've provided several other solid CPA test prep options to choose from.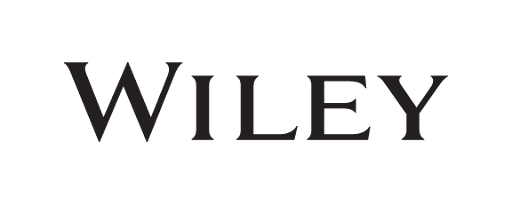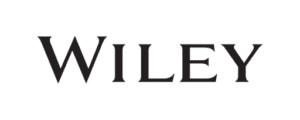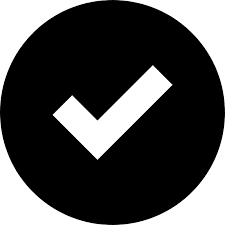 ---
The GOOD
Huge library of practice questions that can be accessed by mobile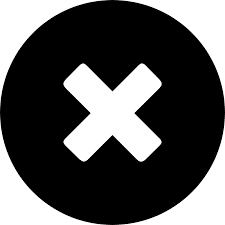 ---
The BAD
Practice questions emphasize quantity over quality
No money-back guarantee
Practice exams aren't comparable
Boring lectures that dig too deep
Wiley CPA Review
6,000 Practice Questions
500+ Task-Based Simulations
Flashcards and Textbooks in Digital & Physical
FocusMeTechnology & 1-on-1 Mentoring
Wiley Efficient Learning is a company with a 200-year history, providing educational material for students in high-skilled trades. Through numerous mergers over the years, this company has grown into a comprehensive education resource for over half a million students who went on to become professional accountants, analysts, and project managers.
What to Expect With Wiley CPA Review Course?
If you believe that practice makes perfect, you can expect more than enough practice questions to help you prepare for a perfect exam score. Whether you're interested in a single CPA exam section or all four, the textbooks, mobile app, and video lectures in this educational catalog can be incredibly helpful.
Depending on your personal learning style, Wiley offers different types of lessons and practice exercises to prepare you for a career in public accounting. You can watch over 140 hours of lecture videos while looking through relevant sections in a 4-part textbook, available in digital or physical format.
Speaking of digital, Wiley is one of the few online courses to offer seamless mobile access to Android and Apple users. Their companion mobile app makes it easy to synchronize any progress you make in the course between your desktop computer, laptop, tablet, and/or smartphone.
This is what allows FocusMeTechnology to generate a custom study plan for you to use when working through the rest of the course. Think of it as a virtual tutor that assesses what subjects you need to study harder and which ones you already know— saving you time and effort while boosting your final grade.
Wiley CPA Course Updates
There's no point in studying from a prep course that's out of date with the exam or the industry as a whole. That's why Wiley frequently updates their courses to include new content related to any changes the AICPA makes to the full CPA exam. For AUD, they recently added content related to data analytics. For BEC, new updates include tips on how to effectively use Microsoft Excel in the workplace. For FAR, new terminology has been added to replace outdated terms. And for REG, content has been added to reflect legislative changes from the CARES Act.
FAQs About Wiley CPA Review
What is Wiley CPA 11th Hour?
Wiley offers an 11th Hour Final Review Course exclusively for Platinum-enrolled students. This is a last-minute cram course that simulates exam day with timed practice tests.
Is Wiley CPA better than Becker?
Becker is currently our top-rated course and has been endorsed by the Big 4 Accounting Firms. Wiley CPA offers a larger volume of practice questions, but the video content and guarantees are far better if you sign up for a Becker course.
Bottom Line: Wiley's content has always been solid, great for book lovers and ambitious accountants alike. Dive in regularly, and you might join the 9 out of 10 who pass the CPA exam with Wiley. But heads up: some find it a bit clunky, and with the recent UWorld merger, its future's a bit hazy. It might be wise to shop around before diving in.
---
What's new for 2024 CPA Courses
In 2024, CPA review courses are undergoing significant updates to align with the CPA Evolution, a major overhaul in the CPA licensure model. This change reflects the profession's shifting focus towards skills and competencies critical in the modern business and technological landscape. Leading course providers like Becker are revising their content to address these changes, incorporating comprehensive material on emerging areas such as information technology, data analytics, and business processes.
Specifically, these courses are adapting to the new exam structure, which emphasizes core areas like Auditing and Attestation, Financial Accounting and Reporting, Regulation, and the newly introduced section on Business Analysis and Reporting. Becker, for instance, is integrating modules that focus on digital acumen, including cybersecurity and information systems, to ensure that CPA candidates are thoroughly prepared for the evolving demands of the accounting field.
Which CPA Prep Course Has the Most Practice Questions?
Multiple choice questions are the bulk of any CPA review course, as these mirror the exam content and are the best way to practice for CPA exam.
The number of MCQs isn't always the most important quality for these questions. You must also note that some questions are harder and more like the actual exam than others.
So who has the most?
Gleim has the most amount of questions. They offer the highest volume of content by far, so you'll want to try their course if this is the most important feature for you.
Becker, however, has the most adaptive multiple-choice questions that are specific to your level of knowledge, helping you prepare for the test.
CPA Courses With The Most Multiple Choice Practice Questions (MCQs)
Gleim CPA Review

10,000+

Becker

8,300+

Surgent CPA Review

6,840

Fast Forward Academy

6,000

Roger CPA Review

5,800

Yaeger CPA Review

4,300
Bottom Line: Gleim CPA Review provides more multiple choice questions than any course, so you're not going to run out of practice questions.
---
Which CPA Prep Course Has the Most Task-Based Simulations?
Task-based simulations have become increasingly important since the changes made to the CPA Exam a few years ago. Because of this new test that places more importance of simulations, CPA review courses now place more emphasis on these questions, ensuring you can pass after practicing the TBS section.
So, who is the best when it comes to TBS's?
Becker and Surgent have some of the best CPA exam Task-Based Simulations, which include the most up-to-date CPA exam content covering the new content and topics on the CPA exam blueprints. Becker, in particular, has an extremely impressive library of TBS content since they also include over 400 instructional videos taught by accounting experts.
Most CPA Exam Task-Based Simulations (TBS) by Course
Becker

500+

Surgent CPA Review

417+

Roger CPA Review

400

Gleim CPA Review

1,000

Fast Forward Academy

230

Yaeger CPA Review

164
Bottom Line: While Surgent has extremely up-to-date materials, Becker CPA Review has the best TBS and instructional videos.
---
Which CPA Courses Offer Discounts & Financing Options?
Why would you pay full price for a CPA review course when there are tons of great CPA discount codes available! Save hundreds of dollars off all the most popular prep courses with these great CPA promo codes.
But what if you can't afford a pricey CPA review course?
Becker offers discounts and financing options which allow you to make much more affordable monthly payments over a period of 3 months, 9 months, or one year.
Best CPA Review Course Financing & Discount Offers (Comparison)
| | | |
| --- | --- | --- |
| Becker | $3,393 | Yes |
| Surgent CPA Review | $1,799 | Yes, 0% |
| Roger CPA Review | $1,886 | Yes, 10-30% |
| Gleim CPA Review | $1,599 | Yes |
| Fast Forward Academy | $1,749 | Yes |
| Yaeger CPA Review | $1,079 | Yes |
Bottom Line: Becker offers the best financing options with a low monthly rate to allow the maximum amount of students to afford their top-tier review course.
---
Which CPA Course Has the Best Student Support?
When it comes to student support, which course answers questions the fastest? How easy is it to use the student support software? Which course gives the most personal response?
Here are my rankings for the Top CPA Review Courses for Student Support:


Becker – Message Board, Phone & Email Support, Accounting Experts and Success Coaches

Surgent – Dedicated coaching and onboarding, live chat, student support, email & phone

Roger – Homework Help Center, expert instructors

Gleim – Personal Counselors, assistance from accounting experts, email & live chat

Yaeger – Email, phone, student-only message board, direct access to instructors and CPAs
---
What are the Best CPA Exam Test Banks?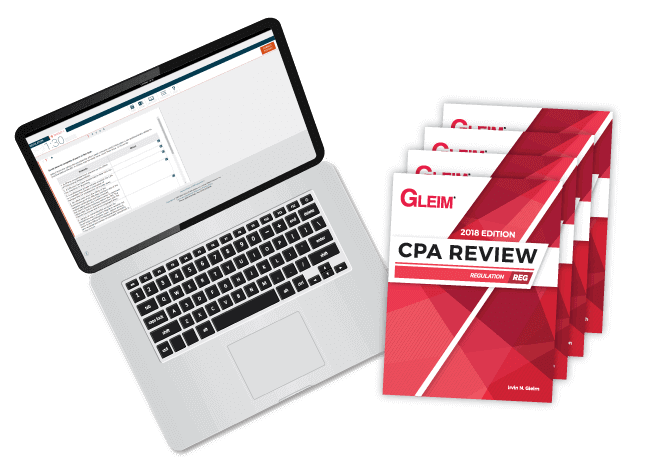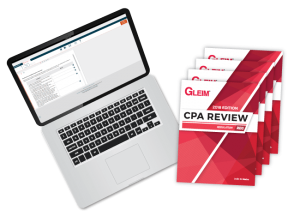 #1: Gleim CPA Test Bank
Gleim CPA Review is the winner of the largest test bank on the market! With more than 10,000 exam-emulating multiple-choice questions and simulations, Gleim tests your knowledge and skills at the levels of the CPA Exam to ensure that you're completely prepared.
---
What are the Best CPA Exam Cram Courses?
If you need to improve your CPA Exam score by 10 points, or if you simply want to solidify difficult concepts for final review, a solid CPA Cram Course is the best study supplement to get you there.
A Cram Course is the best way to reinforce your understanding of the most heavily tested CPA Exam topics in a short amount of time.
So which cram course gets the job done?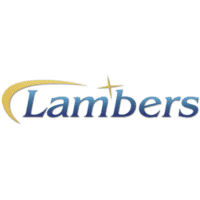 #1 Lambers CPA Review
The Enhanced Test Prep courses offered by Lambers are a great resource if you want to do a few weeks of cramming for a specific CPA exam section. For example, using their FAR CPA review course should help you feel more confident when taking what is commonly considered the hardest portion of the exam.
---
Best CPA Exam Mobile Apps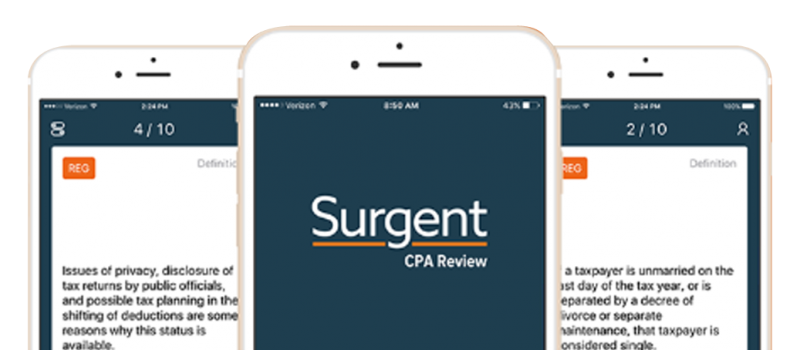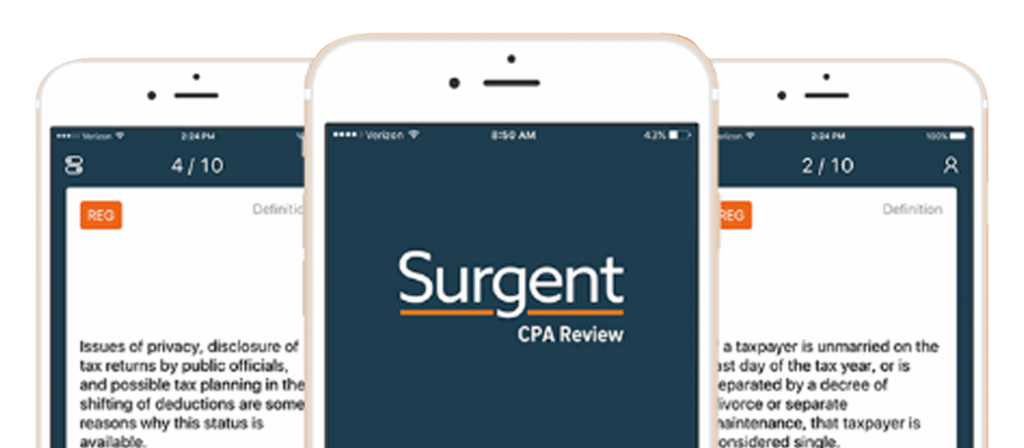 #1: Surgent CPA Review Mobile App
Surgent is one of the only CPA prep course offering a completely free Flashcard app for iPhone and Android, giving you the chance to study 2,200+ CPA exam terms and definitions on your smartphone. You should be taking advantage of this offer while it lasts!
---
5 CPA Exam Study Tips to Help You Pass the CPA Exam:
Step 1: Use the Right Study Tools
Step 2: Study Consistently
Step 3: Use Online Review Courses
Step 4: Follow Your Instincts
Step 5: Carefully Read the Questions
---
Frequently Asked Questions About The CPA Exam
Which CPA Review course is best?
Although there are really 3-4 different factors to consider here (see our full review), our top-rated course is Becker CPA Review. They offer an extremely dense library of study materials that include 9,000+ multiple choice questions, hundreds of instructional videos, and two mobile apps.
Which section of the CPA exam should I take first?
Your first CPA exam section should be the one that you feel most confident about passing. You got to hit the ground running!
Which CPA exam is the hardest?
Strictly by the passing results, FAR is the most difficult. The combined passing percentage in the first three quarters of 2018 for the Financial Accounting and Reporting section was 46 percent. Comparatively, the other three sections have a higher pass percentage. But you can't say which CPA exam is the hardest based only on the pass rate. In reality, the most difficult section is the one that you haven't prepared for adequately.
Why should I become a CPA?
The benefits of being a CPA can be tangible and intangible. With the designation next to your name, you get a better career trajectory, a higher salary, respect from similarly accredited peers, and even the potential to secure corner office positions. Over the course of their careers, CPAs make $1 million more than their non-certified counterparts. The C-Suite is more likely to be made up of people who are CPAs than those who lack the title—executive search firm Spencer Stuart noted roughly 45 percent of CFOs have a CPA.
What are the CPA Exam Requirements by State?
The requirements to sit for the CPA exam aren't especially varied from state to state, but there are definitely some outliers. Understanding these CPA exam requirements is important, however, as the first step to becoming a CPA is being able to sit for the exam. For the most part, you're going to need 150 credit hours of accounting education, along with some work experience. There's definitely more to the requirements than just 150 credit hours, but you're going to have that as a basic educational foundation to sit for the exam.
How do people stay motivated after failing a CPA exam section?
Finding the motivation to carry on with studying after a failed test is absolutely heartbreaking for many people. However, if you can make the proverbial light at the end of the tunnel a tangible goal or event, it will alleviate the pains that come with the process of starting over. Many people fail at least one section, so it's certainly possible to keep studying if you know WHY you're taking the test. Failing a section also doesn't mean you're not meant to become a CPA—many people who occupy corner offices of Fortune 500 companies have failed one section of their exams. The important thing with regard to failing is to make sure you don't make the same mistake twice.
How do I recognize my "learning style"?
Knowing your learning style is the secret to cutting hours and hours off of your studying time. Once you know what works with regard to specific types of prep tools—videos, audio content, or practicing by doing CPA test banks or books—the whole process becomes easier and each minute of studying becomes more valuable. If you're wondering what your learning style is, I recommend you check out the above post and determine exactly how you process and consume information. Not knowing how you learn the most efficiently before you invest in a CPA review course is basically burning money!
Does Becker offer live classes?
Yes! For students who prefer working with an instructor who lectures in real time, Becker's LiveOnline courses are the perfect choice. Students can ask questions and receive responses from their teachers in real time: something that isn't provided in any of their other courses.
Can I access Surgent CPA Review on a mobile device?
Yes! Surgent has designed all of their coursework to be compatible with a variety of mobile devices, whether they run Android or iOS. Furthermore, they have a companion mobile app with over 2,000 flashcards available on the Google Play Store and Apple's App Store. Unfortunately, these features are not compatible with E-Reader devices such as Nooks or Kindles.
What are the different testing windows for the CPA exam?
The test is broken down into the quarterly fiscal schedule, like all businesses CPAs work for. So, for the first quarter, you get to take the test within the first two months and an additional ten days into the second month. Once this testing window is over, the schedule simply repeats that pattern. Basically, there's a 20-ish day period per quarter in which you are not able to take the test. If you're able to plan your studying and schedule your exams correctly, you'll be able to knock out the CPA in about a year!
How do I create a study schedule?
In order to create a successful CPA exam study schedule, you need to make an honest assessment of how many hours you can devote per week. If you're working full-time, you're going to want to study a certain amount per day, with your longer sessions on the weekend. If you're not working, you can devote larger chunks of time per day—the key is to keep a consistent level of studying, as you don't want to do too much on one day and none on another. Knowing how to study for the CPA exam will be the difference between passing and failing each individual section.