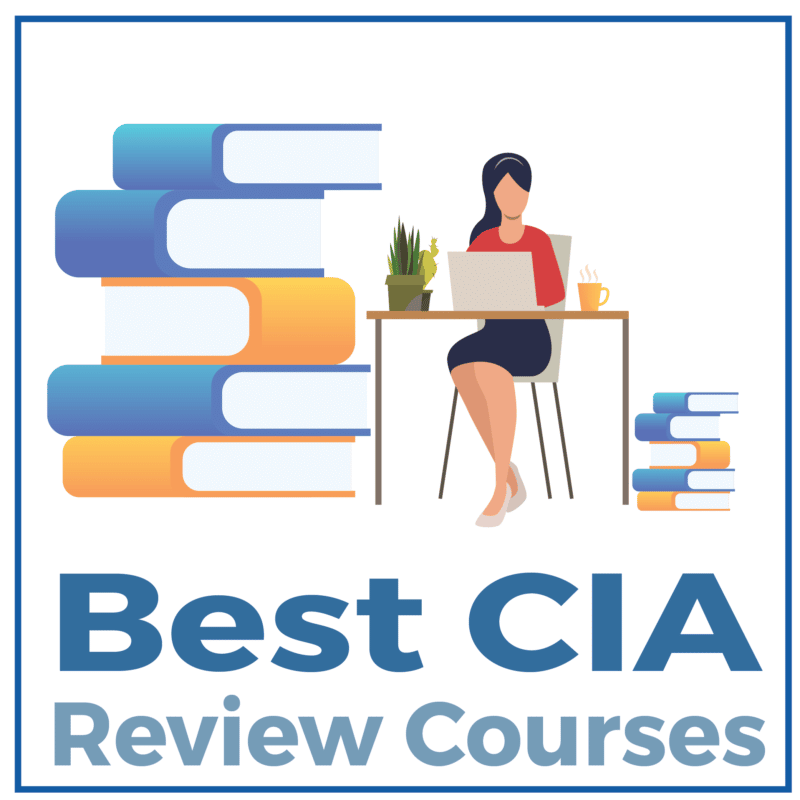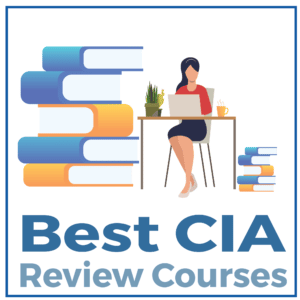 When prepping for the Certified Internal Auditor exam, it's important that you get the best possible review on offer. But how are you to choose a course when there are dozens of them all claiming to be 'the best?' 
Read on to find out!
Just like with the CPA exam, the last thing you need is to learn you wasted months of your time on a subpar course. It can be heartbreaking to fail your first attempt.
Luckily for you, we've put in the work to stop that from happening.
Every CIA exam review course listed below is guaranteed to be the best on offer. So if you're worried about your chances, don't be; these five courses will guide you to success!

---


---
These are the Best CIA Exam Prep Review Courses and Study Materials for 2023:
---
| Course Name | | | | | |
| --- | --- | --- | --- | --- | --- |
| Course Rank | #1 | #2 | #3 | #4 | #5 |
| Cost | $499 | $447-$949 | $550 | $190-$825 | $895 |
| Discount | Save $125 | Save $237 | Save $200 | No Discount | No Discount |
| Question Count | 2,500+ | 3,000 | 6,800 | 3,700+ | N/A |
| Pass Guarantee | Yes | Yes | No | Yess | Yes |
| Access Period | 1 Year | 18 Months | 2 Years | 18 Months | 1 Year |
| Unlimited Exams | Yes | Yes | Yes | No | No |
| Contact | Phone and Email | Phone, Email, and Instructor Chat | Phone, Email and Social Media | Phone, Email, and Instructor Chat | N/A |
| Get Started | | | | | |

Surgent CIA Review (#1)
Pro – Adaptive Technology
Surgent's study planner is an adaptive tool designed to make the most out of your exam preparation study time. It tells you exactly how long you need to spend on various portions of the exam, and even updates as you work so you always know what to work towards. This is done via their proprietary A.S.A.P. technology. This technology uses a real time algorithm that adjusts study plans on the fly. Consequently, it makes sure you're consistently working on your weakest areas. Basically, working with this adaptive software will ensure that you're ready to pass your exam!
Pro – Daily Surge Dashboard
Thanks to the Daily Surge, your dashboard will always reflect your current progress and goals. Checking this every day will help you stay on course and understand how you're actually preparing for the CIA exam. Essentially, this dashboard ensures that you're never lost or confused; also, it serves as a good method to keep yourself accountable.
Pro – No Paid Updates
Unlike some of their competitors, Surgent will never charge you for content updates. This is because they understand that doing so is harmful to their students' learning and progress. Hence, all updates to the course are completely free of charge.
Pro – Digital Materials
Many students learn best when they can sit down and learn out of textbooks. In order to accommodate those students, Surgent offers PDF textbooks compatible with both desktop and mobile devices. Basically, this means you'll always be able to brush up on your CIA knowledge, even when on the go!
Pro – Lack of Audio/Video Content
Unfortunately, Surgent chose not to focus on audio or video lectures. Instead, they put much more emphasis on their multiple choice questions and other self-study materials. This leads to a less guided course that encourages setting your own hours and developing a study plan according to a schedule that works best for you.

What's The Bottom Line?
Surgent is designed to accommodate as many learning styles as they can. Their adaptive technology means that the course will always be tailored to your needs and shoring up your weak areas. On top of that, their digital materials are top notch and easily read on the go. Because of these features, and their low price point, Surgent easily takes the top spot of this list!

$125 Savings on Surgent CIA Review Essentials Pass
36 uses today
Last Used: 1 hours ago

Gleim CIA Review Course (#2)
Pro – One on One Counseling
A fantastic addition to Gleim's CIA exam prep courses is their personal counselors. Each student gains access to their own counselor who is there to answer any questions. With this one-on-one problem solver, you'll find the learning experience easier than ever. Furthermore, your counselor will even make you a study plan and assist with any problems that arise during the course. All counselors can be contacted by both phone and email.
Pro – Practice Questions
Included with Gleim's CIA course materials are thousands of multiple choice test questions. By creating your own pool of these questions, you can actually design your own practice tests. This will allow you to cut problems you don't struggle with and instead focus on what you need most. Consequently, you'll be able to make the study process extremely efficient.
Pro – Multi Language Support
Gleim's prep course is not exclusive to English speakers. It's also available in Spanish for the convenience of anyone planning on taking their exams in that language. Multilingual courses are extremely rare in my experience; if this is something you're interested in, you likely won't find it elsewhere!
Pro – Final Review
Once you've reached the final weeks of studying, you'll gain access to a cumulative final exam review. Due to Gleim's eye for quality, it's been designed to mimic the actual CIA exam as much as possible. Hence, if you take it before the real thing, you'll gain an understanding of the test environment and test taking experience. Thanks to this final review, the test taking process will be easier than ever!

What's The Bottom Line?
Thanks to both the personal counseling and a customizable test bank, Gleim makes for a compelling test prep choice. Furthermore, their multilingual program is great for anyone taking the test in Spanish. Overall, Gleim CIA review is a strong study program that is certainly worth your time.


Wiley CIA Exam Review (#3)
Pro – Expert Planning
Wiley's CIA Exam Planner is like a virtual coach that guides you through your study schedule. You're free to study whatever you like, but this feature can help you save time and effort while keeping a consistent study schedule.
Pro – Assessment and Performance Tracking
After answering questions and completing video lectures, Wiley will keep track of your progress. This allows the software to determine how prepared you are to pass each part of the exam by studying your performance metrics.
Pro – Try Before You Buy
If you want to try Wiley's online course before spending any money, you can take advantage of their 48-hour trial period. You'll only have two days of access, so make sure to decide sooner rather than later.
Pro – Stay Focused
Don't worry about getting lost in technical jargon or burning out before exam day. Wiley's CIA Focus Notes will help you understand common mnemonics and other learning techniques to keep you on track.
Pro – Affordable Options
Unlike many other online review courses, Wiley's catalog of CIA study materials has affordable customization options. You can save a lot of money by only purchasing materials for a single part of the exam, or you can pay your tuition in installments with 0% interest.

What's The Bottom Line?
Wiley should be your first choice in CIA exam preparation. They have the most content at an affordable rate that can be lowered even further with discounts and financing.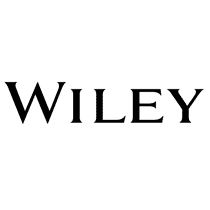 Spring Sale- Get $200 Off Wiley CIA Review Course
34 uses today
Last Used: 1 hours ago

Powers Resources CIA (PRC) Review (#4)
Pro – Extensive Review
Power Resources has a wide range of test questions, much like the others in this list. However, their big claim to fame are all the extra features that come with. In addition to creating your own practice exams, you can also take notes as you go and tag questions based on correct, incorrect, and unanswered.
Pro – Additional Materials
In addition to the aforementioned practice questions, Power Resources includes flashcards and textbooks. Flashcards can be organized based on study priority. On top of that, each flashcard comes with extra space to take notes. Updates are also included at no extra charge.
Pro – Mock Exams
Upon completion of each CIA study section, you have the option to take two mock exams. Each exam is designed to mimic the true CIA exam as closely as possible so as to simulate the testing environment. Taking these tests makes your final review that much more effective. Even though other services offer similar tests, the quality of PRC's tests shine above the rest.
Con – Video Content 
Much like Surgent, Power Resources' focus does not lie in video content. Instead of audio or video lectures, students are expected to learn via their self study materials. However, thanks to this focus, their study guides and practice questions are top notch. If video isn't that important to you, keep PRC in mind.

What's The Bottom Line?
PRC is best used as supplementary materials to other courses. If you combine it with a course based on live or on demand video content you'll get the best of both worlds. Although that option can be expensive, it'll definitely pay off when it comes to taking the exam!
Is the CIA Worth It?
The CIA exam is a very valuable credential to hold and job demand is only projected to increase in the future with the direction of more self-employed individuals and contractors.
---

Institute of Internal Auditors CIA Learning System (#5)
Pro – Long Access Period
One excellent aspect of this program is the length of its access period. Unlike other courses who only give you around one year of study time, the Institute of Internal Auditors (IIA) CIA learning system lasts for up to two years. Therefore, you can really take your time when preparing for the CIA exam.
Pro – Diagnostic Tools
Included with this course are a set of online diagnostic tools. You can check your readiness as you go via pre/post tests and the smart study system. The tests are taken before and after each section in order to gauge readiness and progress. Additionally, the smart study system is used to create individual study plans based on the aforementioned tests.
Pro – Free Trial 
In order to get a feel for how their service works, the IIA lets you try out parts of their course for free! This guided tour will allow you to familiarize yourself with all of the site's features and view a sample textbook chapter. On top of that, you can even see how the feedback and diagnostic tools work in a limited capacity.
Con – High Price
Despite being made by the IIA, the CIA learning system is one of the pricier study options. In light of all the other great options on display, it can be tough to justify its $875 asking price. Still, if you choose to buy this you will certainly get your money's worth.

What's The Bottom Line?
Although it's a bit pricey, the long access period of the IIA's CIA program will make that worth it to anyone looking to take their time. Even better, the diagnostic tools allow you to really see how well you're doing and account for them. Some people may find this hard to justify, but this program definitely has its niche.