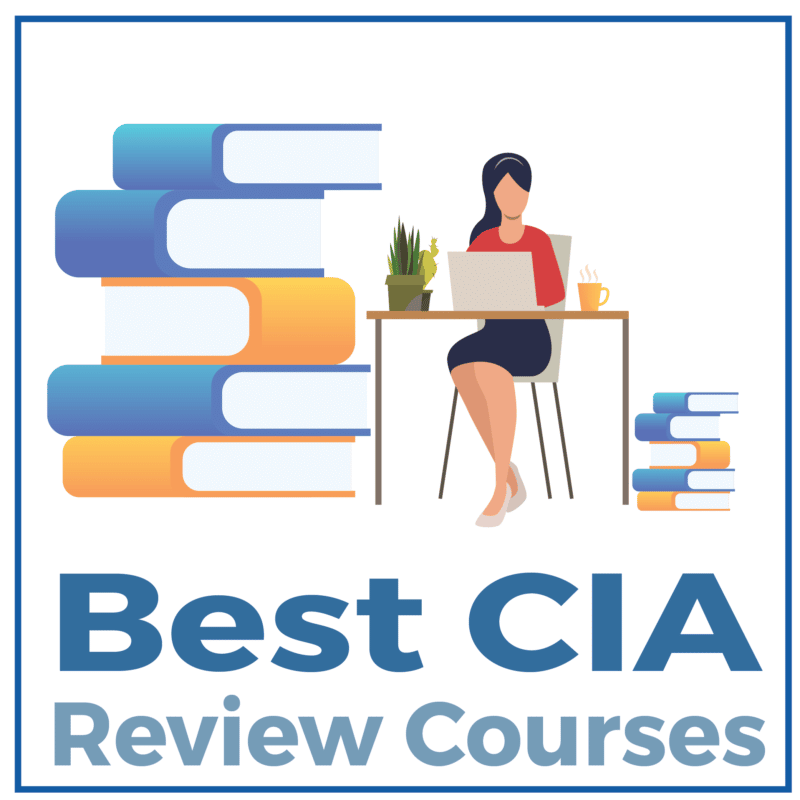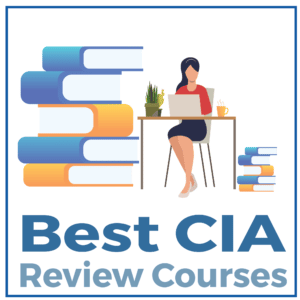 When prepping for the Certified Internal Auditor exam, it's important that you get the best possible review available. But how are you to choose a course when there are dozens of them all claiming to be 'the best?' 
Read on to find out!
Just like with the CPA exam, the last thing you need is to learn you wasted months of your time on a subpar course. It can be heartbreaking to fail on your first attempt.
Luckily for you, we've put in the work to stop that from happening.
Every CIA exam review course listed below is guaranteed to be the best on offer. So if you're worried about your chances, don't be; these five courses will guide you to success!
---


---
These are the Best CIA Exam Prep Review Courses and Study Materials for 2023:
Wiley CIA Review
---
| Course Name | | | | | |
| --- | --- | --- | --- | --- | --- |
| Course Rank | #1 | #2 | #3 | #4 | #5 |
| Cost | $499 | $447-$949 | $550 | $190-$825 | $895 |
| Discount | Save $125 | | No Discount | No Discount | No Discount |
| Question Count | 2,500+ | 3,000 | 6,800 | 3,700+ | N/A |
| Pass Guarantee | Yes | Yes | No | Yess | Yes |
| Access Period | 1 Year | 18 Months | 2 Years | 18 Months | 1 Year |
| Unlimited Exams | Yes | Yes | Yes | No | No |
| Contact | Phone and Email | Phone, Email, and Instructor Chat | Phone, Email and Social Media | Phone, Email, and Instructor Chat | N/A |
| Get Started | | | | | |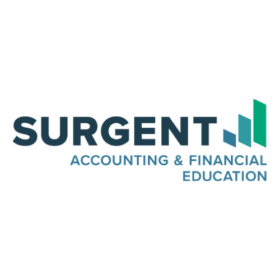 Surgent CIA Review Course (#1)
Adaptive Learning Technology: With Surgent, you're not just getting a one-size-fits-all offering. Instead, you'll receive access to a platform that quickly identifies your strengths and weaknesses and then crafts a personalized study plan. This ensures you're focusing on areas you really need to improve on, making your study time ultra-efficient.
Real-time Performance Tracking: One thing you don't want is to be restless the night before your CIA exam, wondering if you'll be able to pass or not. With their performance dashboard, you can instantly see your progress and readiness scores. This takes the guesswork out of "Am I ready?" and lets you know exactly where you stand.
Up-to-date Content: Out with the old and in with the new, Surgent prides itself on timely updates. This means you're always studying the most current and relevant CIA exam material, so no nasty surprises on exam day. Unlike Wiley and others who have switched ownership, Surgent stands where it started and continues to provide some of the most current material on the market.
Bite-Sized Video Lectures: Their lectures are concise and to the point. Perfect for quick study sessions or for those who can't commit to long hours at a time. Plus, they're led by industry experts, ensuring high-quality insights.
Unlimited Practice Exams: While some courses limit the number of practice tests, Surgent allows you to take as many as you want. This not only helps in thorough preparation but also in gaining confidence before facing the actual exam.
Bottom Line: When it comes to review, Surgent CIA just stands out. With its adaptive learning technology, real-time progress tracking, and up-to-date content, Surgent's review program is simply hard to match. Its concise video lectures and unlimited practice exams make it our top pick for efficient and comprehensive CIA exam preparation.

$125 Savings on Surgent CIA Review Essentials Pass
35 uses today
Last Used: 1 hours ago

Gleim CIA Review Course (#2)
One-on-One Counseling: A fantastic addition to Gleim's CIA exam prep courses is their personal counselors. Each student gains access to their own counselor, who is there to answer any questions. With this one-on-one problem solver, you'll find the learning experience easier than ever. Furthermore, your counselor will even make you a study plan and assist with any problems that arise during the course. All counselors can be contacted by both phone and email.
Practice Questions: Included with Gleim's CIA course materials are thousands of multiple-choice test questions. By creating your own pool of these questions, you can actually design your own practice tests. This will allow you to cut out problems you don't struggle with and instead focus on what you need most. Consequently, you'll be able to make the study process extremely efficient.
Multi-Language Support: Gleim's prep course is not exclusive to English speakers. It's also available in Spanish for the convenience of anyone planning on taking their exams in that language. Multilingual courses are extremely rare in my experience; if this is something you're interested in, you likely won't find it elsewhere!
Final Review: Once you've reached the final weeks of studying, you'll gain access to a cumulative final exam review. Due to Gleim's eye for quality, it's been designed to mimic the actual CIA exam as much as possible. Hence, if you take it before the real thing, you'll gain an understanding of the test environment and test-taking experience. Thanks to this final review, the test-taking process will be easier than ever!
Overly Detailed Content: Some users of Gleim's CIA materials have pointed out that the books cover more topics than necessary for the exam. Roughly 20% of the questions derived from these details reportedly don't appear on the actual exam, potentially leading to extra, unnecessary study time.
Bottom Line: Gleim's got your back with a personal counselor for all your questions and a customized study plan. Their practice tests let you focus on what you need, and they've even got a version for Spanish speakers. Plus, their final review feels just like the real CIA exam, so you know what to expect on the big day. It's like having a study buddy who's been through it all before.
---

Wiley CIA Exam Review (#3)

WIley's test prep materials were recently taken over by UWorld. The acquisition of Wiley and subsequent changes have shifted us from rating them as our top pick. And while Wiley has a historic standing in education, we recommend exercising caution when opting for their CIA review course. Please evaluate it against your requirements and consider other choices before finalizing.
Expert Planning: Wiley's CIA Exam Planner is like a virtual coach that guides you through your study schedule. You're free to study whatever you like, but this feature can help you save time and effort while keeping a consistent study schedule.
Assessment and Performance Tracking: After answering questions and completing video lectures, Wiley will keep track of your progress. This allows the software to determine how prepared you are to pass each part of the exam by studying your performance metrics.
Try Before You Buy: If you want to try Wiley's online course before spending any money, you can take advantage of their 48-hour trial period. You'll only have two days of access, so make sure to decide sooner rather than later.
Overly Broad Test Bank: While Wiley offers a comprehensive test bank, it lacks a feature to analyze results by domain. Additionally, many questions don't align directly with the IIA's learning system, as per some users' feedback.
Outdated Material Amidst Acquisition Concerns: Some users have noted that certain sections of Wiley's CIA review material seem outdated or not in sync with the latest IIA exam content. The recent acquisition by UWorld intensifies these concerns, as it could lead to transitional issues in updating and refining course content. Candidates should be cautious and consider supplementary resources for thorough preparation.
Bottom Line: Despite some features like the virtual study coach and performance tracking, Wiley CIA has significant drawbacks. Their test bank often strays from the IIA's learning system, and there are concerns about outdated content. The recent transition to UWorld further complicates these issues. Candidates should tread carefully and consider other options for a more aligned and updated review experience.
---

Powers Resources CIA (PRC) Review (#4)
Additional Materials: In addition to the aforementioned practice questions, Power Resources includes flashcards and textbooks. Flashcards can be organized based on study priority. On top of that, each flashcard comes with extra space to take notes. Updates are also included at no extra charge.
Mock Exams: Upon completion of each CIA study section, you have the option to take two mock exams. Each exam is designed to mimic the true CIA exam as closely as possible so as to simulate the testing environment. Taking these tests makes your final review that much more effective. Even though other services offer similar tests, the quality of PRC's tests shines above the rest.
Video Content: Much like Surgent, Power Resources' focus does not lie in video content. Instead of audio or video lectures, students are expected to learn via their self-study materials. However, thanks to this focus, their study guides and practice questions are top-notch. If video isn't that important to you, keep PRC in mind.
Limited Interactivity: The PRC CIA review offers a solid foundation for CIA exam preparation, but its platform may lack the interactive features and adaptive learning technologies that some competitors provide. This could mean a more static study experience for users who are accustomed to dynamic, tech-driven learning environments.
Lack of Brand Recognition: PRC CIA Review is not as widely recognized or established as some other CIA exam prep providers. This might raise concerns regarding the quality and reliability of their content, especially for candidates looking for a well-known and trusted source for exam preparation.
Bottom Line: While PRC's mock exams stand out for their quality and closely mimic the actual CIA exam, there are notable concerns to consider. The lack of brand recognition might raise questions about content reliability. Additionally, with limited course variety, students seeking diverse study aids might feel restricted.
---

Institute of Internal Auditors CIA Learning System (#5)
Long Access Period: One excellent aspect of this program is the length of its access period. Unlike other courses that only give you around one year of study time, the Institute of Internal Auditors (IIA) CIA learning system lasts for up to two years. Therefore, you can really take your time when preparing for the CIA exam.
Free Trial: In order to get a feel for how their service works, the IIA lets you try out parts of their course for free! This guided tour will allow you to familiarize yourself with all of the site's features and view a sample textbook chapter. On top of that, you can even see how the feedback and diagnostic tools work in a limited capacity.
High Price: Despite being made by the IIA, the CIA learning system is one of the pricier study options. In light of all the other great options on display, it can be tough to justify its $875 asking price. Still, if you choose to buy this, you will certainly get your money's worth.
Overly Verbose Material: Some users have mentioned that the IIA's review material can be excessively wordy, making it harder to grasp key points. In comparison, resources like Gleim are noted to be more concise and direct in their presentation.
Lack of Directness: Based on user feedback, some find that the IIA's materials often take a roundabout approach to concepts, which can make studying less efficient. Candidates may need to spend extra time distilling information to understand the core ideas.
Limited Customer Support: A number of candidates have mentioned that the IIA's customer support can be lacking at times. Whether it's slow response rates or not receiving detailed answers to specific questions, this potential drawback could hinder a student's study progress and confidence as they approach the exam.
Bottom Line: The IIA's CIA review offers a generous two-year access period and a chance to try before buying. Despite these perks, feedback suggests the materials can be overly verbose and support may be lacking. It's advised to weigh these factors when deciding on this as your primary study resource.