The Good
Comprehensive online textbooks (as well as print)

100+ hours of video lessons

Adapt2U Learning technology

6,200+ practice multiple choice questions

300+ practice task-based simulations

2 mock exams (per section)

Interactive study planner

1,400 digital flashcards (for an additional charge)

Unlimited Academic Support
The Bad
Most expensive CPA review course on the market

Inconsistent live courses

Long and boring video lectures

No audio courses
7,200 multiple choice questions
400 task-based simulations
Comprehensive textbooks and eBooks
Interactive Study Planner
Over the last 5 decades, Becker has made a name for itself in the CPA Review market by helping over 400,000 students study for their CPA exam. Becker students pass at double the rate of other CPA candidates that use other review courses.
So what is it about this course that makes its name so recognizable?
This popular course is stuffed with all sorts of study materials and tools that will help you get a passing score on your CPA exam. The course is offered in three different formats: Self-study, online, and live classes. Becker is even endorsed by the Big 4 accounting firms and is a number one choice for many other accounting firms.
Becker's online course is intuitive and gives you the flexibility to study at your own pace, giving you the convenience of studying anywhere at anytime. Your course even comes with the "Becker Promise", which means you can retake the Becker course if you do not pass.
I have used this course thoroughly and have analyzed every feature available. Let's dive into my review to see if Becker CPA Review is the course for you and your learning style!
WHAT TO EXPECT WITH BECKER CPA REVIEW
With your Becker online course, you will have access to over 100 hours of lecture videos. These lessons are taught by experienced CPAs and professionals from accounting, law, or business. All of your instructors are well trained and very informative, yet they could be a bit more engaging. Other courses have very charismatic instructors, making the study material a bit easy to pay attention to. Becker's instructors however are pretty straight forward, which may not be a problem for you if you don't want any distraction in your study process.
Your video lessons will mirror the format and questions of the real CPA exam, giving you the confidence you need on the big day. I also liked how these lessons focused on subject matter comprehension over routine memorization. This was a much more efficient way to study and my ability to recall information was much stronger.
Another great feature included in your Becker CPA review course is the Adapt2U Learning technology. When you begin studying with Becker, you will have to complete a pre-assessment that provides you with a recommended path that targets the areas where you need to study the most. As you continue to study, performance reports will track your development and guide you to the subjects you need to strengthen.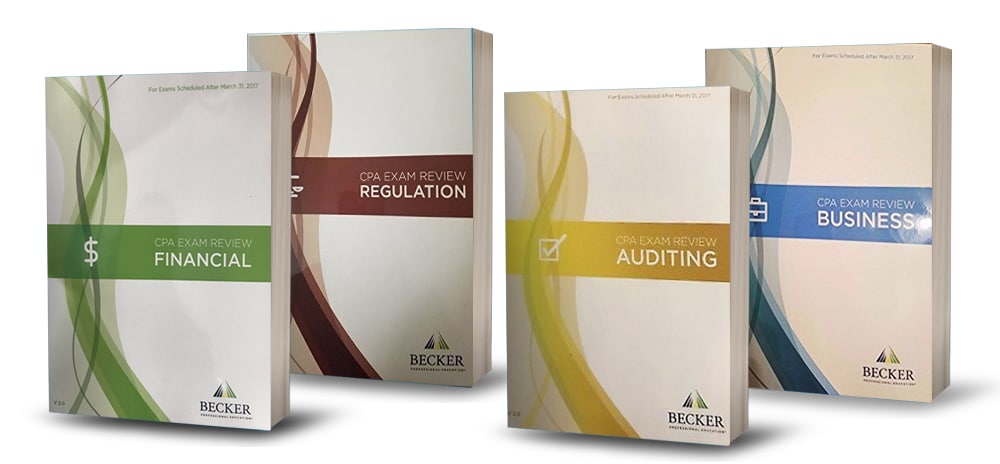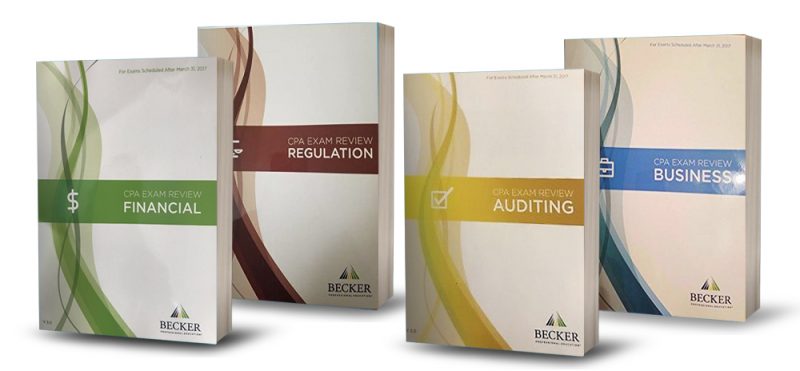 When it comes to the actual textbooks, Becker does a very thorough job. Your e-textbooks (or physical) are so comprehensive, you'll have way more than you need to pass the CPA exam. The information is organized into a way that breaks down big concepts into smaller explanations, making it much easier to digest the content. Your materials will be constantly updated to ensure you have the most current information.
Your Becker CPA Review course will include over 6,200 multiple choice questions and over 380 task-based simulations. These are crucial to your study process and you'll be practicing with these for a majority of your time. And with the adaptive technology in the software, you will be given the most relevant questions to your level of knowledge, pushing you to correct your weaknesses.
Becker also includes two mock exams per section, so eight mock exams in total. One of them will be based on the blueprint of the actual CPA exam, giving you a sense of how the exam will be like on test day. The other mock exam will by specific to your unique skills. It is created to focus on the areas on which you need to improve. I loved having both of these formats for a mock exam. One to practice real CPA exam like conditions and one made just to challenge me!

For an extra charge, you can add 1,400 digital flashcards to your Becker CPA review course. They include a built-in search so you can locate more information for a card of interest. These make a great extra study tool for final reviews or studying on the go, but you will have to pay $99 for them.
Speaking of final reviews, you can purchase Becker's online final review check your readiness before walking into the real exam. This is kind of pricey, at $495, but it included new lectures, more multiple choice questions and simulations for your final hours of study. The condensed format will focus on the most tested exam concepts, just to make sure you can hit the most important parts.
The course itself is quite easy to navigate through. You can jump from your textbook to your lectures, homework, or simulations with ease. The menu bar makes it easy to see all your study resources in one location. The course is decently interactive as well, allowing you to highlight text, search for keywords, and change video speed.
Becker comes with unlimited student support, which is needed for your CPA review course. You are going to run into all sorts of questions while studying, so it's nice to know that you can reach out to an experienced professor for support and answers. You can post exam-related questions to the professor mentoring and get a response in 48 hours or less. Or you can just look up all the archived discussions to find an immediate answer to a questions that has probably already been asked.
Something new for Becker that other review courses don't have is the Accounting for Empires Learning Game. Becker has creatively made a game out of studying, so you can prep and play at the same time. You can play individually or compete as a group, giving you an extra edge of motivation. The general concept is to build an empire before Exam Day by answering practice questions correctly and progressing through your study plan. I enjoyed the game because it allowed me to mix things up after studying for hours and hours, but if you want to get to business, the game may be nothing special to you.
Finally, your CPA review course will come with the "Becker Promise". What exactly does this mean? If you used the Becker course to its full potential and still didn't pass, you can retake the course at no extra cost. This is great, but some other courses available offer a money back guarantee if you don't pass. Make sure you read the fine print of the "Becker Promise" in order to take advantage of the free chance to retake the course.
Becker CPA Review PROS
Comprehensive Study Materials and Tools
Becker offers informative video lessons with lecture notes, challenging practice questions (both multiple choice and TBS), comprehensive textbooks, intuitive software and personalized study planning. You'll be given everything you need to pass the exam and more.
One of my favorite study tools were the two mock exams. One gives you a real exam day like environment and the other is specially made for your level of knowledge. Perfect for that final review!


Mobile App
If you want to be able to take your studies on the go, Becker has made it super easy with the Becker Mobile App. You can access the app via an Apple or Android device. The app mirrors the desktop version of the Becker Course but is organized in a way that makes it easy to navigate through on your phone screen. Other sites don't have specific apps for their course, so it's a big plus for Becker to have this extra tool.
Self-Paced Course, Unique to your Needs
I don't know anyone who had the luxury of studying for the CPA exam without having to work or attend school at the same time. Your schedule is busy and always changing. Becker understands these challenges to study planning, so the course has been formatted to be flexible with your life. With help from the Study Roadmap and Study Planner, you can be guided to the most important areas you need to study and adjust your study time based on your time constraints.
Fast Pass Course Option
If you are looking to pass the CPA exam as fast as possible, you'll love the intensive 12 week format offered by Becker. You can prepare for the exam in weeks with this format, instead of the months it usually takes. I recommend this for students fresh out of college, since they will have their accounting classes fresh in their minds.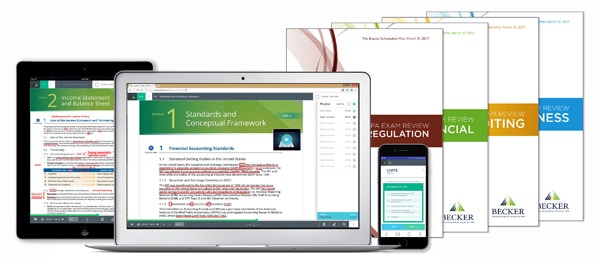 Extra CPA Exam Study Materials
You are provided with plenty of practice questions to pass the CPA exam. But if you want even more, you can purchase more questions per each section. These can help you really nail down those tricky concepts and make you feel extra confident walking in on exam day.
There are also digital flash cards available for an extra charge. These are nice to have for final reviews or studying on the go, but I honestly prefer making my own cards. It's a good study trick just to make the flash cards before studying with them.
Another additional study resource you can have for an extra cost is the Becker Final Review. This is pretty pricey compared to other final reviews available, but it certainly will get the job done. Exam day is getting closer and you need a final crash course to refresh all your concepts. The Final Review will cover all four parts of the CPA Exam and include 30 hours of new video lectures, 700 more multiple choice practice questions and 85 extra practice task-based simulations.
CONS of Becker CPA Review Course



Live Classes Option is Not so Great
Becker is one of the few courses out there that offers a Live Class option to its online review course. While this may seem nice in theory, the classes are really not worth it. Many students have reported on the inconsistency of Becker's live classes and how they can be a hit or miss depending on the instructor. So if you are getting Becker for the chance to have Live Classes online, I really suggest you check out the sample video lectures instead, since those will be much more useful to you.
No Audio Lessons
Becker is not the course for you if you are an auditory learner. I know many students who prepared for the CPA exam by listening to lectures on their way to work, at the gym, or when doing chores like the laundry. If you are a mobile studier like this, Becker would not be much help since there are no audio lessons included in the course. Check out some other courses, like Roger CPA Review, for some awesome audio lessons.
Most Expensive CPA Prep Course
For a whopping $3,393, the Becker CPA Review course can be yours! That's a lot of money to drop on a review course, especially when other courses are thousands of dollars cheaper. If you are like many of the CPA candidates out there having to pay off student loans, you simply can't afford a big purchase like Becker. However, since Becker is sponsored by the Big 4 and so many other accounting firms, chances are you can have your employer pay for your Becker course. Otherwise, I would check out financing options or discounts to get Becker at a more reasonable price.
MY RECOMMENDATION
As you can see, there are a lot of reasons why Becker CPA Review is one of the most well-known and widely used CPA exam review courses on the market. 90% of Watts Sells Awards winners have used Becker, so clearly this course generates results.
With the adaptive technology and ample study resources, you can study efficiently and effectively. I would definitely recommend the online course over the live class option, especially for the self-guided studier out there that wants complete control of their study plan. You'll have tools like the interactive study planner to help you set goals and guide you to the areas of need, making your study process that much easier.
To see how Becker compares to the best CPA prep courses on the market click the link below!
Compare the Top CPA Review Courses!
---
Summary
Reviewed By
Review Date
Reviewed Item
Author Rating