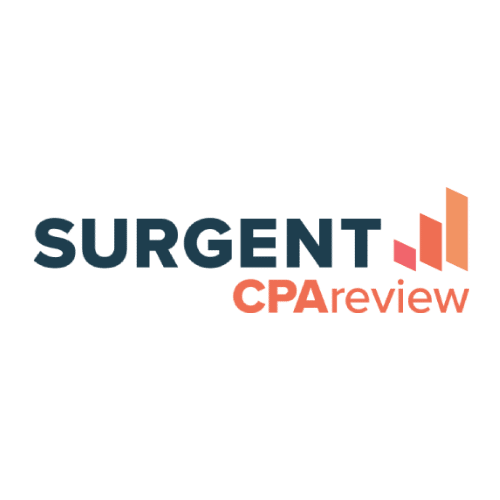 The Good
Most experienced instructors in the industry
Adaptive learning software
Personal Study planner
Unlimited access to study materials (no expiration)
Comprehensive review course
Offers a money-back guarantee
Audio Course (w/Ultimate Pass)
The Bad
Surgent CPA Review
7,700 multiple-choice questions
Document Review Simulations
Over 350 video lectures
All mobile compatible
Pass Guarantee
Surgent CPA Review offers CPA exam candidates a way to study smarter, not longer. The company trims down the material to essential topics to reduce the number of hours that you will have to study for your exams. The results speak for themselves, with their students, on average, being exam-ready in 58 hours of study time. Meaning Surgent's students pass the exam faster than it takes students of other programs to pass just one section of the CPA exam! This equates to a savings of 80% of your time, or 335 hours of time saved.
Their adaptive learning technology evaluates your performance on the practice questions and then highlights the weakest subjects that you need to focus on. In particular, their ReadySCORE technology is far and away the most impressive on the market.
Surgent is best suited for students who prefer the convenience of studying from home, at their own pace, with the help of guided video lectures. The visual reminders about your progress, your personalized study plan, and the daily countdown to your exam's date are all beneficial tools they provide to help keep you on pace to pass your upcoming exam.
There are 3 phases in Surgent's CPA prep course: the adaptive learning phase, the review phase, and the assessment phase. its software tracks your results in every phase as you answer the questions. It also determines when a person should move on to the following phase. This makes it possible to identify and then work on all your weakest areas instead of spending extra time on the subjects you've already mastered.
They've also introduced a new coaching option that is designed to help those struggling to pass the CPA get the extra help they need.
The CPArescue course offered by Surgent is a uniquely designed exam preparation coaching program, aiming to help students struggling to pass the Certified Public Accountant (CPA) exam. CPArescue is tailored to the specific challenges faced by professionals entering the field of accounting and finance, taking into account the difficulty of the exams and the extensive time required to study and pass.
One of the most noteworthy features of the CPArescue course is the provision of six one-on-one coaching sessions with a Certified Public Accountant (CPA) Exam Study Strategist. These experienced coaches help students adapt their study plans as required, providing them with the skills, knowledge, and support necessary to pass the exam. Moreover, the course access is available until the student passes the CPA Exam, and the program comes with a 100% pass guarantee.
Overall, the CPArescue course is an excellent choice for professionals seeking personalized support in their journey to pass the CPA exam. The course provides a comprehensive study plan, tailored support, and access to experienced coaches and innovative technology, making it an incredibly effective way to prepare for the CPA exam.
How does Surgent CPA Review stack up?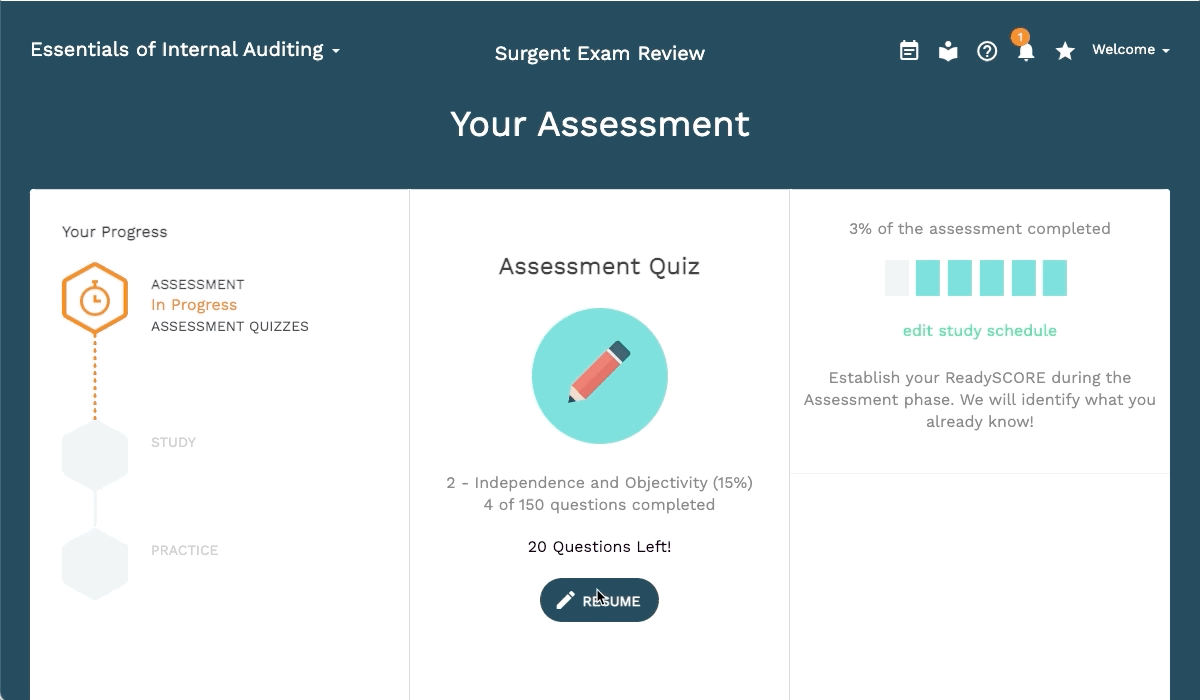 Comparison of Surgent CPA Review's Courses
| | | | |
| --- | --- | --- | --- |
| Course Features | Ultimate Pass | Premier Pass | Essentials Pass |
| Cost | $1,999 | $1,599 | $999 |
| Online Mobile Friendly Course for All 4 Sections | | | |
| Full Access Until You Pass | | | |
| Free, Automatic Content Updates | | | |
| Personalized Adaptive Study Plans | | | |
| Ongoing 1 on 1 Coaching | | | |
| 350+ Targeted Video Lectures | | | |
| Customized Study Notes for Each Lecture | | | |
| 7,700+ Multiple Choice Questions | | | |
| Nearly 417+ Task Based Simulations | | | |
| Document Review Sims | | | |
| Flashcard App for iOS and Android | | | |
| Printed Textbooks for All 4 Exam Sections ($500 Value) | | | |
| Printed Flashcards for All 4 Exam Sections ($150 Value) | | | |
| Ultimate Support from a 1 on 1 Dedicated Coach ($400 Value) | | | |
| Professor Mentoring (4-hours) | | | |
| Excel Certificate Course ($150 value) | | | |
| Link to Course | Get Started | Get Started | Get Started |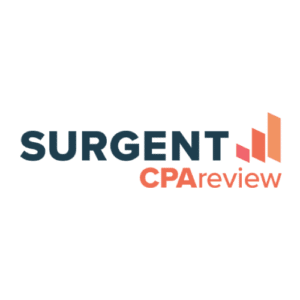 Take $740 Off Surgent CPA Ultimate Pass
40 uses today
Last Used: 1 minutes ago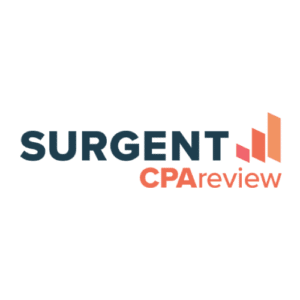 Take $1,000 Off Surgent CPA Ultimate Pass
35 uses today
Last Used: 1 hours ago
---
PROS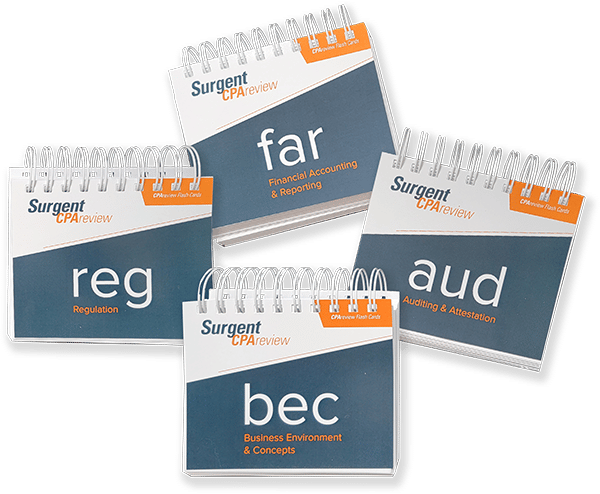 Comprehensive Course Materials: Students who register for Surgent CPA Review get access to over 7,700 multiple choice questions (with the detailed answers), integrated test back (1,000 more MCQs, 8,700 total) and more than 375+ task-based simulation questions, and an audio course. For ultimate courses, ultimate customer support.
The course also is also comprised of study notes, 350 short video lectures, digital textbooks which can printed as PDFs and the personalized study plan.
Personal Study Planner: One great feature of this course is the fact that its software generates your personal study plan based on the dates of your actual CPA exam and the number of days you plan to study each week.
You will be able to see the exact number of hours you'll need to study every week and on which specific days to complete this course on time. This takes out the guesswork of determining the amount of time that you should spend studying.
A.S.A.P. and ReadySCORE: The secret to Surgent's success as a time-saving and highly innovative educational program is its adaptive learning technology. Starting with an assessment test, students will be given a score that shows their level of exam readiness. This is referred to as their ReadySCORE, and it updates as they make progress in the course. ReadySCORE has a 99% accuracy of estimating your CPA score, amazing! It's an inexpensive way to save you time and money before you sit for the real thing.
Study sessions are customized for you depending on how you performed on answering previous practice questions. This is a result of Surgent's second impressive adaptive learning feature: A.S.A.P. This technology will change your study plan on the fly to reflect your individual needs as a student.
You'll stay within the adaptive learning phase until you have correctly answered all questions at least once. Thanks to A.S.A.P., you'll have a tailor-made study plan to work through your problem areas, and your ReadySCORE will increase as a result.
In case you want to fully focus on a certain area for a longer period of time, you can switch from the adaptive study to the customized study. This allows you to adjust the settings of the quiz, which include: session duration, categories, number of questions, and length of time.
This software also generates a reading list of relevant references for the questions that you answered incorrectly and need to be reviewed. As a result of this impressive technology, students have found that they can pass their exams far more often with fewer cumulative study hours when they sign up with Surgent!
Very Experienced Instructors: The founders of Surgent CPA Review, Liz Kolar and Jack Surgent, have several years of experience in teaching CPA courses.
The lectures are quite clear, detailed, and short—averaging around 12 minutes long. They include demonstrations showing of how to solve a wide range of practice questions.
All members of its faculty have a minimum of 15 to 20 years of experience in teaching accounting classes.
Instructors offer useful strategies and advice to help you in memorizing the information and also perform well during the exam day.
With Ultimate courses, you get a Dedicated Coach who offers you personalized guidance along your studying journey.
If you run into any problems during your studies, Surgent offers support via email. You can email 

[email protected]

 with specific questions about the course content, and the Surgent editorial group will respond within 24 hours. Just make sure you include your exam section and question's ID number when emailing so they can be as specific as possible.
Pass Guarantee and Unlimited Access: Surgent offers both unlimited access to all its study materials and a money-back guarantee until you pass.
This simply means that you will never have to worry about the study materials expiring or even having to pay extra fees later on like the other CPA review course companies.
Version 2.0: Rarely do test prep companies overhaul their offerings and completely redesign courses. Surgent simplified and de-cluttered its dashboard, making navigating through the product much easier. This revamped review course is great and offers a lot of great features in a well-organized platform.
Surgent is also offering a limited-time discount to all students, which is good for HUNDREDS OFF the complete Surgent CPA Review course: 
---
CONS
Free Trial & Discounts: Check out its 3-day Free Trial to see if the course fits your personal style of learning. While I really like the fact that Surgent offers a free trial since it shows that it is confident in its product, three days is not a lot of time to do so. However, I believe it is more than enough to give a person a good feel for what the course is all about, but I would still prefer more time. Check out Surgent discount codes to get a great deal either way!
---
My Suggestion
Surgent CPA Review is a very comprehensive course, and it would be a great choice for students who want to study efficiently and prefer having the material explained to them via concise video lectures.
It has a strong lineup of instructors who are specialists in teaching CPA candidates. Its teachers have more experience in the industry than any other CPA review companies on the market, despite the company's course being a little on the newer side. This newer version of the course is really a home run, as the design was completely overhauled, and it couldn't look any cleaner.
Its course comes with unlimited access to all its study materials. Unlike many other CPA review providers, you will never have to worry about the materials expiring until you have successfully passed your exams.
The CPArescue course, in particular, is a great option for CPA candidates who've already failed the exam or feel really unprepared and need extra support.
The mere fact that they offer the Money-Back Guarantee just proves how confident they're in its course. It also gives its students a risk-free way of preparing for its exams. There's nothing to lose, so get started with Surgent!
Surgent also offers financing options! Combine that with our discounts and it's very affordable!
---
Surgent CPA Review Frequently Asked Questions
📅Does Surgent CPA expire?
Surgent offers both unlimited access to all its study materials and a money-back guarantee until you pass. This simply means that you will never have to worry about the study materials expiring or even having to pay extra fees later on like the other CPA review course companies.
❓Who Is Surgent?
Surgent is one of the biggest and most well known providers of review and preparation courses for major certification and licensure exams in the financial space. It previously operated under the names of Surgent McCoy and CPENow.com.
1️⃣Which CPA review course is the best?
Although all courses have pros and cons, our number 1 rated course is the Surgent CPA Review. It has fantastic onboarding, and all of Surgent's course features and CPA study materials are compatible with most smartphones and tablets. They also offer a Money-Back Guarantee which proves just how confident they are in their product. This offering was completely revamped into a new platform, and 2.0 is really something worth considering when buying CPA review courses. You even have the option to sign up for a 5 day trial, just to get familiar with the course before making any buying decisions.
% What is Surgent CPA Review's pass rate?
88 percent of students enrolled in one of Surgent's CPA prep courses pass the CPA exam, provided that they have a ReadySCORE of 75 or above. Additionally, Surgent states that most students increase their readiness score to at least this level— if not higher —when enrolled in their course.
Surgent CPA Review Course Info
| | |
| --- | --- |
| The Good | The Bad |
| Most experienced instructors in the industry | Trial could be longer |
| Adaptive learning software | |
| Personal Study planner | |
| Unlimited access to study materials | |
| Comprehensive review course | |
| Offers a money-back guarantee | |
| Terrific Surgent Discount | |
Top Surgent CPA Coupon Codes & Discounts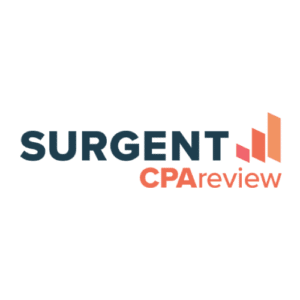 Take $740 Off Surgent CPA Ultimate Pass
33 uses today
Last Used: 1 minutes ago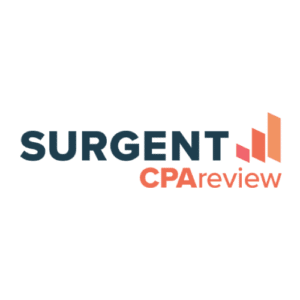 Take $1,000 Off Surgent CPA Ultimate Pass
34 uses today
Last Used: 1 hours ago
Bryce Welker is a regular public speaker and contributor to several online publications, including Forbes, Inc.com, and Entreprenuer.com. Bryce is the mastermind behind over twenty different websites devoted to providing people like you with the resources necessary to successfully pass certification examinations.