Becker Professional Education is one of the leading providers of CPA review courses and study materials. Their courses are comprehensive and designed to help students pass the CPA exam on the first try. However, preparing for the CPA exam can be expensive. That's why using Becker promo codes can be a great way to save money on your exam preparation. Bookmark this page and check back often to find and use promo codes for Becker's CPA review courses, as well as provide tips for saving money on your exam preparation.
If you're interested in achieving success in professional accounting or finance, you're going to need to study hard. Fortunately, Becker offers some of the best collections of online study materials for many of the highest-paying certifications in these fields. But before you pass those exams and start making the big bucks, check out these exclusive Becker coupon codes so you can take the first step toward your rewarding future!
Becker CPA Promo Codes
Looking to start your career as a Certified Public Accountant (CPA)? If you've checked out our official list of the best CPA exam review courses on the market, you'll notice that the Becker CPA review course is one of the very best options that's currently available. In fact, we're not alone in this assessment— they're one of the only educational providers to be officially endorsed by the Big 4 accounting firms.
Starting with their Advantage prep course, Becker provides all CPA exam students with thousands of practice questions and digital flashcards in order to drill important exam concepts. These are supplemented by informative video content and realistic exam simulations to further reinforce your knowledge and build your confidence. However, their most well-known and effective courses are their Becker Premium package and Pro options, which add even more practice questions and additional 1-on-1 coaching. But if the price has you concerned, using one of the Becker discount code options below will help to ease the financial burden.
(Not convinced that Becker is the best CPA review for you? Check out some of the best CPA review discounts on the other major courses here)
Becker Coupon Code for CMA Review
If your career aspirations involve management accounting, you're going to want to become a Certified Management Accountant (CMA). CMA varies from CPA certification due to its increased focus on management principles, so you might think that this primarily CPA-focused company wouldn't offer as robust of a prep course for it. However, Becker cuts no corners here; they offer one of the best CMA review courses available to students online!
The Becker CMA review course takes an assessment-heavy approach, which means your progress is tracked as you complete assigned study materials. Because of this, you can mimic a more traditional classroom experience where your teacher constantly gives you progress reports in order to gauge your overall exam readiness. If you don't understand how this can help you pass the CMA exam, check out their 2-week free trial and see for yourself! Once you have, you'll probably want to use these Becker CMA Review discounts and sign up for the full course: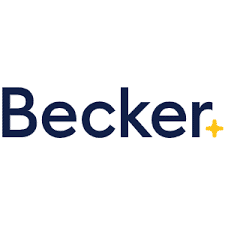 Get $1,000 Off Becker CMA Pro + IMA
37 uses today
Last Used: 49 minutes ago
Becker Discount Code for CPE Courses
Once you've become certified as a CPA, you're finally ready to close up those textbooks and stop learning, right? Wrong— you'll need to regularly earn Continuing Professional Education (CPE) credits every year if you want to stay certified and continue working in this rapidly developing field. The good news is that you can go to Becker for extra study materials and educational resources to meet these needs too.
Since the process of meeting your CPE credit hour requirements is a bit more freeform than getting initially certified, Becker offers a highly flexible structure. Their CPE courses are offered year-round, making it easy to find a few that work with your schedule even if you're currently working full-time as an accountant. Additionally, they offer an upgrade to their standard CPE prep course with live webinars for even more involved education. You can even get a free CPE course demo to try before you buy. Whichever option you choose, you'll be in the best position if you remember to take advantage of these Becker CPE discounts before you check out:
How to Find Becker Coupons
Check here often: The first place to look for exclusive Becker promo codes here. They often offer exclusive discounts to our readers, to our email subscribers and social media followers. Keep an eye out for special promotions and sales, especially around major holidays or exam periods.
Browse the latest offers: Another great place to find Becker coupon codes is on our discounts page. Simply search for "Becker promo codes" and you'll find a list of available coupon codes. Be sure to read the fine print to make sure the discount code is still valid and applicable to the course or materials you're interested in.
Using Becker Promo Codes
Enter the Promo Code: Once you've found a Becker coupon code that you want to use, enter it at checkout. The promo code box is usually located on the payment page. Make sure to double-check that the discount has been applied before you submit your payment. All of our Becker discounts are verified, but let us know if you ever have problems.
Combine Promo Codes: Some promo codes can be combined with other offers, so be sure to read the terms and conditions carefully. For example, you may be able to use a Becker promo code for a course discount and also receive free shipping on your materials.
Becker CPA Review Discounts
Becker CPA Review Discounts for Students: Becker offers exclusive discounts to students currently enrolled in an accounting program. These discounts can be up to 50% off the regular course price, so be sure to take advantage of them if you're eligible.
Group Discounts: Becker also offers group discounts for companies and organizations. If you're preparing for the CPA exam with coworkers or classmates, be sure to ask about group pricing options.
Frequently Asked Questions: Becker Discount Codes
Are there any working Becker coupons right now?
Currently, there are 3 verified working Becker discount codes available for Becker's CPA, CMA and CPE courses.
How much can I save with a Becker promo code?
In the last 30 days, people have saved on average $1,200 on courses using our Becker promo code.
Which is better, Becker CPA or Wiley CPA?
Many people wonder which review is better, Wiley CPA or Becker. The short answer is Becker. Although Wiley is less expensive and offers more practice questions, Becker has higher quality live classes, video lectures, flashcards, and mobile apps. You can check Becker competitor coupons here.