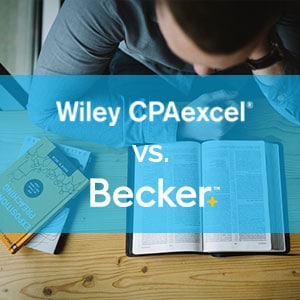 Wiley CPAexcel and Becker CPA Review are two of the most well known names in the CPA industry, but which one is better?
It may not be initially clear which course you should choose, so I compared Becker and Wiley's features so you will be able to make an educated purchasing decision.
I've used both courses extensively and was able to pinpoint the significant differences between the two that you should know before selecting a CPA Review Course. So let's get started!
Cost
When it comes to the cost of the course, Wiley CPAexcel beats Becker CPA Review in affordability. Becker is the more expensive choice with its price tag of $3,499. On the other hand, CPAexcel's courses are cheaper, with their Platinum Course costing only $2,800.
A single section for Becker costs $799, while Wiley charges $800 for specific sections. While these are more or less equal, there is one key difference. Wiley CPAexcel doesn't have admin fees and offers you the chance to repeat the course for free. And although Becker offers free retakes under their Becker Promise, Wiley still has the better deal!
---
Expiration and Course Access
Both Becker and Wiley offer students generous study windows under the assumption that passing the CPA exam is not usually a first-time thing. You'll get free course repeats in the case of Wiley and unlimited access in the case of Becker. Once you finally pass, however, you will still have access to Wiley's online material for an entire year after your CPA exam.
---
Practice Questions
Both Becker and Wiley have similar offerings on this front. CPAexcel has a large bank of 7,500 practice questions and 450 task based simulations. If those aren't enough, the premium course adds an additional 4,400 questions and 160 simulations. Becker CPA Review offers a selection of 7,200 multiple choice questions and 400 task based simulations.  An additional 1,200 questions can be purchased if needed.
Wiley does provide more than just practice questions, however. CPAexcel comes with "proficiency questions" in the form of true/false quizzes that gauge whether you really understand a particular section or if you need to spend more time studying. How effective these questions are vary from person to person, but its presence alone is a major advantage.
---
Flashcards
Both CPA prep courses offer flashcards. In the case of Becker, they provide digital and physical flashcards free of charge. Their digital flashcards are accessible in either a print edition or through iOS (Apple), Kindle, and Android mobile devices.
Wiley provides their CPAexcel course with 4,100 digital flashcards at no additional cost. The flashcards are relevant to the most important definitions and terms covered in each section.  Furthermore, they also offer 1000 print flashcards for $300. Therefore, while Becker offers the better price, Wiley wins on volume.
---
Format
Becker offers 3 different course formats: Advantage, Premium, and Pro. Becker proudly states that they are the only CPA review company who provides a live classroom course. For students who prefer a regimented classroom experience, Becker's course provides a distinct advantage.  All live instructors are experienced CPAs who understand what students need to know to pass their CPA exam. Additionally, their Pro course includes up to five free 1-on-1 academic tutoring sessions live through Webex.
Wiley CPAexcel also offers 3 course formats: online, self-study, and virtual classroom. The virtual classroom is a new feature and provides a blend of pre-recorded and live lectures. If you are traveling or don't have online access, Wiley has your back. Each course comes with a USB flash drive containing all of their materials offline, as well as DVD's of the video lectures. It's not bad by any means, but Becker is the clear winner!
---
Wiley vs. Becker CPA Video Lectures
Wiley has great video lectures, as these classes are thorough and laid out in a manner that's easy to understand. While they aren't the best CPA video lectures on the market, they tend to be more engaging than their competitors.
In comparison, Becker's CPA video lectures tend to be a little more dry but they carry a more professional and direct air. Between the two courses, I prefer the video lectures provided by Becker for their clarity and distinct professionalism.
Becker:

---
Updates
Both Becker and Wiley keep their software up to date. If you want the most relevant practice exams, simulations, or video lectures, you won't have to worry about being under prepared for your CPA exam no matter which you choose.
Both Wiley and Becker know that the CPA exam changes constantly; that's why they make it easy for you to have the most up to date materials. Updated video lectures are available online and Wiley CPAexcel will even ship you a DVD for only $8 if you prefer to watch them offline. However, Becker's prices for updated textbooks are quite a bit more expensive on average.
---
My Suggestion
The winner is Wiley CPAexcel. Here's why:
Becker has higher quality live classes and video lectures, but Wiley has lower costs, more practice questions, and more generous limits to their course access time. Both courses have the material it takes to pass your exam, but Wiley wants to make becoming a CPA easy on your wallet.
Wiley CPAexcel offers a competitive course for a cheaper price and there are very few extra charges for things like flashcards, updates, or course renewals. Check out the free demos for Wiley and Becker if you want to see some of the differences for yourself, but I recommend Wiley CPAexcel.
If you aren't convinced that Wiley CPAexcel is the course for you, check out the other top CPA review courses and find one that fits your needs. The factors mentioned above are important to consider when choosing a course. After all, you don't want to risk your valuable time and money on a course that doesn't lead you to success!