The Good

Most engaging video lectures

Round the clock homework help center

Excellent Audio CPA review offered

Mnemonics & memorization strategies

Course available both online or offline via USB

Flashcards offered (Additional cost)
The Bad

Additional cost for Final Review ($225-$295/part)

Limited course access

Severe connectivity and performance issues with Uworld learning app
Elite Course Package
100+ Lecture Hours
5,000+ MCQs and TBS
CPA Exam Simulator
Customizable Study Planner
---
How do you rate Roger CPA Review?
Roger CPA Review is taught by Roger Philipp, who has been teaching CPA exam prep courses for over 25 years and has helped over 85,000 students prepare for their exam.
This course has an astounding pass rate of 87% which is largely attributed to the unique teaching method which engages you and keeps you motivated and focused.
Roger CPA Review includes extensive use of mnemonics and other memory aids to help you retain information and easily remember specific details for a longer period of time.

The course organized into micro-lessons through which the company aims to break down larger concepts into smaller, bite-sized lessons so that you can easily remember important information.
Each micro-lesson includes a 10-25 minute video lecture, a short excerpt from the course textbook, and corresponding class questions.
Roger's course is available in an online format and has a full companion mobile app that offers complete functionality on your smartphone or tablet.
How do you rate Roger CPA Review?
Comparison of Roger CPA Review Courses
| | | |
| --- | --- | --- |
| Course Features | Premier | Elite |
| Cost | $1,899 | $2,999 |
| 100 + hours of video lecture | | |
| Electronic and physical course textbooks | | |
| 6,200+ multiple choice questions and task-based simulations | | |
| CPA Exam Simulator with an unlimited amount of full length practice exams | | |
| Integrated study tools for enhanced learning & retention | | |
| Homework Help Center access | | |
| Customizable study planners | | |
| Free material updates | | |
| Offline Lectures on USB drive | | |
| Unlimited Course Access | | |
| CPA Exam Flashcards | | |
| Audio Lectures | | |
| Roger Cram Course | | |
| Link to Course | Get Started | Get Started |
---
PROS
Entertaining and engaging lectures
He is energetic and enthusiast and uses a unique teaching style that obviously demands your attention and makes the material very interesting. To see videos of Roger CPA Review's teaching style, click here.
Easy to understand course textbooks
The review textbooks are provided in online and physical format and only focus directly on what will be on the exam as they eliminate a lot of fluff.
Memorization techniques


Roger CPA review uses mnemonics and numerous catchy memory aids extensively to help students retain the information and easily remember the details on exam day. When you retain long lists of information, you'll have a hug advantage over other CPA candidates and will definitely improve your scores.
Exclusive Roger CPA Discounts
New course features
You can enjoy a variety of useful new features. For example, every video lecture is accompanied by an area where you can type notes and format them while watching. The notes are saved in "My Notes Summary" and can be accessed and downloaded any time in either HTML or PDF format.
If you find Roger a bit too fast in speaking, there is an added new feature that allows you to easily adjust speed of every video, highlight directly on the eTextbook, and add closed captions.
There is also a new added feature; the video bookmark which allows you to mark a specific time in the lecture so you can go back and review it later in your free time. Basically, you can add multiple bookmarks in a lecture with just a click of a mouse.
Audio review course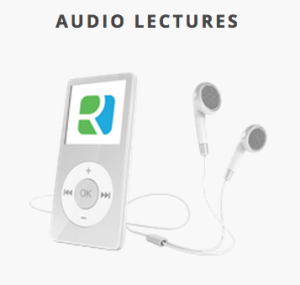 He offers an audio review course where the lectures are taught with the same high energy and enthusiasm that Roger is popularly recognized for.
Roger CPA Audio course is available in an MP3 format and only focuses directly on the content that will be on the CPA exam.
Affordable financing options
The course review program is offered to students at a price as low as $149 a month. All you need is to provide your basic information during checkout and you'll get approved right away.
You also have another option of paying over 3, 6, or 12 months with interest rates ranging from as low as 10 to 30% APR based on your credit score. Your monthly bill can be paid using a debit card, bank transfer, or check.
---
CONS
Limited Premier Access
Roger CPA Review's most popular course is their Premier package. This tier gives you 18 months access to all the course materials. After their most recent update, this has been lowered from its original access period of 24 months. However, this is still enough time for most students to complete all the four sections of the exam. Unfortunately, the only way to receive unlimited access to Roger's CPA study materials now is to opt for their Elite-Unlimited package, which costs over $1,000 more.
Uworld App
Yes, the whole Uworld Roger CPA app is a negative. Don't believe me? Check out some of the reviews left by customers on the app store. Among other things, common complaints are that this app is difficult to navigate due to an excessively complicated interface, it can be tough to stay connected when using data instead of Wi-Fi, and software crashes are frequent. This app needs some serious work done!
---
Recommendation
If you need extra motivation and an engaging teacher who can take any accounting topic and make it interesting, Roger Philip is the man. His video lectures alone make this an excellent resource for CPA candidates to pass their exams.
However, the rest of this course leaves a lot to be desired, making it a poor choice in comparison to other options currently available to CPA students. Although I can't recommend their course to all students, it's still a great option for one-of-a-kind video content.
---
Course Features
Instructional Lectures – As we previously mentioned these lectures cover the principles you need to know to pass the exam
Textbooks – Both e-textbooks and physical textbooks are available to fit your specific study preference. The books were written by CPA experts with over 65 years of combined experience.
Online Learning Tools – Among other things, you can adjust the speed of the video lectures, turn on Closed Captioning for increased understanding, insert video bookmarks, take online notes and highlight copy in your e-textbooks.
Review Questions – The course includes over 4,000 review questions and task-based simulations. Each question also comes with not just the correct answer but a full explanation as to why that is the correct answer.
SmartPath – When completing the interactive test questions your performance is tracked through SmartPath. This feature has been recently updated from top to bottom so that you can instantly know your strengths and weaknesses. Furthermore, you can then use that information to direct your future study efforts through QBank.
Practice by Chapter or by Full Exam – This feature allows you to customize your study by individual chapters, multiple chapters or full practice exams.
Customizable Study Planners – The course provides 3, 6, 9 and 12 month Study Planners that you can customize to fit your needs.
Homework Help Center – Here you can ask questions and receive assistance from CPA Exam experts anytime, 24/7.
Personal Trainer – This feature emails you tips, tricks and inspirational messages to keep you motivated and on track for completing your studies.
---
Roger Cram Course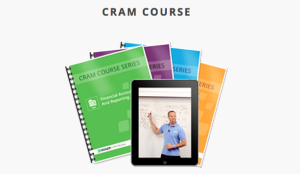 Do you have limited study time or are you worried that you have not retained enough of the information you studied?
Then check out the Cram Course because it uses your study time very efficiently!
The course videos are between 9-17 hours, depending on the section, and are more of a review. That being said, the condensed Cram Review book includes all the details you need to memorize in a highly efficient format!
That's why this cram course is perfect for your final week or weekend of studying. Best of all: it's included free with Roger's Elite-Unlimited course!
---
Supplemental Study Materials
Roger CPA Review also features additional study tools to help make sure you pass the exam. Here are the two most popular ones, conveniently also included with their recently updated Elite-Unlimited course package:
Roger Flash Cards
These are perfect to carry with you so you can use every available minute to get in a little studying. They're offered in both digital and physical formats, with students even having the option to print their digital decks to make additional physical ones.
Audio Lessons
Do you study when you're driving to work or at the gym? If not, you're missing out on some valuable study time.
The audio lectures will help you take advantage of this time and help you boost your score. Best of all is that they feature Roger's trademark teaching style, making them one of a kind!
Company Credibility & Support
Roger CPA Review is a credible company that has been providing review materials for many years now.
The company's mission is to "provide support and guidance every step of the way in order to foster the most efficient, effective and enjoyable experience."
The company's review materials are based on a three component learning methodology. Those components are:
Learn – Video lectures help students learn important concepts
Practice – Expert written exam practice questions test students knowledge of those concepts
Support – They provides 24/7 support to students through such features as the Homework Help Center, Diagnostic Reports that let students know where they stand at all times, and the Personal Trainer, which helps keep them stay motivated.
---
My Suggestion
Roger's excellent video instruction is unmatched in the industry. His energy and passion, coupled with his extensive knowledge, are enough to get you excited about studying.
The Roger course also comes with plenty of great materials to supplement his enthusiastic lectures. If you're the type of person who needs a little more zest in their video content to stay engaged, this is the product for you. The audio content is also extremely well-done, so you're going to have several options to hear Roger's engaging talks.
Unfortunately, the recent update to their app has taken away a lot of this course's appeal. But if you're the type of student who doesn't care about studying on the go and you just want some interesting lectures, Roger CPA Review is still a viable choice!
Roger CPA Review Frequently Asked Questions
📖Does Roger CPA Review offer any offline study materials?
Students who want to study Roger CPA prep course materials without access to an internet connection will be very limited. However, there are some features that can be accessed offline, such as their physical textbooks and downloadable video lectures.
❓What is Roger CPA Review's pass rate?
According to Roger CPA Review's website, around 91% of students enrolled in one of their prep courses will pass the CPA exam. This is the highest advertised pass rate for any CPA review course!
Roger CPA Review Breakdown
| | |
| --- | --- |
| The Good | The Bad |
| Most engaging video lectures | Additional cost for Final Review ($225-$295/part) |
| Round the clock homework help center | Limited course access |
| Excellent Audio CPA review offered | |
| Mnemonics & memorization strategies | |
| Course available both online or offline via USB | |
| Flashcards offered (Additional cost) | |
| 10% Off Student Discount | |
---