The Good

Unlimited course access

Most affordable study materials

Email support

Focuses in on your specific learning needs
The Bad

No final review offered

No CPA audio

No flashcards available

Online format only, no offline option

No Mobile App

Only 30 Days to Claim Refund
Fast Forward Academy CPA Review
Paperback Study Guide
FastBook (Online Textbook)
5,000 Study Questions
Unlimited Practice Exams
Video Explanations
Free Domestic Shipping
---
You know having that CPA credential could do wonders for your career in accounting.
You also know that the CPA Exam is a very difficult exam to prepare for – so which review course should you use, Fast Forward Academy CPA Review or another course?
To help simplify the situation – and save you time and money – we have reviewed the most popular review courses and attempted to provide you with the information you need to know to make an informed selection.
In this review, we are taking a look at the…
---
Fast Forward Academy CPA Review Course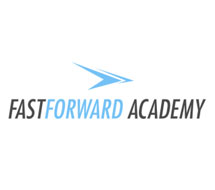 This is a unique review course that uses the latest technology to provide you with as comprehensive a review as possible.
For example, this course allows you to do all of the following:
Plan

– It contains an interactive study planner

Diagnose

– As you complete practice questions the course tracks your performance and learns how well you know certain subjects

Focus Your Study Efforts

– The course allows you to use performance data to make better use of your study time.
Practice for the Exam – You can create unlimited practice exams featuring questions formatted just like the real thing.
---
Course Structure
The Fast Forward Academy CPA Review features textbooks and questions focused on each of the four major test areas.
In addition, course creators have identified the test areas that students struggle the most with and created video explanations for those areas to give students greater understanding and depth of knowledge.
---
Course Features
Printed CPA Exam Textbooks – This four textbook set is updated to meet all current standards and features all the same information as the course's electronic book versions.
FastBook – The Intelligent Book  –

The course also offers electronic textbooks that actually learn what you know and where you can improve and then suggest areas to focus your study efforts on. The books also highlight ways for you to get the best score come test time.
CPA Study Bank – Fast Forward claims to have one of the largest exam question study banks available with over 6,000 questions and over 230 simulation questions.

Plus, the company has put all the questions into an adaptive study system that learns about you and helps you concentrate your study efforts for maximum benefit.

When it comes to the amount of practice questions you have, it's pretty standard compared to other courses. There are other options, such as Wiley, that have a lot more questions for you to practice with.
CPA Practice Exams –

This course allows you to create an unlimited number of practice exams, all formatted exactly like the real exam. The company says that through its practice exams students get used to the experience of taking the real exam and feel more calm and comfortable when they go to sit for the CPA Exam.
Academic Support –

If there is a question you don't know the answer to or an area that, try as you might, you just don't understand, this course allows you to contact a CPA Review instructor with a single mouse click.
80 Hours of Video Lectures
Video Explanations – As mentioned previously, course creators have also filmed video explanations for the areas that historically give students the most trouble.
---
Course Analysis
The Fast Forward Academy CPA Review is another high quality review that offers a number of benefits to students.
First and foremost, this is a cutting edge review course that makes the most out of recent technological advances.
For example, the course's textbooks and adaptive learning environment actually learn your strengths and weaknesses and can then direct your studies so that you spend more time studying what you really need to study and less time going over material you already know.
This can be a huge time saver and a big advantage when it comes to getting prepared to pass the CPA Exam.
On the other hand, if you are looking for an intensive review that will identify your strengths and weaknesses and then provide you with the information and practice questions and tests you need to improve your weaknesses and pass the CPA Exam, this course may be just what you need!
---
Company Credibility & Support
They are a company that is passionate about providing students with both the ability to pinpoint strengths and weaknesses and direct their study efforts via a user-friendly interface.
The company offers one-click academic support as well as attentive customer service via phone, chat or email.
In addition, the company offers a number of guarantees:
The Multiple Testing Season Guarantee

– Which guarantees you access to course study materials until you pass. The company provides access to yearly updates of the electronic textbook (FastBook), all questions in the Study Bank, and Practice Exams at no charge. The only thing the guarantee does not apply to are the physical books.
30-Day Money Back Guarantee –

The company guarantees that it will provide a full refund for any items that are returned within 30 days of the date of purchase and that which meet its other return requirements. But what if you don't fit well with the course structure and want to use a different course. This isn't much time, especially if you find out the course didn't work for you when you don't pass. Other courses don't have a time limit on their refund and instead abide by a pass or refund guarantee. You'll have to make sure you meet all of Fast Forwards 30 day refund qualifications too in order to get your money back.
Certification Pass Guarantee –

The company also guarantees that students who purchase its Exam Preparation Course materials and do not pass the related examination on their first attempt can have a complete assessment and analysis of their exam results and personal assistance from a coach who will create a study plan and guide them on areas of weakness provided they meet other requirements
---
Fast Forward Academy CPA Review