As of 2023, Fast Forward Academy no longer offers CPA courses. Fortunately, we have several other top-rated courses we highly recommend. Our Best CPA Review Courses of 2023 article is a good place to start. You can also check out our review of Becker CPA.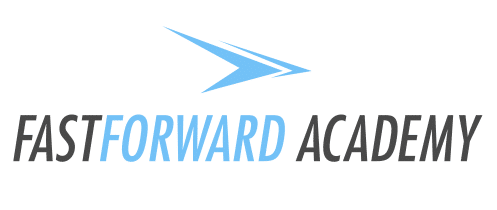 ---
The Good
Unlimited course access
Most affordable study materials
Email support
Focuses in on your specific learning needs
---
The Bad
No final review offered
No CPA audio
No flashcards available
Online format only, no offline option
No Mobile App
Only 30 Days to Claim Refund
Fast Forward Academy CPA Review
Paperback Study Guide
FastBook (Online Textbook)
6,800+ Study Questions
Unlimited Practice Exams
Video Explanations
Free Domestic Shipping
You probably already know that having a CPA credential will boost your accounting career to the next level. But the CPA Exam is just too daunting for a lot of people to study for on your own. Hence, you'll probably need a CPA review course that works with your learning style and doesn't cost too much.
Fortunately, I have reviewed all of the most popular review courses on the market to help you make this decision. So let's take a closer look at what Fast Forward Academy has to offer!
Fast Forward Academy CPA review course covers all four sections of the CPA Exam. Included in your course are practice questions, video lectures, online textbook, and exam simulations. When using this course, you should find that it is fairly easy to navigate. This is because you are provided with all sorts of student support to help guide you. Consequently, this makes the study process that much easier for students like you!
Fast Forward Academy's passion is to target students' weaknesses in order to boost CPA exam scores while studying less. Furthermore, they've even created specific video lessons for the areas that students struggle with the most. With this guidance, you are given greater understanding before test day that will guide you until you pass. Consequently, FFA's test bank is more efficient: made possible by the learning tools integrated into its software.
By having a comprehensive course that adapts to YOUR level of knowledge, you can pinpoint those areas that need the most work. I loved this when tried their practice exam questions; I wasn't wasting any time on questions I had mastered.
PROS
One of the biggest pros in my opinion for Fast Forward Academy is its intuitive dashboard. I found that the interface is shockingly versatile, allowing you to split your screen so that you can work on practice questions alongside lectures. Additionally, you can have community posts next to lectures in case you run into any questions. It's all up to you on how you want to design your course! Ultimately, this is a unique feature for CPA prep courses and one that multitaskers will love to use.
Furthermore, with the adaptive nature of this course's software, you save hours of study time. Fast Forward Academy will track your performance and create lesson plans that guide you to important study areas. Hence, I loved this part of the course since every minute of studying counts, especially when I had to juggle other work and personal commitments.
Another perk of Fast Forward Academy would be the flexible payment plans offered. Fast Forward understands that money is tight for many CPA candidates, so they have options to not pay the full cost up front so you can start studying as soon as possible. This is great if you are a student or recent graduate that has to take care of student loans.
Recommendations
If you are a techie that likes tons of extra study tools, Fast Forward Academy is for you. I really benefited from the tools provided in the course, but these tools could be tricky for those that have difficulty working with computers.
However, this course is not meant for those that prefer a more traditional learning model. You won't find any live lectures or physical books with Fast Forward Academy. Instead, you'll get an intuitive course with online resources to help you pass the CPA exam!
CPA PREP COURSE FEATURES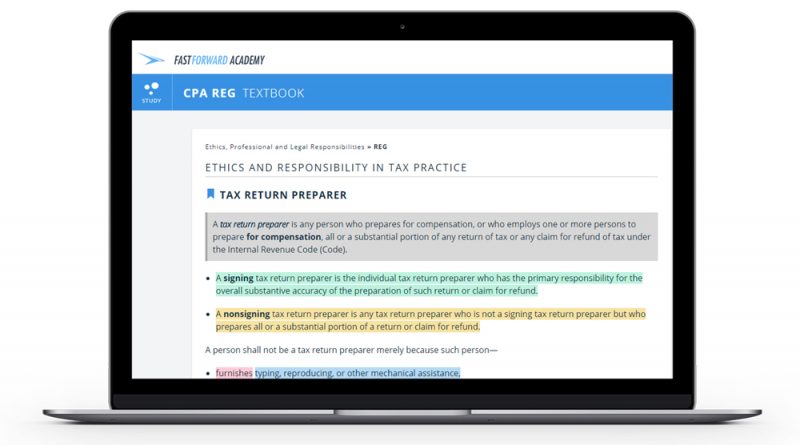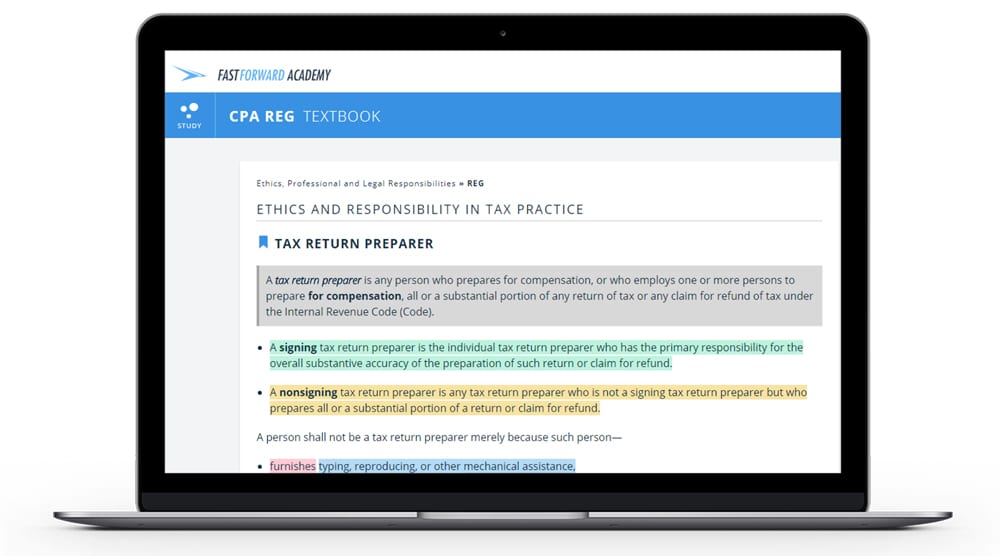 Textbooks
Fast Forward Academy CPA Review's Textbooks are divided into four sections, mirroring the CPA Exam. They align well with the video lectures, so you can read along as you watch the lessons to really hone in those concepts. I loved how you can take notes directly in your online textbook and even create a custom study session right from within the text. You have the option for printed textbooks, but I found no need for these since the online format was much more interactive.
Adaptive Courses Software
Since Fast Forward CPA Review is not a one-size-fits-all type of course, it is perfect for those studiers out there that need study materials made to their needs. Your Fast Forward prep course will be unique to you study style and your level of knowledge. As you progress through the course, you will be directed to the areas that need the most improvement based on metrics created from your practice questions. Your textbook will highlight those sections that you need to work on and personalized exams will be created to test the gaps in your knowledge.
What does this mean for your study time?
This feature may seem unimportant, but it will cut hundreds of hours out of your CPA study prep. You won't be wasting any time on concepts you already understand, giving you more time to devote to more challenging areas and questions.
Practice Questions
Fast Forward Academy's question bank is one of the larger ones on the market, but other courses, like Wiley, have much more. With your course, you will have access to over 6,800+ multiple choice questions and 230 simulation questions.
The difficulty of these questions are pretty standard and will mirror the true exam's questions. But what's great about Fast Forward is how these practice questions will be organized. With the adaptive software, you will be lead to the questions you truly need to be practicing with in order to achieve the your highest score. You can organize these into an unlimited of practice quizzes, allowing you to study with the hardest questions for YOU.
Practice Exams
In addition to your unlimited practice quizzes, you also have an unlimited number of practice exams. These will all be formatted exactly like the CPA Exam so you can study in real test-like conditions. You will want to take advantage of this because it will help you be more calm and confident on the real test day since you have already been practicing in that format.
Student Support
I really liked Fast Forward's student support setup. Unlike other courses that have confusing ways to go about contacting support, Fast Forward has a one-click academic support. This means that if you run into a question while studying in your course (which will definitely happen), you can reach a CPA review instructor with a single click of your mouse. You also have the option to reach out via phone, chat, or email, but I have found that the single-click feature was the most helpful (and one that other CPA courses do not have).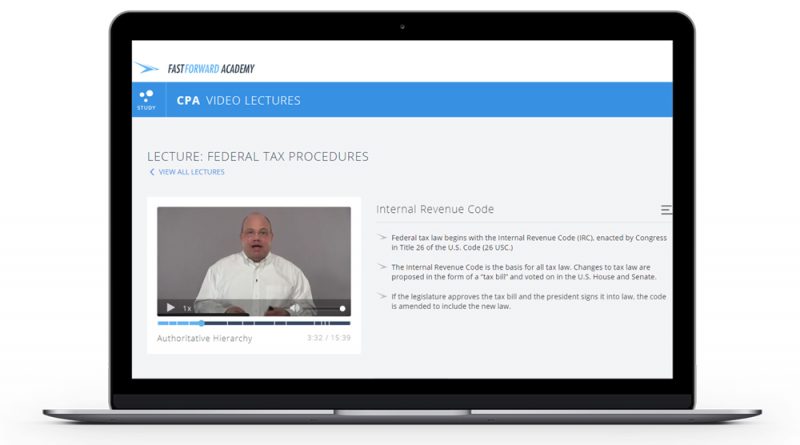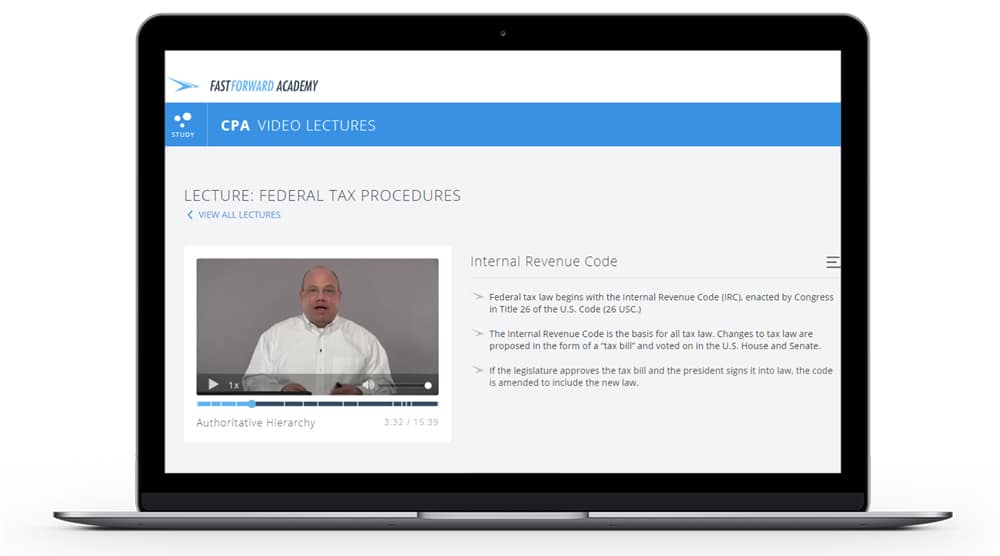 Video Lectures
In addition to the written material provided, Fast Forward Academy has included hundreds of video lectures that offer insight and commentary to help you prepare for the CPA Exam. All of the videos combined comes out to 80 hours, but they are broken up into short lessons that range from 5 to 20 minutes long. These bite-sized video lessons are clean and provide you with graphics alongside the instructor to help you retain the more complicated concepts. There are even specific video lessons for the areas that are famous for stumping CPA candidates.
Mobile Compatibility
Although Fast Forward Academy does not have a special mobile app, its course is designed to be compatible with all internet-accessing mobile devices. So if you want to be able to dstudy on your laptop, phone, and/or tablet, you can with Fast Forward!
This is great for studying on the go, but it is a bummer that there is no dedicated app. Other courses have impressive apps that make quick study sessions on mobile easy, but Fast Forward has yet to develop one.


Fast Forward Academy Courses Packages & Pricing
Out of all the courses available for CPA prep, Fast Forward Academy is one of the most affordable. For the price of $1,749, you can have access to all of Fast Forwards online course. You will also have access to the course for as long as you need, so there is no need to worry about passing the exam in a set amount of time. Everyone fails one or two parts of the CPA exam, so it's nice to know that your review course won't expire if you end up needing more time.
Want to know the best part?
You don't even have to pay the full cost up front. CPA candidates rarely have that type of cash laying around, so Fast Forward Academy offers a payment plan with 0% APR through a third party. This is of course contingent on a credit check, but the opportunity for monthly payments instead of one big cost is much more manageable.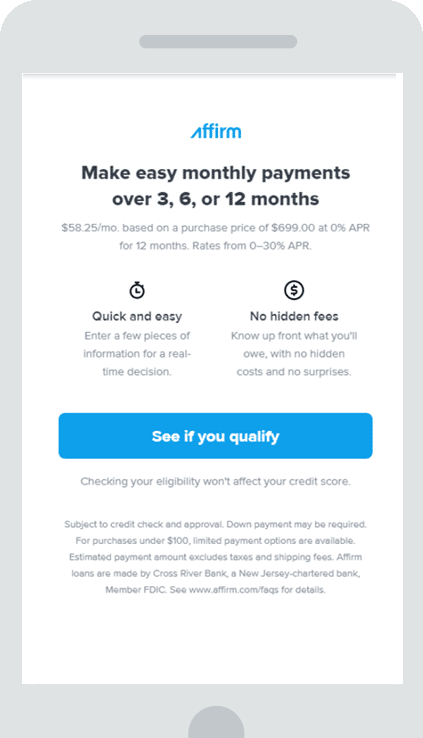 ---
FREQUENTLY ASKED QUESTIONS
If I didn't answer any of your questions about Fast Forward Academy above, check out these most common questions about the course.
Fast Forward Academy Frequently Asked Questions
📱Can I access my course with my Android and Apple products?
Yes, you can! All of fast Forward Academy's online content is compatible with any device that has a web browser, so you can study from anywhere.
☎️How to I reach out for support when I have questions with my studies?
There are a few ways you can connect with student support with Fast Forward Academy. There is the one-click student support feature that quickly connects you with a CPA Review instructor, but you can also reach out via email, phone, or chat. There is also a community forum where common questions have already been answered.
Will I be charged for an updated version of Fast Forward Academy's course?
No. When you pay for your course, you will not have to pay for any other updates if there is a change to the course content. Other CPA review courses will charge you for their most up to date course, but thankfully Fast Forward promises free annual updates as part of their pass guarantee.
🙇🏻‍♀️Will I be able to study with Fast Forward Academy materials offline?
Unfortunately, no. You can use all the study tools, watch the videos, and read the textbooks only with a internet connection.
📃Is there any kind of guarantee?
Yes and yes! There is a 30-day money back guarantee, but make sure you read the fine print of this policy before purchasing. You also have the safety of a pass guarantee, meaning if you don't pass you get your money back. Again, make sure you read the details of this guarantee since you need to use the course to its potential in order to qualify for a refund.
My Suggestion
What drew me to Fast Forward Academy is the low price tag and the intuitive course software. This course is super flexible, giving you the freedom to make the course your own. The abundance of practice questions gives you plenty to work with and the adaptive software allows you to target your areas that need improvement.
All of this being said, Fast Forward Academy does not really offer anything that you can't find in other CPA review courses. Other courses on the market have a bit more of a personal touch to their courses, making you feel like you aren't taking this big exam on alone.
I think Fast Forward would be a great option for you if you want all the fancy tech features of this course and if you are a student on a budget. I suggest you check the course out for yourself since you have 30 days to decide whether or not you want a refund.
---
Best Fast Forward Academy Coupons Codes & Discounts