A CPA Exam Study Schedule is Essential for Success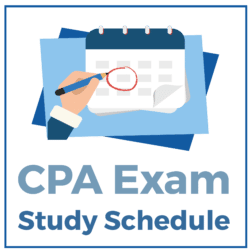 When I finally decided to take the CPA Exam, I had no idea where to begin. I asked tons of my colleagues and received plenty of advice ranging from where to study to what to use: even what type of lighting was most conducive to learning! At the time, there weren't nearly as many study materials and resources online to help me narrow my focuses. I'm here to help you eliminate the mistakes I made in my journey to becoming a Certified Public Accountant. Furthermore, the best thing you can do is start with determining a strong study schedule. Utilize an exam review course to help you plan out the material as a study guide. Personally, I used UWorld Roger CPA Review to help me break down my exam review into consumable chunks.
---
See the Top CPA Review Courses
Becker CPA Review Course  ◄◄ #1 Rated CPA Prep Course of 2023
Surgent CPA Prep Course ◄◄ Best Adaptive Technology 
Gleim CPA Review Course ◄◄ Most Practice Questions
---
Weekday Study Schedule
Let's face it, nobody likes to study after a long day at work. But if you want to become a CPA you're going to have to bite the bullet and study during the week. Trying to push all your study time to the weekend is a huge mistake. Learn how to fight the procrastination here, and get the ball rolling. You need daily study time to keep all the exam sections and concepts fresh in your mind so you can really knock out all the multiple choice questions you have to cover. Furthermore, if you break it up throughout the day, you don't have to spend hours and hours each day studying.
For me, I set up my weekday study strategy so that I'd devote at least an hour and a half each day on studying. I've always been an early riser and a morning person, so I carved out 45 minutes to an hour after breakfast and before work to really hit the books. During lunch, I would recap some exam prep for another half hour. After work, the gym, and finally dinner, my attention span would be pretty small but I'd get in another 15 minutes with my review course. Consequently, by spreading my study materials throughout the day, I found it to be easily manageable.
---
Learn More About The CPA Exam
---
Weekend Study Schedule
Weekends were the toughest for me at first. I've been a weekend warrior for a long, long time, so sacrificing weekend camping trips and other activities for more CPA review was tough at first. But it didn't take long to adjust; furthermore, leaving Sunday free to do whatever I wanted was tremendously helpful. I began to look forward to Sunday every week. To be honest, there were a couple of days where I really wanted to study for the CPA exam: crazy, I know! But after I passed the first two exam sections and the light at the end of the tunnel became bigger and bigger, I became more and more excited to succeed.
---
Get The Best Discounts On Your CPA Review Course!
---
Part of that success is hugely attributed to Saturday. I spent eight-plus hours every single Saturday studying for the CPA exam. The first few Saturdays were brutal, but after I got into the swing of it, I became a machine. This is when I started seriously tackling multiple choice questions on practice exams and reviewed everything I studied during the week, cementing it into my mind. I made my greatest strides during these concentrated study sessions; however, they wouldn't have been so effective if I hadn't also studied throughout the week.
You Can Do It!
Studying is definitely the least fun activity most of us can think of, but it's crucial to success. And having a strong study schedule that you stick to without fail will ensure you don't fail when it comes time to take the CPA Exam. Many AICPA-endorsed review courses, like the ones offered by Surgent, have pre-built study schedules that you can easily adapt to fulfill your needs. Find the one that matches your learning style and get to it! Good luck!