Stop Waiting to Take the CPA Exam – Commit!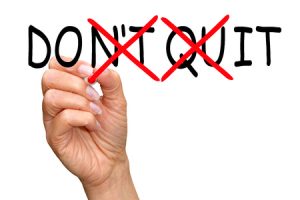 Still waiting for the day when you're going to finally feel ready to take the CPA Exam? Stop waiting. That day is today! You want to know how to avoid CPA Exam procrastination problems for 2017? Sign up for the first section now. By signing up now, you'll get hit with the realization that you have to study. And you won't be wasting any more time with half-assed efforts. With the first exam scheduled and looming in the now, not-too-distant future, it's time to get motivated and stop procrastinating.
---
See the Top CPA Review Courses
Becker CPA Review Course  ◄◄ Endorsed by Big 4 Accounting Firms
Surgent CPA Prep Course ◄◄ Best Adaptive Technology +  
Wiley CPA Review Course ◄◄ Best Instructor Support
---
If you don't do this, you'll never be ready. Besides, nobody is ever truly ready. All you can do is prepare yourself to the best of your capability and trust in yourself, your study schedule, and your materials. And remember that you're not alone. Tons are going through the same experience and half of them are succeeding while the half are failing. The difference? Those that succeed stop procrastinating and get serious about their studying and use the best methods to do so.
---
Learn More About The CPA Exam
---
Check out the CPA Courses for You
Peruse my site, check out my reviews on which courses offer what and how good they are for you. Learn your personal learning style best practices and match them up with the correct course review. The preparatory courses available today are getting better and better. The breadth of what they cover, the different learning methods incorporated, and the sophistication of the user interfaces are increasingly more useful. I have tons of information and helpful tips on how to study, how to stay motivated, and how to pass the CPA Exam. But first thing's first, sign up for your first section now! Don't put it off. Stop procrastinating and put yourself on the path to success. You can pass the CPA Exam, with a little help and motivation.
---
Get The Best Discounts On Your CPA Review Course!
---