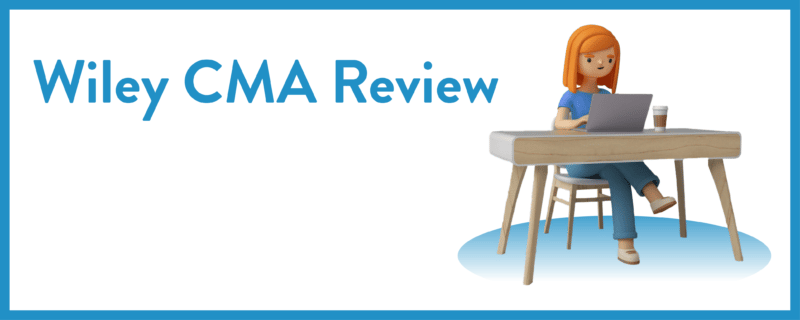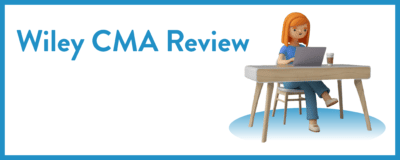 Due to Wiley CMA's recent acquisition by UWorld, its future support, updates and access are uncertain. As a result, we cannot recommend making a purchase.
Like the CPA exam, the CMA exam is notoriously challenging. If you want to pass it, you'll need to study, practice, and hone your skills. A CMA exam prep course is a great way to start, and of all courses, Wiley is one of the top CMA courses available.
But is their service worth using?
The Wiley CMA review course is a comprehensive program that covers all the material on the Certified Management Accountant (CMA) exam, which helps students pass the exam and become certified management accountants.
Wiley CMA exam review is offered in a variety of formats, including their mobile app, self-study, and live classes online, taught by experienced instructors who are experts in the field of accounting.
In this Wiley CMA review, we'll help you decide if this is the right CMA course for you.
It's important to note that Wiley has been bought out by UWorld, potentially impacting the future availability of its test prep services. So, if you're going to be using Wiley for more than cramming, it might be better to purchase another one of the market's best CMA study materials.
How do you rate this Wiley CMA Review?
About Wiley CMA Review
Wiley develops digital education courses, including those for the CMA exam and CPA exams. Their CMA prep course comes in two packages: the CMA Pro course and the CMA Platinum Course.
The Pro course is a bit more affordable but has fewer features. The Platinum Course, also known as Wiley CMAExcel, costs more but offers more features.
In this Wiley CMA review, we'll compare the two.
Wiley CMA Review Course Comparison
Wiley CMA Pro Course Features
The Wiley CMA Pro Course used to be called the Wiley CMA Essentials Course. It's Wiley's base-level course, but it still has a lot to offer. To begin with, you get unlimited access until you pass the CMA exam. You don't have to pay extra just because you failed one or two times.
Online Test Bank
The Wiley CMA Pro course comes with practice exams with more than 5,500 questions. As you take the tests, the software's Content Recommender looks for areas of weakness. It will then direct you to other study materials so you can brush up on your weaker areas.
At the same time, you won't see recommendations for content that you've mastered.
Each time you take a mock exam, the Score Predictor lets you know whether you would have passed if it were a real CMA exam. That way, you'll know when you're ready for the actual exam. This is a great feature that other CMA courses don't have.
Study Materials
Along with the practice tests, you get an eBook and an optional physical book. There's also a set of more than 750 digital flashcards and over 70 retired essay questions.
Videos
To supplement the other practice materials, Wiley CMA Pro comes with over 49 hours of video lectures. It's like taking a classroom course, but you can watch the videos at any time. You can also go back and review previous lectures, which you can't do with an in-person class.
App
Wiley CMA provides a smartphone app that gives you easy access to all the course features. It works well on Android and iOS, and it's easy to use. It also allows you to study offline by storing all the study materials on your phone. You'll still need an internet connection to watch the video lectures.
Website Experience
The Wiley CMA review website has a clean design, and is easy to navigate. It loads well on any browser and doesn't seem to have any incompatibilities with popular pop-up blockers.
Pricing
The Wiley CMA Pro course costs $1,200, so compare that to the cost of a community college course. You can finance the costs over 12 months at 0% interest, which works out to only $100 per month.
Pros & Cons
Easy to use with a powerful companion app
Keep access until you pass the exam
5,500+ practice questions, 750+ flashcards, and 49+ hours of video
No virtual classroom
The difficulty level of the questions doesn't quite match the rigor of the actual CMA exam
Users report some sections to be weak and require other course supplementation
Final Verdict
Wiley CMA Pro was once renowned for its comprehensive CMA exam preparation tools. Its vast online test bank, insightful videos, and user-friendly interface made it a favorite among aspiring CMAs. However, it also faced criticism, including some content gaps and occasional tech glitches. Given its recent sale and change in ownership, we're currently hesitant to recommend it.
---
Wiley CMA Platinum Course Features
Wiley CMA Platinum, also known as Wiley CMAExcel, comes with all the features you get with Wiley CMA Pro. The Platinum course includes the same online test bank, book, videos, and flash cards. The app and the website also work the same way. That said, there are some extra features that make it worth the upgrade.
Instructor Support
If you're struggling with a particular concept, you can use the Ask an Instructor feature. This feature lets you get in-depth answers from real-world experts.
Virtual Classroom
Perhaps the biggest benefit of the Platinum course is the virtual classroom. You'll have access to live online sessions where you can interact with an instructor in real-time. It's like you're taking an in-person class.
11th-Hour Final Review
The 11th-Hour Final Review is a special program for the week before your exam. It provides in-depth videos for areas you're still struggling with, along with targeted practice exams.
Wiley CMA Excel Course
You'll also get access to another Wiley course: Microsoft Excel for Accountants. This isn't required to pass the CMA exam, but it's still a powerful tool. It's also the reason Wiley CMA Platinum is sometimes called Wiley CMAExcel.
Pricing
Wiley CMA Platinum costs $1,500. Like the Pro course, you can pay for it in monthly installments, which makes it easier to digest.
Pros & Cons
Everything you need to pass the exam

Live online classes with real instructors

Powerful final review tool
No additional pre-recorded videos or study materials

Higher cost

when compared to other programs
Recent acquisition means it won't be around for long
Final Verdict
Wiley CMA Platinum, also known as Wiley CMAExcel, once stood out by offering all the Pro course benefits with added features. Real instructor support and an intensive final week review were its highlights, ensuring comprehensive CMA exam prep. Some users applauded its depth, while others pointed out occasional content inconsistencies. However, following its recent acquisition, we're currently advising caution before investing in it.
---
Wiley CMA FAQ
Is Wiley enough to pass the CMA?
It depends on learning style and a number of other factors. The eBook contains all the information you need to pass the exam. The test questions help you track how well you understand the material. Plus, the lectures and flashcards help you work on your weak spots. If you spring for the Platinum course, you get live instructor support to make sure you can pass the first time.
What is the pass rate for Wiley CMA?
According to Wiley CMA, 8 out of 10 students who use their course pass both parts of their CMA exam. Even if you fail the first time, you still get unlimited access to your CMA study materials until you pass the exam.
How much are Wiley CMA exam courses?
It depends on which version you choose. The Pro version has most of the features and costs $1,200, payable in monthly installments.
The Platinum version, also known as Wiley CMAExcel, costs $1,500. It adds an 11th-hour Final Review and access to real instructors. You also get Wiley's Microsoft Excel for Accountants course for free.
Wiley CMA vs Gleim CMA Review
Wiley CMA vs Gleim CMA are similar in many ways. The main difference is that Gleim focuses on quantity, while Wiley focuses more on polish and details. During our Gleim CMA review, we also found that they had more test questions, videos, and flash cards. That said, we encourage you to look to Gleim before Wiley.
Wiley CMA vs Becker CMA
Becker CMA puts a strong emphasis on video, with over 90 hours of live online courses. They also offer live online courses, which Wiley CMA Pro does not, but Wiley CMA Premium does. On the other hand, Wiley CMA costs less and comes with some features that Becker doesn't have. Becker CMA doesn't offer guaranteed access until you pass, and there's no Score Predictor. At the end of the day, we recommend Becker over Wiley for CMA exam help.