Warning! Read Wiley CPAexcel vs Becker review before making your final choice for a review course. When spending thousands on a review course and trusting that it's the correct course for you is extremely important.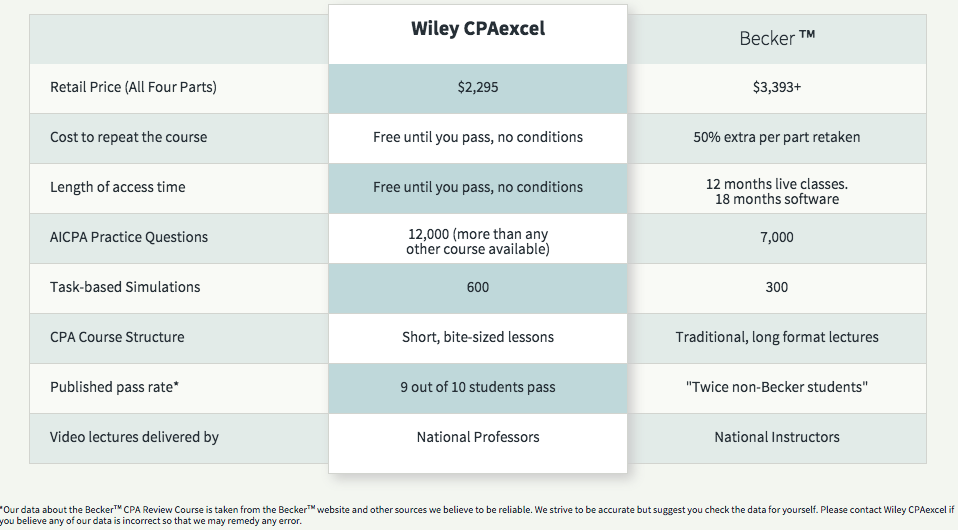 ---
As you can see above the Wiley CPAexcel review course is clearly the better choice!
Many exam candidates use Becker because they get it for free and its true that most people of pass the CPA exam using them just based on how many people use the course.
What they don't tell you is that they are also the number one course used my students who FAIL the exam…
Using their course if you get it for free is completely understandable. It will get you to pass the exam just not as efficiently as possible.
But if you have to use your hard earned money please don't waste it on Becker and choose Wiley.
Even beyond the money Wiley CPAexcel is a much better course because of how the information is delivered through 15-30 minute lessons vs 1-2 hour videos with Becker.
The 15-30 minute lessons include the video or reading the text and doing review problems (the most important part).
---
Get Access Until You Pass!
Only CPAexcel gives you access until you pass the exam.
Becker only gives you 18 months.
Don't risk running out of time with your course and save your hard earned money.
---
The Becker CPA Review Mistake
The mistake most people make with Becker is that by the time the hour+ long videos are over they so bored or tired that they don't do the multiple choice problems.
Wiley CPAexcel's short lesson deliver system helps you avoid that problem and study more efficiently.
Take one step closer to your dream of becoming CPA and get started with Wiley CPAexcel today!
Summary
Reviewed By
Review Date
Reviewed Item
Wiley CPAexcel vs Becker Review
Author Rating