Kenny G and Mick Jagger aren't just two of the world's most famous musicians. They're also former accountants.
Accounting is often thought of as a "left-brained" career, only suited for super logical and math-focused people. But this isn't always the case. Although having a knack for numbers and an eye for detail can help you excel in this career, you'll need more than that to succeed.
One of these things is good communication skills (creative types are all about communication.) The other is access to the Best CPA review course on the market.
After all, passing the CPA exam has proved incredibly difficult for most, with only half of the potential certified public accountants making it to the first go-round.
Becker and Gleim are two of the top CPA review courses; we've got the deets on both.
Read on to see which is better in the ultimate showdown of Gleim vs Becker CPA review!
Gleim vs Becker CPA: Features and Formatting
Becker and Gleim are known for being awesome CPA review companies. From course content to course materials, both Becker and Gleim are top-notch. In addition, both have over 50 years of industry experience, multiple package offerings, and unlimited course access options. However, there are some distinct differences between the two.
Gleim CPA Review Features
Gleim has three specific CPA review programs: Test Bank, Traditional, and Premium. With advanced technology, award-winning live support, and the most extensive test bank on the market, the Gleim CPA review is revitalizing the world of self study one exam day at a time.
Their simplest offer gives CPA studiers access to the largest test bank around, unlimited access to practice exams, and detailed answers for each. Unlike many other affordable options, this CPA review offering provides access to customer support as well. Test Bank by Gleim is best suited for those who want lots of time with practice questions but don't care to comb through lots of books or video lectures. Printed books are an optional add-on, though.
Gleim's mid-range program expands on the bare-bones offering by providing more questions, task based simulations, audio lectures, mock exams, and more. If you go with this Gleim course, you can access digital and printed books. Even more top-tier, the Traditional Gleim CPA review will provide you with personal coaching and a final review.
You're probably thinking, what could be better than this?
Gleim Premium
Gleim's most inclusive package includes everything we've listed above, plus several exclusive study add-ons. These include:
Gleim video lectures

Digital flashcards

More questions and practice exams

Detailed performance reports

Access to real accounting experts
Best of all, you'll receive a personalized study plan that will guide you through your CPA study program and let you know when you're ready to pass the actual CPA exam. This leaves little room for guessing whether or not you'll be ready for exam day.
Becker CPA Review Features
Becker CPA review comes in four forms: Advantage, Premium, and Pro.
Unlike Gleim, Becker offers its four-part review course as a part of each and every Becker CPA review package. The same applies to its practice tests, Becker's Exam Day Ready toolkit, and on-the-go mobile app. Becker's bottom package (Advantage) doesn't come with much else other than a more affordable price tag.
The Premium Becker CPA review program adds printed textbooks, LiveOnline CPA Exam classes, and access to exam success coaches.
If you want any of the following, you'll need to go with Pro:
In-person CPA exam classes

Final Review capstone course

Four additional simulated exams

MCQ bonus bank

1,350+ printed flashcards

Five 1-hour, 1-on-1 academic tutoring sessions

1-year CPE subscription
This Premium package is Becker's most popular because it offers more than enough for most CPA candidates.
If you're looking for the most significant difference between Becker and Gleim, it's Becker's live classroom feature. Gleim CPA review doesn't have live options. Instead, after each section of the Becker review, a Live Online course option is offered. This is where challenging concepts are hammered out, and real progress is made.
---
Gleim vs Becker CPA: Video Lectures
Video lectures are a key part of an A+ CPA exam review. Gleim and Becker both include videos as a part of their study material packages.
Gleim CPA review includes over 100 hours of expert-led video. These videos go way beyond your standard lectures. Their coursework is comprehensive and divided into 20 units, each covering a specific sub-topic. Gleim uses a team of accounting professors to create videos that explain each step-by-step. They also walk you through practice questions and give tips for answering those and the task-based simulations.
One great thing about Gleim Instruct videos is that they sync with the digital textbooks and allow you to take in-course notes as you learn. Each video ranges from around 10 to 30 minutes in length and is a mixture of audio, video, and interactive practice that is very unique.
Gleim CPA review's downloadable audio lectures may benefit you more than the videos if your learning style is more auditory than visual. But, unfortunately, this is something that Becker doesn't offer.
Becker CPA review does offer unlimited course access to some awesome study tools and visual aids. For example, their SkillBuilder and ExamSolver videos are led by CPA instructors. They not only use these videos to teach you how to master questions and simulations, but they also offer unique insight into the actual CPA exam.
Because the videos are strategically worked into the coursework, you don't have to worry about becoming bored watching back-to-back CPA course videos. It's important to note that Becker's videos aren't traditional. In fact, you're not going to see a professor standing at a whiteboard teaching a typical lesson with Becker CPA.
Instead, their videos are heavily guided by the textbook. So, if you're watching a video related to audit exam questions, much of Becker's books on the same topic will be included. Keep in mind that only two courses Gleim offer include the videos with the study materials.
Best Practice Questions and Exams
One of the key points to consider when it comes to CPA Gleim vs CPA Becker is who offers the best practice options. After all, getting lots of practice is how students pass the real exam. If we're looking at numbers only, Gleim wins. With over 10,000+ CPA practice questions, they currently have the biggest test bank on the market.
According to reviewers, the primary difference between Gleim and its competitors isn't this number, though. It's the quality of its interface and the questions themselves. Both previously released AICPA and Gleim-created CPA exam questions are included in their CPA course programs. Because the practice questions created by Gleim's team mirror the actual exam so well, it's almost impossible to tell which is which.
Whereas Gleim is the clear winner with multiple-choice, Becker really shines in the simulations department. Half of the questions on the CPA exam are simulation-based. CPA candidates who study with Becker CPA review (Gleim competitor) find they do really well on this portion of the exam.
And, of course, Becker provides videos and performance trackers to make sure you really understand how to solve these types of questions. Other course offerings just can't compare in this particular section of test prep.
But what about practice exams?
CPA candidates often assume that question banks and exams are the same things. And for Gleim, this is sort of true. Their practice tests are a random combination of questions from their bank. Becker, on the other hand, has simulated exams that are custom-tailored to an individual student's learning needs.
When you sign-up with Becker CPA review, you are promised 12 of these. The questions aren't recycled and mimic the test exactly. So, after you take one, you'll have a good idea of where you stand as far as test day goes. This is by far one of the best Becker benefits.
Gleim has eight full-length mock exams that can help you maximize your study time and pass the CPA exam on the first try.
---
Gleim Review vs Becker Flashcards and Other Resources
To supplement their CPA course review materials, both of these companies offer some extra content. Here's some more info comparing the two:
All of Becker's add-on content is included for free with their Pro course. This includes a wide range of flashcards and study guides. Each of these is a fine addition to your study sessions. Plus, they work well to fill in gaps in your knowledge and reinforce what you've already learned. But if you're not willing or able to pay for the highest package, you can get some of these materials a la carte through their Support Products page.
Gleim also offers some extra products to give your CPA exam prep a boost. Their main offering is a CPA Mega Test Bank, which expands their already impressive multiple-choice question pool by 2,000. Aside from this, the rest of their offerings are digital flashcards and a short video series. When compared to Becker, they have a terrific collection of practice exams and questions but not much else. They also have a cool mobile game that helps you gamify your study experience.
Unfortunately, Gleim doesn't have a mobile app. Their resources can be accessed via a browser on mobile, but they haven't been designed for the platform. That's pretty disappointing because it limits the amount of work you can do away from home. Plus it shows a lack of confidence in their materials in a handheld or bite sized format. Gleim really needs to improve in this area.
Becker takes the win for mobile students thanks to their dedicated approach. Not only are their main CPA exam study materials easily accessible, but their mobile game is a refreshing and innovative way to get even more studying done while having some fun in the process.


Becker vs Gleim: Best Mobile App and Technology
Becker's mobile app for on-the-go study sessions is one of the best ways to access course resources. Available for Apple® and Android™ tablets and smartphones, the app automatically synchronizes between devices, allowing you to pick up right where you left off.
There's no mobile app available for Becker's competitor. This makes the Gleim CPA review cost seem a little steeper. After all, being able to study when away from the computer is really important to many CPA candidates.
What Gleim CPA review does offer is SmartAdapt technology. This software analyzes a candidate's performance on initial quizzes and then creates a personalized study plan. The updates happen in real-time, so you'll constantly be working toward your target and not being weighed down by material you already know.
Becker's Adapt2U also gives you a better idea of where you are and what you still need to learn and helps you get there. Their award-winning AI software evaluates and gives one-on-one feedback. It'll also help you work on weak spots. This is really important for those who choose Becker since some candidates feel like they offer too much information.
Becker Review vs Gleim: Who Has the Most Updates?
Both Becker and Gleim are always up to date! They make sure that all of their offerings are connected to the AICPA Blueprints. So, you'll never have to worry if what you're learning will matter on exam day.
Gleim CPA Review vs Becker: Who has the Most Value?
Long story short: Becker and Gleim are both fairly pricey, but Gleim is a more affordable option for most.
Becker's full package price is $3,899 for their Pro review course— Compare that to Gleim's $1999 Premium CPA Review System. That's a stark difference, but the materials in both courses reflect these differences. Essentially, both prices are 100% fair, and you get your money's worth with either pick.
Something that Becker does to make their courses more affordable is offer monthly financing plans through Affirm. Currently, Gleim doesn't offer the same choice.
This category is tough to call. Gleim is much cheaper, but Becker has better payment options. Because of that, the winner largely comes down to personal choice— but Gleim ultimately wins out.
Gleim and Becker: Who Has Better Access and Support?
As you can see by now, both of these CPA review courses have a lot to offer. But what if you sign up for one and don't like what you get? Is there a way to try before you buy, or some kind of guarantee to ensure you actually pass the CPA exam?
Here's how Becker and Gleim handle their respective course demonstrations and guarantees:
Becker provides two free weeks of access to anyone who's curious about their CPA review course. During your 14-day trial, you can access over 30 hours of video lectures, 1,400+ multiple choice questions, unlimited practice exams, digital flashcards, and a hands-on look at their Adapt2U learning tech. On top of all that, their Becker Promise ensures that you'll still have access until you earn a passing grade— even if you fail the CPA exam on your first try.
Looking at Gleim in comparison, their demo lacks the amount of content provided by Becker. However, something that it absolutely doesn't lack is time— you're free to try out their demo for an impressive 18 months. And when you eventually enroll in one of their courses, you're guaranteed to have full Access Until You Pass.
Support is an area where the Gleim CPA review stands out the most. So many CPA review course providers hook the candidate and then leave them hanging out to dry with little support once they've made their initial purchase. Gleim CPA review is the total opposite. They're always there for their students, no matter what the question or concern.
---
Gleim vs Becker: Final Review
From live classes to top-tier question banks, adaptive technology to mock exams, both Becker CPA review and Gleim make this a tough final decision. Truthfully, either one of these will help you pass the exam. Although Becker is a better program all around, it's not as affordable as Gleim. So, if you don't mind going with an app for a lower price tag, the Gleim CPA review is a great option for you.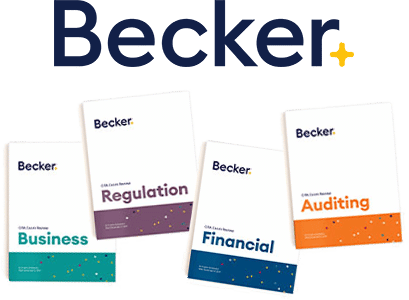 CPA Review Course FAQs:
Is Gleim a good CPA review?
Gleim CPA review courses are very useful products. They offer the biggest question bank on the market, have advanced technology to guide you and provide unmatchable support. They're also super affordable, so if you're looking for a review on a budget, Gleim is a good option.
Is Becker the best CPA review?
For most CPA candidates, the answer is yes. Becker has been around for over 60 years and has consistently offered the most solid CPA prep plans to those studying to become Certified Public accountants. They're a clear winner in most areas as the products they provide are unmatched.
Is Gleim better than Becker?
Gleim offers an extremely comprehensive curriculum, but overall Becker wins. From the excellent video lessons to the live classes, the solid teaching material and course structure are evident. If you can't afford Becker, Gleim is a good backup. But if you can afford the price tag, Becker is your best bet.
With over 40 years of experience teaching accounting students, Gleim has an impressive staff of fellow accountants and extremely competent customer support specialists to meet all their students' needs.