A lot of people don't realize the amount of time, effort, and brainpower that it takes to become a Certified Professional Accountant. The countless hours of studying, practicing for exams, and mastering your craft in order to keep up with your certifications and continuing education means that your work will become your top priority.
But if that sounds intimidating right now, we can help make at least one decision much less stressful:
We're going to compare two of the best CPA review providers online— Becker CPA Review and UWorld Roger CPA Review. We'll be going over what these different companies have to offer and letting you know what makes each one unique.
Remember: just because your exams can be stressful, it doesn't mean that preparing for them can't be enjoyable. With that in mind, let's bring out the competitors!
---
Overview of Becker vs. UWorld Roger CPA Review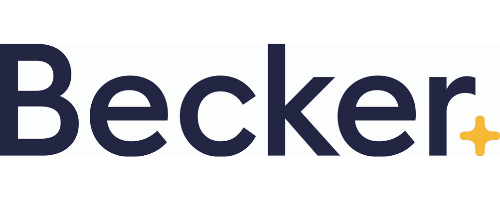 Since you'll be spending a good amount of time and money on one of these courses, let's get to know both of them first:
What makes Becker a uniquely helpful CPA review course is how the company understands what's really at stake. They operate under the assumption that you're not just taking an exam; you're preparing for your future.

Becker understands the difference and has designed their entire approach with the same level of importance and attention to detail. With a track record of 60+ years in the business and over a million professionals served, they've been around the block and then some when it comes to CPA exam review. Featuring a staff made up of actual Certified Public Accountants and other financial professionals, Becker allows you to enjoy learning with professional guidance.

UWorld Roger is the second provider on the docket for today. What they may lack in longevity compared to Becker they certainly make up for with efficiency. They've helped over 200,000 professionals with Exam Prep to date and have an impressive CPA Exam pass rate of 91% for their students. Their technology-focused Exam Review content puts you on a path to pass your test in just 3 month's time.
---
Becker vs. UWorld Roger CPA Review: Course Access
With regards to course access, this is an aspect of Becker and UWorld Roger's offerings that can be a bit unclear when looking at their websites. Both courses offer the option to have unlimited access to their content, but there is a bit of fine print here. Basically, you should take the time to look through all available options before making a purchase.
Let's look over some of these package options now:

Both Becker and UWorld Roger offer three different levels of bundles with their CPA Exam Review. It's important to note in both instances that the lowest level bundle doesn't include the unlimited access feature. We're not saying that this makes the lower priced bundles less enticing of an option— but you should definitely be aware of this fact when making your purchasing decisions.

But if both offer packages with unlimited access, which one is more worthwhile?
While both Becker and UWorld Roger have an unlimited access bundle option in their respective arsenal of exam prep options, Becker offers this level of access on their middle level package as well. Becker also has a guarantee that if you select the package that doesn't have unlimited access that you can retake your course for free if you don't pass.
For this reason, we find Becker to be the better value. Their options give you more bang for your buck in terms of overall access and success with passing.


Winner: Becker CPA Review
---
Becker vs. UWorld Roger CPA Review: Course & Study Materials
Now that we've addressed the access period for each course, let's get into the nitty gritty of each course's actual content:
Becker CPA Review
With Becker you can expect a 4 part review course with printed or annotated digital textbooks. This review course also includes a staggering test bank with over 9,200 practice questions and more than 580 Task-Based Simulations (TBS). But if you opt for one of their premium packages, you can access additional study materials like over 1,400 digital flashcards, 400+ SkillMaster video lectures, 12 simulated exams, and more.

Speaking of those simulated exams, Becker's sims emulate the style and feel of the real CPA exam. This way, you'll feel prepared for the real thing on exam day. However, there's one key difference in grading that helps to boost your actual exam scores when you take Becker's mock exams. Students call it the Becker Bump, since it bumps up their exam scores higher than expected!

And to keep you motivated during your self-study, they also include a Study Planner to keep you on track. Additionally, they even give students the option to sign up for interactive online classrooms— or in-person classrooms for those who want a traditional educational experience.
But this still isn't the full extent of Becker's offerings for CPA candidates. Check this out:
With Becker, you can enroll in packages that allow you to schedule up to 5 one on one private tutoring sessions. This is the best way to have specific questions answered as quickly and conveniently as possible. Alternatively, you can check their online FAQ database to see if they've already answered your exact question.
What's even better is that Becker has launched a new program for 2023: Concierge.
Becker's Concierge program provides a comprehensive, personalized approach that sets it apart from other review courses. Here are a few reasons why you should choose Becker:
-Access to a dedicated team of professionals: With the Concierge program, you'll have a team of professionals on your side, including a success coach and a Becker team. This team will provide you with support, guidance, and personalized attention to help you succeed.
-Personalized instruction: The Concierge program offers up to 50 one-on-one hour-long tutoring sessions every week, as well as online virtual classes and live in-person sessions. This personalized approach ensures that you get the instruction you need to succeed.
-Comprehensive materials: The program includes the complete 4-part Becker CPA Exam Review course, Becker's Final Review, more than 900 bonus MCQs, and printed and digital CPA review textbooks and flashcards. These resources are further enhanced by Becker's mobile app and award-winning game.
-Unlimited practice: The Concierge program provides you with eight simulated exams and 12 mini exams, as well as unlimited custom practice tests powered by Adapt2U Technology. You'll also have exclusive access to over 7,000 MCQs and 400+ TBS questions, which include exclusive SkillBuilder solution videos. This ensures that you're fully prepared for exam day.
-Free content updates: With the Concierge program, you'll receive free content updates that match the AICPA's blueprint, including CPA Evolution, which is set to launch in 2024. This ensures that you're always up-to-date with the latest information and requirements.
In short, the Becker Concierge program provides you with everything you need to succeed on the CPA exam. With a dedicated team of professionals, personalized instruction, comprehensive materials, unlimited practice, and free content updates, you can feel confident and ready on exam day
UWorld Roger CPA Review
Much like Becker, UWorld Roger CPA Review has their own extremely impressive four-part course. This CPA course includes printed textbooks, access to CPA Exam Advisors, and a bank of over 6,000 practice multiple-choice questions. Additionally, you can take simulated exams that mimic the style and feel of the real thing. UWorld also provides students with digital tools to help guide them along the way— sound familiar?

With all of these similarities, you may be wondering where it is that UWorld Roger stands out. Don't worry, we've got that covered:
What really stood out to us were the customizable digital flashcards and their mobile app. The mobile app is particularly impressive; it syncs your data across devices, so you can pick up from where you left off at any time. It also allows you to download course materials and access them offline (so long as you're still subscribed to a course).
While we truly enjoyed our time with both Becker and UWorld Roger, we have to give this section to Becker. While the technological aspects of the Roger platform are exciting, and its content is solid, we can't understate the decades of experience that influenced Becker's course content and study materials.


---
Becker vs. UWorld Roger CPA Review: Pricing
Paying for a good education can be expensive, but it's always worth it in the long run. Both Becker and UWorld offer packaged bundles and individual items to further your studying goals, and both sites allow you to make installed payments should you prefer not to pay the total cost of your course up front.

So what's the difference? Here's what you need to know:
Becker has packages with a higher price tag. But when you look at the quality of features that Becker provides — like unlimited access and a high exam pass rate — you're getting a great deal either way.
Becker also offers individual courses for people who just want a final review cram course instead of the full package. However, you could also enroll in the lower end package option with UWorld Roger for around the same price range. There are definitely a lot of different options and considerations to take when determining what your total cost would end up being.
Although it ultimately comes down to your personal preference, it's clear that UWorld offers more affordable options for CPA students. However, we recommend that you compile a list of your personal study needs and your budget, then compare what each has to offer. Both companies have clear, easy to follow lists of what each of their courses includes; we definitely think you should check those out. From there, you'll have a clear idea of your best personal fit!

---
Becker vs. UWorld Roger CPA Review: Supplementary Content
It's always a nice perk when your exam prep provider sweetens the deal with some freebies. For this section, we're going to be taking a closer look at what Becker and UWorld Roger can offer you before you've given them a single penny.
Becker CPA Review
When you first check the CPA section of Becker's website, you'll see sections devoted to CPA Exam Resources and Student Resources. Both of these sections include additional information on the overall process. This is handy for two types of students: those who are unsure of how to navigate Becker's study materials, and those who need a bit more information about the CPA exam test-taking process.
Aside from free resources embedded into their website, Becker also offers supplemental study materials through their Support Products section. If their standard CPA prep course options don't have enough review for a specific section (FAR, REG, BEC, AUD) you can try one of their Guided Simulated Exam Reviews for extra assistance.
UWorld Roger CPA Review
UWorld has similar resources to Becker in that they provide free resources discussing the exam taking process. However, they also have free study materials on top of these general informative articles, including an Accounting Dictionary and a Questions and Answers section. Another great resource is their Blog, which is regularly updated with insightful, relevant articles. That being said, they don't offer any supplementary CPA content outside of their main courses— unlike Becker.
UWorld Roger CPA Review's website has a decent amount of free content available to users, but they fall short of Becker when it comes to supplementary study materials. If you're interested in getting some extra cram materials for specific exam sections, then Becker is the way to go!


---
Becker vs. UWorld Roger CPA Review: Ease of Use
If you take a look at both websites, you'll notice that their layouts are actually quite similar— from their menus all the way down to the general layout of information and descriptions of features. While logging in and using both platforms, there were items that we felt both excelled at and others less so.

With Becker, presentation is five stars. Their mobile app definitely has the polish that you would expect from a company that has been around as long as they have and they've clearly fine-tuned their study materials into a delectable digital distillation of their full courses.

Then there's UWorld Roger. As we mentioned earlier, they have an incredible feature incorporated in their app that allows you to stay synced across all of your devices. If you're someone that loves to switch between a laptop, tablet, or mobile device throughout the day, then Roger will have you covered.
Additionally, the way in which all of their materials are seamlessly integrated is worth noting. While watching a video, you can quickly bookmark a time code to view later. You can also read study text alongside the lecture in the same window; if you find something noteworthy, you can even highlight it and create a custom flashcard for later. All the different aspects of UWorld Roger flow together in a way that keeps you motivated and engaged.
Ultimately, both Becker and Roger have crafted apt systems that users can easily pick up. We recommend that you decide based on personal preference which platform is the better fit overall for you— but UWorld Roger gets my pick as the more intuitive platform!
Winner:
UWorld Roger CPA Review
Final Recommendation: Becker CPA
For all of your CPA exam review needs, there's simply no better choice than Becker. Their years of experience have helped them fine tune their approach to near perfection, and their overall value can't be understated. We definitely recommend you check out Becker's website today for additional information on enrolling for CPA Exam review, and we wish you luck on exam day!