If you need to ace the Enrolled Agent Exam, the faster you get started, the better your chances. It's not an easy one!
The pass rate can vary by each section of the test, with Part 2 (Businesses) posing the most challenges for candidates. In comparison, most students find Part 3 (Representation, Practice, and Procedures) pretty passable.
It all depends on your strengths and weaknesses, but this isn't something you explore on the day of the exam. Enrolled Agent candidates are in high competition and in order to succeed, you need the right tools to prepare.
There are hundreds of EA exam prep platforms to choose from; many of which feature interactive and adaptive learning features. How can you know where to start?
---


---
Here Are The Top 5 Enrolled Agent courses for 2023:
Surgent EA Review Course

–

Top-Rated Review Course
| Course Name | | | | | |
| --- | --- | --- | --- | --- | --- |
| Course Rank | #1 | #2 | #3 | #4 | #5 |
| Price | $499 - $999 | $379 - $629 | $549 - $699 | $299 - $499 | $599 |
| Discount | | Save 5% | Save $70 | Save $499 | No Discount |
| Practice Questions | 1,800+ | 120 | 3,500+ | 100+ | 3,000+ |
| Course Access | 18 Months / Unlimited | Unlimited | Unlimited | 12 Months | Monthly / Unlimited |
| Video Content | 85+ Video Lectures | Expert-led Instruct Videos (Audio Lectures Too) | 10+ Hours of Expert Video Instruction | 3-Part Video Courseware | Instructor-led Video Lectures |
| Guarantee | Pass or Money-Back Guarantee | Access until you pass guarantee | Access and updates until you pass | No pass, no pay guarantee | No pass, no pay guarantee |
| Discount | $100 off | $130 off | 15% EA Smart Bundle or Online Course | Call for possible bundling and discounts | Built-into online pricing |
| Financing | Yes | Yes | Yes | No | No |
| Support | Email, Social Media, Ultimate Customer Support | In-person, email, and phone support | Email, Phone, Community Support | Email, Phone, Social Media | Email, Phone, Social Media |
| Get Started | | | | | |
---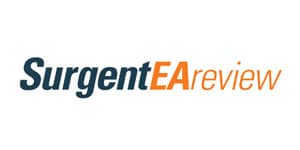 Surgent EA Review Course (#1)
Intuitive Software: Surgent is powered by A.S.A.P. Technology, a personalized A.I. software tool that takes an initial assessment of your EA exam knowledge to establish a baseline. The computer then generates a custom plan tailored to your learning needs. The smart system will optimize the experience in real-time to ensure you're always getting the most out of the material.
Predictive Forecasting: Wouldn't you like to know right now what you'd score on the exam? Surgent's ReadySCORE technology takes the guesswork out of readiness. The system will predict with 95% accuracy what you would score on the exam if you took it today. No more sweaty palms.
Pricing Flexibility: When it comes to pricing flexibility, Surgent offers a variety of ways to pay. In addition to monthly financing through Affirm, the EA review can be purchased both in packages or as separate lessons. Each plan differs, so pay attention to the features. The cheapest package only allows you access for 18 months whereas the premier version has a pass guarantee. It all depends on your budget and how much work you need to put in.
Up-to-date Content: It's essential that EA Exam prep courses are always up-to-date. The IRS makes no exceptions and neither does the Surgent program. As new documents are introduced, Surgent's test prep updates accordingly in real-time. No matter when you enroll, rest assured you are always studying the right materials!
Physical or Digital: When you enroll in Surgent's Premier Pass, you'll be able to practice with their digital textbooks and flashcards that cover content from each section of the EA exam. But if you spring for their brand-new Ultimate Pass, you can also receive physical copies of these study materials. This is an excellent way to hit the books offline or squeeze in some flashcard training with an in-person study group.
Bottom Line: The Surgent EA Exam review is prime pickings; every solution is tailored to the student. Intelligent tools consistently analyze performance and make changes when needed. Their Ultimate Pass is even better thanks to physical study materials and additional support options!
---


Gleim EA Review (#2)
Large Bank: Gleim boasts the biggest and most realistic bank of exam questions on the market. It is consistently updated with new material that is needed to pass the exam today. This includes expert-led videos with detailed questions and answers.
SmartAdapt: Intuitive software seems to be the most competitive feature among the top EA prep brands and Gleim is no different. "SmartAdapt" is their built-in adaptive technology that's designed for the course. It helps students study smarter (not harder) by focusing on individual needs. There's no more guesswork!
Study Planner: A simple and personal study plan is created that is interactive and works alongside the Gleim Enrolled Agent course. Once SmartAdapt demonstrates the areas of focus, the study planner will help students create a schedule to stay on track. Specify availability and work at your own pace.
Instructional Videos: The Gleim EA instructional videos are highly acclaimed and led by a tax professional who is currently teaching at an accredited university in the U.S. For this series, the instructor is Nate Wadlinger. He is a CPA and Lecturer in Taxation at Florida State. The videos pull instruction straight from the syllabus of the IRS Special Enrollment Examination.
Information Overload: Although this hardly seems like a negative, it depends on the type of student you are. The Gleim material is so comprehensive that some people have complained it's overwhelming. This is particularly due to the text books and how they are formatted. There is such a thing as information overload and perhaps there are instances where Gleim can be more selective about what they are teaching.
Bottom Line: Everything about Gleim guides you through the program. SmartAdapt is there to assess you from the start. This means, you only focus on the materials you need to pass. This type of adaptive solution is essential when trying to drill down on weaknesses and avoid repetitive studying.
---

Fast Forward Academy EA Review (#3)
Online Community: Networking with peers before an exam is super beneficial. Fast Forward Academy nurtures an online community of fellow test-takers to share and engage with. Connect instantly using the Online Community feature and join any conversation with the click of a button. Get the answers you need, right when you need them or help a fellow student out.
Digital Flashcards: Everyone learns in different ways and when it comes to test-taking, many find flashcards advantageous. Fast Forward Academy offers digital enrolled agent flashcards for students to test their knowledge. The simple tool allows you to customize decks and study from a tablet, phone, or PC.
Practice Exams: Fast Forward Academy practice exams are timed, weighted, and scored. These are comprised of simulations that can sharpen test-taking skills and help students perform better under pressure. These practice exams are the closest you can find to the real thing, so if you pass, it's a good sign!
Online Textbook: No need to lug a heavy textbook anywhere. Fast Forward Academy offers an online Enrolled Agent Study Guide with advanced features to coincide with the coursework. A student can easily bookmark sections, take notes, highlight important features, create digital flashcards, and more. It even measures your performance to guide the final review.
Video Courseware: Although Fast Forward Academy offers a robust selection of media and resources, they have limited video courseware. The company does boast 45 videos with 10 hours worth of lectures, but in comparison to the competition, it is still lacking. That being said, they just added videos recently, so it may just take time to build a library.
Bottom Line: Fast Forward Academy is one of the only EA Exam prep companies that provides an online community of peers. This creates a more thorough and well-rounded learning experience that's closer to a classroom style in nature.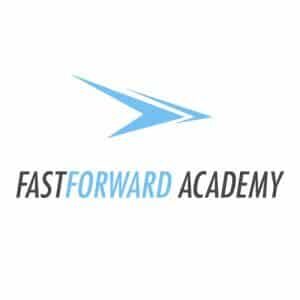 Save $70 on Fast Forward Academy EA Smart Bundle + Bootcamp
33 uses today
Last Used: 2 hours ago
---

Lambers Enrolled Agent Review (#4)
Three Modes of Learning: Lambers breaks up their Enrolled Agent Prep Course into three steps:
1. Pretest Mode: This is the initial diagnostic exam. It helps to determine where a student is at and what areas they must focus on to succeed.
2. Adaptive Drill Mode: The computer wants to see you in action! Spend time drilling down on weak areas while the system reads your progress and adjusts accordingly. Detailed explanations of everything are right there at your fingertips.
3. Simulated Mode: Once a student has mastered the adaptive drills, they graduate into the simulated mode. Just like taking the real exam, this part of the system will test a student on real-life skills like stamina and endurance.
Video Courseware: Lambers video courseware brings the student right inside the classroom without the hassle of actually getting dressed! A student can study from anywhere, at any time. Set your own pace. The video lectures demonstrate every aspect you must know in order to pass. You can follow along with the textbook and rewind if something doesn't make sense. The videos are professional and the data easily retainable.
Electronic Flashcards: The Lambers EA (Part 1 Review Course) Electronic Flashcards give students a quick and convenient way to study. The Lambers Flash Trainer solution contains over 190 key terms, definitions, and formulas that are on the actual exam. The system will also monitor your progress and give feedback on performance.
Pricey: Lambers EA Review course is one of the more expensive options on the market. Unlike its competitors, Lambers does not bundle the solution. In fact, they break it out into three separate (and often necessary) sections. This makes it hard to determine what you need. It can pressure people into feeling like they must purchase everything to succeed. That can wind up wasting a student's precious funds.
Bottom Line: Lambers is an extremely thorough program, but it is costly. Make sure you have a good idea of your strengths and weaknesses before diving full in. The adaptive and intuitive technology developed with the software is one of the most efficient and refined types available right now. It may read you and know what is needed before you do.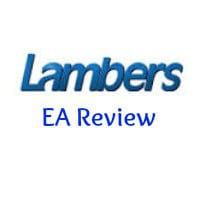 Get Lambers EA Bundle with 1-Year FREE CE
41 uses today
Last Used: 1 hours ago
---

WiseGuides Enrolled Agent Study Materials (#5)
Affordability: WiseGuides offers one of the most affordable EA Prep solutions out there. You will not find any other program that has study materials for $50. Most competitor packages are priced well over $100. This gives students a taste of the types of content needed to prepare. You can then go on to purchase more packages as needed. WiseGuides is not out to break the bank.
Instructor-led Video Lectures: A student can purchase 45+ hours of pre-recorded instructor-led video lectures on everything EA under the sun. It features e-lessons broken down by topic with the teacher meticulously working through tax forms and calculations.
Outdated Design: One complaint online is that the interface is rather archaic looking. 2003 is calling! Although this is more of an aesthetic appeal it does give way to deeper-seated concerns. It's critical EA materials are updated as needed. If WiseGuides isn't doing that to their site, how do you know the material is fresh?
Bottom Line: WiseGuides EA Review might be the best solution for someone that only needs a little studying and has an idea of what they should focus on. There isn't much for intuitive tools, so you are on your own when it comes to direction.

You may not want to spend a ton of time on the site since it's an eyesore, but WiseGuides does offer some pretty exceptional instructor-led videos. The detailed lessons are methodical and aptly timed to get the gears grinding.
---
Enrolled Agent Frequently Asked Questions
❓What is the best Enrolled Agent exam prep course?
Currently, Surgent offers the best online prep course for the EA exam. They have an appealing combination of practice questions, video lectures, and adaptive learning technology at an affordable rate with frequent discounts and financing options.
❓How much do enrolled agent exam prep courses cost?
The top-rated EA review courses usually come in three different tiers and range in price from $300 to $1,000. Fortunately, many of the high-priced packages offer financing through Affirm, so you can make monthly payments to better fit your budget.
❓How long should I study my enrolled agent prep materials?
Fast Forward Academy recommends that all EA exam candidates devote 3 to 4 months to studying. In that time, they recommend clocking between 40 and 160 study hours for each section of the exam to maximize the possibility of success.
❓Do Enrolled Agents make good money?
According to Payscale, individuals who work as an Enrolled Agent make an average salary $50,000 annually. However, professionals that have passed an enrolled agent prep course and obtained the Enrolled Agent credential make $63,000 on average, which means earning this credential can open up more lucrative career opportunities.
❓How do you become an enrolled tax preparer?
There are a few ways to obtain a Preparer Tax Identification Number (PTIN) in order to be enrolled by the IRS as a tax preparer. Becoming certified as a CPA or EA are common methods of becoming enrolled, but you can also apply as a participant in the IRS's Annual Filing Season Program (AFSP).
❓Is EA Certification better than CPA Certification?
Both EA and CPA credentials are extremely helpful in establishing a lucrative accounting and/or auditing career. However, CPAs make more money on average than EAs, which might make it more appealing to ambitious students. However, many CPAs opt to earn EA certification further down the line, since it opens up more career opportunities.