With so many CPA exam prep courses available and ready at your fingertips, it might look like a colossal task to pick one and buckle down for exam preparations.
But we're going to make it easy for you!
We assembled two of the best CPA review providers out there – Becker CPA Review and Surgent CPA Review, to compare where your time and hard-earned money would best be spent regarding your exam preparation.
---
Becker vs Surgent CPA Review Course: The Big Picture
Before looking at each detail of what these reviews have to offer, let's look at the wider overview of the courses we're looking at. 
Becker CPA Review


With more than 60 years of experience, Becker is one of the oldest and most trusted CPA Review programs and boasts a staggering 94% CPA Exam pass rate. 
Thanks to their educational staff of practiced CPAs and others with experience in the finance sector, Becker can offer unique perspectives from seasoned professionals. In addition to these important aspects, Becker is also used by the Big 4 global accounting firms and maintains strong relationships with just about every top accounting firm in the country.
Surgent CPA Review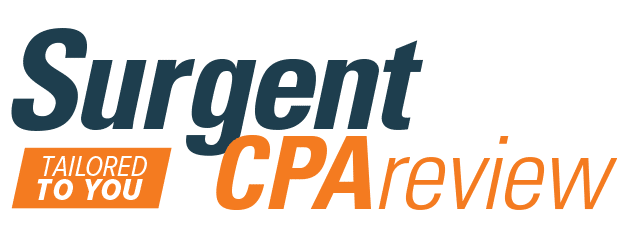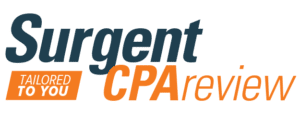 While Surgent Education has been in business since around 1985, Surgent CPA Review was founded in 2013— making it one of the newest CPA exam prep catalogs currently available.

Surgent CPA Review takes an expedited approach to exam preparations, stating that their students average four times less study time than their competitors. Despite the faster pace, CPA candidates who use this course are very successful, with an 84% CPA Exam pass rate. Additionally, Surgent includes ReadySCORE, which is an A.I. that targets specific exam topics and assigns them to students as an interactive study planner.
Becker vs Surgent CPA Review: Course Access
With both offerings, it's a good idea to investigate the accessibility both courses offer for your specific career path and learning style— this can be confusing at a quick glance. 
Becker offers straightforward and unlimited access to the course content, while Surgent offers "Access Until You Pass." For most students, this is all they need; however, choosing Surgent may make it difficult to revisit courses if you want Continuing Professional Education. 
Both Becker and Surgent offer three tiers to their CPA Exam Review course packages; in Becker's case, the lowest tier does not offer unlimited access to the course. However, it does include many study materials that Surgent doesn't, such as print and digital annotated textbooks and flashcards.
If we're looking at the raw numbers, Becker pulls out all the stops at each tier of access here. Additionally, if you choose a package that doesn't offer unlimited access and you happen to fail your exam, you can retake the course for free: that's "The Becker Promise".
Becker vs Surgent CPA Review: Courses and Study Materials
Now let's compare the contents of both CPA exam prep courses.
Becker CPA Review Course
Becker offers a four-part review course as well as printed and digital annotated textbooks. Every course tier offers:
7,000+ multiple choice practice questions

More than 400 task-based simulation questions

190 hours of video lectures

Over 1,250 digital flashcards

8 simulated exams

12 mini-exams
However, there are additional features available if you choose a more expensive Becker CPA exam review course:
Enrolling in one of these will get you many more perks, including physical printed flashcards, bonus multiple-choice questions, and virtual LiveOnline classroom scheduling options. Some of the most significant benefits that come along with the Pro package are the Final Review capstone course and up to five 1-on-1 academic tutoring sessions— which could make the difference in passing or not passing on exam day!
The impressive and extremely comprehensive array of offerings in their course packages lets students know that Becker is truly invested in their future and career. 
Surgent CPA Review Course
Like Becker, Surgent offers several tiers of packages for their CPA course review. But the most important takeaway is that they both approach these courses very differently:

With each tier of Surgent's course packages, they offer: 
7,700 multiple choice questions

more than 400 simulations

over 350 videos

E-Books and study notes
It's not until you reach the second tier of the review course that you get a print textbook or spiral-bound flashcards. 

However, there are two major features from Surgent that set them apart from Becker; A.S.A.P Technology and ReadySCORE. 
Surgent CPA Review described A.S.A.P. Technology as a "revolutionary approach to CPA Review". It takes students through a cross-section of multiple-choice questions with an algorithm that pinpoints whatever material they struggle to understand. Using this technology, they hone in on the weak points throughout the course and correct them accordingly to balance the student's knowledge base. 
This information is tied to ReadySCORE, which indicates how prepared you might be to take the CPA exam. ReadySCORE is calibrated to the real CPA exam scoring, making it easier to pinpoint those weaker areas. But, if this algorithm-based learning is not for you, don't fret; Surgent makes it easy to abandon this and follow a more linear approach to learning instead.

While these aspects of Surgent CPA Review are new and exciting, we can't overlook that Becker simply offers a vastly more comprehensive course package and massive experience deficit between the two reviews. Becker boasts a high pass rate with a course that does not need to be tailored with an algorithm. This round goes to Becker.
Surgent CPA Review Course vs Becker CPA: Crunching the Numbers
While looking at the cost of education can be daunting, it doesn't have to be painful. Both Becker and Surgent CPA Review cost over $1,500, but they both offer financing options to ease the burden on your wallet.
Becker, while being the pricier option, does have a more comprehensive offering in their course packages, as well as a higher pass rate. 
Surgent, with the lower price point, doesn't offer all of the items Becker might. But if you get closer to the middle and top tier prices, the cost actually gets closer than you might think.

Depending on personal preference, the most affordable option is to enroll in Surgent CPA Review's basic package— but you might not get all the support you need to pass the CPA exam. It's a good idea to take stock of what each course is offering and decide based on your learning style what would be the better path to take. But, simply looking at the numbers, we can say that Surgent CPA Review has the path to the cheapest option available.
Becker vs Surgent CPA Review Course: Accessibility
When choosing an education partner, you want to think about which option will feel the easiest to use when interacting with the materials.
Becker
Becker's course is comprehensive and linear, offering professional presentation and spectacular polish. This is something you come to expect from an education partner that has been around for so long, as well as something you come to respect as you understand the amount of care that goes into each aspect of their CPA review course. 
Surgent
While Surgent CPA Review's technology might be exciting and new, the algorithm-based learning programs can lead to many different experiences with their review course. With Becker's course, you know what you're getting; a polished, respected and established work. 
Surgent vs Becker CPA Winner: Becker CPA Review Course
In nearly every category, Becker CPA Review shows its savvy nature as one of the most respected and utilized CPA review courses by all the big players in finance. Decades of experience have brought Becker to the forefront of CPA review and have allowed them to solidify itself as an immensely strong competitor in the online education space— and they have the results to prove why they stand there. 
You can visit Becker's website and find out how to get rolling on your CPA Exam Review!