Becoming a CPA isn't easy. In fact, it's usually a stressful process as the exam is unlike anyone you've ever taken. Stats show that around half of all CPA candidates fail the first time around. Even those who have passed the CPA and now work for top-level accounting firms or own successful businesses often look back to pre-test time as a time of extreme stress.
If you're losing sleep over preparing for the CPA exam, we're here to help. With so many CPA exam prep courses available and ready at your fingertips, it might look like a colossal task to pick one and buckle down for exam preparations.
But it doesn't have to be difficult!
Becker CPA Review and Surgent CPA Review are two of the best review courses on the market. We'll compare Surgent vs. Becker CPA so that you don't have to and present all of the info below.
Hopefully, by the end of this short read, you'll be able to select the best CPA exam prep course for you.
---
Becker vs Surgent CPA Review Course: Features
With more than 60 years of experience, Becker is one of the oldest and most trusted CPA review programs. It boasts a staggering 94% CPA Exam pass rate and is known for helping candidates crush their exam the first time around.
But how do they do it?
Thanks to their educational staff of practiced CPAs with experience in the finance sector, Becker can offer unique perspectives from seasoned professionals. In addition, Becker is also used by the Big 4 global accounting firms and maintains strong relationships with just about every top accounting firm in the country.
Becker CPA Review


They do this through their carefully designed CPA review courses. Becker CPA review courses are offered in several different formats: their Advantage course, Premium course, and Pro course. Each one of these has a different level of basic study materials and supplemental resources.
Recently, Becker has added a fourth CPA review course option: Concierge! This offering is just as fancy as it sounds,
By subscribing to Becker Concierge, you'll gain access to a specialized team of experts as well as a personal success coach who will collaborate with you to develop a tailored study plan that addresses your specific requirements. Additionally, you'll have the opportunity to participate in up to 50 hours of one-on-one tutoring sessions each week to receive the support you require to succeed. As a bonus, Becker Concierge offers a one-year CPE subscription and certificate, ensuring that you remain current with the most recent changes in the industry.
It's worth noting that the availability of Concierge is limited to only 300 candidates, so if you're interested, you should register as soon as possible. And although Concierge does come with a hefty price tag, you'll be hard-pressed to find such an elite course option anywhere else.
While Surgent Education has been in business since around 1985, Surgent CPA Review was founded in 2013— making it one of the newest CPA exam prep catalogs currently available.
Surgent CPA Review takes an expedited approach to exam prep. In fact, Surgent claims that their students average four times less study time than any of their competitors.
Overall, Surgent CPA Review provides a comprehensive and personalized approach to CPA exam preparation, with cutting-edge technology, an extensive test bank, a pass guarantee, flexible study options, and excellent customer service.
Read on for more about each.
Surgent vs Becker Format and Features
Surgent CPA Review Features
Becker CPA Review Features

Study Materials Formatting

4-part comprehensive review course covering hundreds of topics

4-part comprehensive review course covering hundreds of topics

Video Lectures

350+ hours of video lectures, audio lectures available as well

140+ hours of video lectures, 500 TBS videos

Adaptive Study

✅

✅

Question Bank

7,600 practice questions, + 400 task-based simulations

8,300 practice questions + 500 task-based simulations

Flashcards

2,000 digital flashcards, 1,000+ printed flashcards

1,350 digital and printed flashcards

Full-length Practice Exams

Unlimited practice exams

12 simulated exams, unlimited practice exams

CPA Review App & Game

❌

✅

Unique Study Planner

✅

❌

Updated around CPA Exam Blueprints

✅

✅

Final Review

✅

✅

1-on-1 Tutoring

Virtual sessions available

Five sessions included (more with Concierge)

Pass Guarantee

✅

✅

1-Year CPE Subscription

❌

✅

Customer Support

Ultimate support within one business day

Unlimited CPA prep support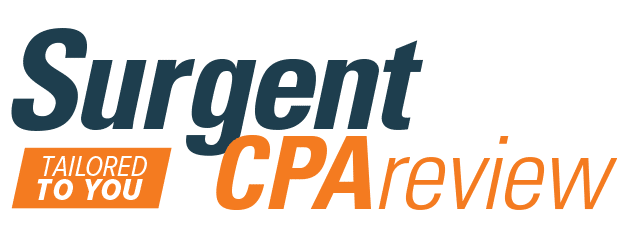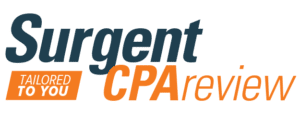 Surgent CPA Review Features
While Surgent Education has been in business since around 1985, Surgent CPA Review was founded in 2013— making it one of the newest CPA exam prep catalogs currently available.
Surgent CPA Review takes an expedited approach to exam prep. In fact, Surgent claims that their students average four times less study time than any of their competitors.
Despite the faster pace, CPA candidates who use this course are very successful, with an 84% CPA Exam pass rate. Additionally, Surgent includes ReadySCORE, which is an A.I. that targets specific exam topics and assigns them to students as an interactive study planner. So, Surgent's study plan focuses on your areas of weakness and uses adaptive technology to help you prepare for each exam section.
As you can see, both Surgent CPA review and Becker CPA expert courses have a lot to offer potential CPA candidates. But when it comes to course formatting and features, Becker takes the lead.
Surgent vs Becker CPA Review: Lectures and Videos
How can you tell the top CPA review providers apart from the rest?
Their content.
Both Becker CPA and Surgent CPA offer unlimited access to some amazing course options. Even their very basic study materials are crafted to help you pass the actual CPA exam. These include printed textbooks, video lessons, a final review cram course, mock exams, and more.
But which of these prep packages has the best lectures and video lessons?
Let's take a look at each.
Becker CPA Review Course Lectures and Videos
Becker offers a four-part review that is broken down in a very predictable way. Each section follows this pattern: lecture, skills practice, practice questions, and simulation practice. Becker's books are known to provide all of the material CPA candidates need to know for exam day. However, this isn't the only area that makes the initial purchase work it.
One area that Becker's CPA review really stands out is its video content. Becker CPA offers two specialized types of videos:
Becker's SkillBuilder videos
ExamSolver videos
With the SkillBuilder videos, Becker's expert instructor shows you how to work both task-based simulations. They also offer problem-solving strategies and time-saving techniques for all Becker students. ExamSolver videos can be found on every multiple-choice question as well as task-based simulation question
They're also available within the mock exams. So, if you get a problem wrong, Becker offers to show you the right way instead of just giving you the answer. This is next-level exam preparation!
Surgent CPA Review Course Lectures, Videos, and Technology
Like Becker, the Surgent CPA section offers several tiers of packages for their CPA course review. But the most important takeaway is that they approach these courses very differently than their competitors.
With each tier of Surgent's course packages, they offer:
7,700 multiple-choice questions
More than 400 simulations
Over 350 videos
E-Books and study notes
When it comes to videos, Surgent CPA Review, vs other prep providers, has bite-sized video lectures. No longer than 10-20 minutes, each video focuses on specific, digestible topics. This ensures you and other CPA prep candidates that you're not wasting any time with the material you already know.
CPA expert Liz Kolar is another reason many people prefer this exam prep course over other providers. Her super passionate yet easy-to-understand delivery makes tough concepts much easier to understand.
The reading material provided by Surgent CPA is broken down similarly. Surgent offers a deep dive into specific topics. It's also fully aligned with the CPA exam's blueprint, so you never have to worry if what you're reading is really targeted toward the actual CPA exam.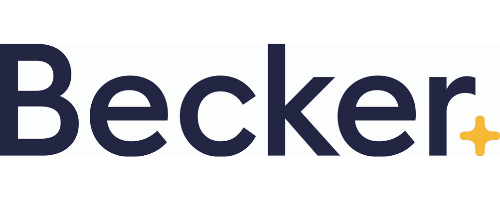 In the first round, we find Becker to have the best offerings of the two. It's hard to pass on a CPA Review with such confidence in their product.
Best Practice Questions and Exams
If you're comparing the Surgent CPA vs Becker CPA review course, one of your biggest points of comparison will be the practice questions. After all, it's the multiple choice questions that can help you determine how much you know.
Simulated exams are also important when it comes to CPA exam prep. After all, many students fail because they arrive at their actual exam having never practiced sitting and answering questions for a four-hour stint.
When it comes to the number of questions provided by each, Becker takes the cake. Although they used to have 7,600+ like Surgent, they have increased their bank to 8,300+.
But it's not just how many questions that matter; it's the quality. One of the reasons the top accounting firms back Becker is because the Becker questions so closely mimic the actual CPA exam. So do their simulated exams. These differ from practice exams as they are timed and mimic the real test experience.
Of course, the Surgent course options include realistic practice questions as well. Although they don't have simulated exams like the Becker CPA review, they do offer unlimited practice exams.
Best Flashcards
For many test takers, digital flashcards (or printed ones) are just as important as other test prep materials. After all, studying spiral-bound cards or those on a flashcard app can help you memorize important information.
Surgent vs Becker CPA review offers several hundred more cards. Both options offer printed and digital study cards. Which you choose to use will really depend on your learning style as well as the prep packages you choose. Not every course includes flashcards, so you'll need to keep that in mind when making your initial purchase. For example, it's not until you reach the second tier of the Surgent review course that you get a print textbook or spiral-bound flashcards.

While these aspects of Surgent CPA Review are new and exciting, we can't overlook that Becker simply offers a vastly more comprehensive course package and massive experience deficit between the two reviews. Becker boasts a high pass rate with a course that does not need to be tailored with an algorithm. This round goes to Becker.
Best Mobile App and Technology
Technology is where both Becker and Surgent shine in one way or another. Two major features from Surgent that set them apart from Becker; A.S.A.P Technology and ReadySCORE. But do they top Becker's highly advanced app? That depends on who you ask. Here's our take:
Surgent CPA Review Advanced Technology
Surgent CPA review vs others has described its A.S.A.P. Technology as a "revolutionary approach to CPA Review". It takes students through a cross-section of multiple-choice questions with an algorithm that pinpoints whatever material they struggle to understand.
Using this technology, they hone in on the weak points throughout the course and correct them accordingly to balance the student's knowledge base. This is something that Becker students don't get, even with the Becker Bump and Becker Promise.
The info tied to Surgent's ReadySCORE, indicates how prepared you might be to take the CPA exam. ReadySCORE is calibrated to the real CPA exam scoring, making it easier to pinpoint those weaker areas. But, if this algorithm-based learning is not for you, don't fret; Surgent makes it easy to abandon this and follow a more linear approach to learning instead.
Surgent also has a mobile app. Using it gives learners access to exam-readiness content, including quick learning sessions, digital flashcards, and Surgent CPA videos.
Becker's Accounting Game
Becker also has a mobile app, and it's something that hasn't been replicated by other CPA review providers. Not only does it give you on-the-go access to all materials, but it also allows you to learn while having fun. Becker offers an accounting game called Accounting for Empires™ that is truly one of its kind.
Surgent CPA Review vs Becker: Who has More Updates?
Both surgent CPA and Becker offer consistent updates to their CPA exam materials. After all, if you're spending your hard earned money on test prep, you want it to be relevant. Surgent keeps up with the changes, knowing all about proposed changes long before they ever happen.
Becker is also tapped into the evolution of the CPA and has a team that focuses on making sure that each overall course is up to speed. This is why many find Becker the best option.

Depending on personal preference, the most affordable option is to enroll in Surgent CPA Review's basic package— but you might not get all the support you need to pass the CPA exam. It's a good idea to take stock of what each course is offering and decide based on your learning style what would be the better path to take. But, simply looking at the numbers, we can say that Surgent CPA Review has the path to the cheapest option available.
Surgent CPA Review vs Becker: Who Offers Better Value?
Value is subjective. But if you're preparing for your CPA exam and are on a budget, you'll want to consider not only the price tag for each CPA review course but also what you'll get in return.
The pricing on each of these courses is always changing. Here are where they are currently.
(Put table in)
Both Becker and Surgent CPA Review cost over $1,500, but they both offer financing options to ease the burden on your wallet.
If you're looking for a cheaper offering, you can get basic study materials along with video lessons and online access to textbooks. This can be found through Surgent's Essentials Pass and is $800-$900 cheaper than similar programs offered by Becker. The Essentials Pass offers access to practice problems as well.
Surgent's Ultimate Pass includes add-ons like customer support, a lot more practice questions, and audio lessons. Of course, the Ultimate Pass comes with a much higher price tag than the bare-bones option. But if your learning style is auditory heavy, you should consider this CPA exam review course option.
Becker's pricing is a lot higher for most of its review courses, but not when you apply the CPA discounts. Even if you do have to pay a little more, it's probably worth it. For one, Becker CPA has simulated exams, a finance game, and a Final Review cram that its competitors simply can't replicate.
Surgent vs Becker CPA Review: Who Has Better Access and Support
With both offerings, it's a good idea to investigate the accessibility both courses offer for your specific career path and learning style— this can be confusing at a quick glance.
Becker offers straightforward and unlimited access to the course content, while Surgent offers "Access Until You Pass." For most students, this is all they need; however, choosing Surgent may make it difficult to revisit courses if you want Continuing Professional Education.
Both Becker and Surgent offer three tiers to their CPA Exam Review course packages; in Becker's case, the lowest tier does not offer unlimited access to the course. However, it does include many study materials that Surgent doesn't, such as print and digital annotated textbooks and flashcards.
If we're looking at the raw numbers, Becker pulls out all the stops at each tier of access here. Additionally, if you choose a package that doesn't offer unlimited access and you happen to fail your exam, you can retake the course for free: that's "The Becker Promise".

When it comes to knowing what you're getting, Becker is the clear winner. This limits some of the customization that you could get with another course, but the tradeoff is a highly intuitive and stress-free study experience!
Surgent vs Becker CPA Winner: Becker CPA Review Course
In nearly every category, Becker CPA Review shows its savvy nature as one of the most respected and utilized CPA review courses by all the big players in finance. Decades of experience have brought Becker to the forefront of CPA review and have allowed them to solidify itself as an immensely strong competitor in the online education space— and they have the results to prove why they stand there.
You can visit Becker's website and find out how to get rolling on your CPA Exam Review!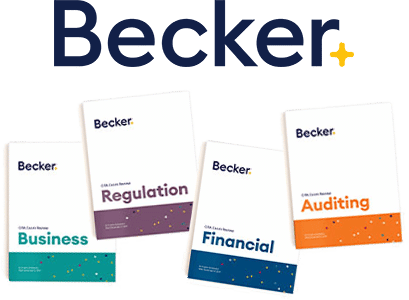 Bryce Welker is a regular public speaker and contributor to several online publications, including Forbes, Inc.com, and Entreprenuer.com. Bryce is the mastermind behind over twenty different websites devoted to providing people like you with the resources necessary to successfully pass certification examinations.