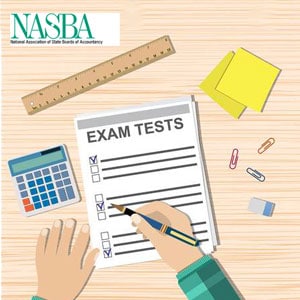 The National Association of State Boards of Accountancy (NASBA) helps each State Board evaluate CPA candidates, determine educational requirements, and move candidates through the CPA exam process.
Each board has specific requirements that CPA candidates must meet; you can find your own state's requirements on the website This Way To CPA. Essentially, the best way to think of earning your CPA license is as a two-step process: meet the requirements of your State Board, and and pass the CPA exam.
Because of its important role in the CPA certification process, any prospective accounting professionals should be aware of what NASBA does and how the organization impacts CPAs.
So read on to find out!
---
See the Top CPA Review Courses
Becker CPA Review Course  ◄◄ #1 Rated CPA Prep Course of 2023
Surgent CPA Prep Course ◄◄ Best Adaptive Technology 
Gleim CPA Review Course ◄◄ Most Practice Questions
---
What Is The National Association of State Boards of Accountancy (NASBA)?
---

NASBA's Strategic Plan
NASBA's most recent strategic plan explains the organization's goals moving forward. Here are some key components of the organization's plan:
State Board Sovereignty
One NASBA goal is to ensure that each State Board retains the ability to determine the education requirements to take the exam in each state, as well as the right to dictate continuing education requirements for a state. Furthermore, NASBA advocates to legislators, regulators, and the general public so that each Board can retain this authority.
One strategy NASBA uses to maintain public confidence in the CPA profession is to ensure an effective and transparent Peer Review program. This program allows CPA firms to review and comment on work performed by other firms in an effort to maintain high standards.
---

Learn More About The CPA Exam
---
CPA Pipeline
The accounting industry needs a "pipeline" of CPAs who enter the profession; NASBA works on initiatives to increase the number of people who become CPAs. Consequently, the organization monitors developments in education that may impact the quality of candidates for the CPA license.
NASBA also works with State Boards to implement a concept called Substantial Equivalency: a program designed to help licensed CPAs practice in new jurisdictions with a minimal amount of paperwork.
Finally, NASBA now offers the CPA exam in countries outside of the US so that exam candidates who are working or living overseas can take the exam. The CPA exam is currently offered in England, Scotland, Ireland, Germany, and several other countries.
International Outreach
NASBA also works with foreign nationals who want to obtain a US CPA license by providing the International CPA Examination Program. Consequently, this program also helps to fill the CPA pipeline.
Increasingly, qualified accountants from other countries need to practice in the US, and NASBA is taking steps to make that process easier.
For example, a mutual recognition agreement (MRA) allows accountants from foreign countries to practice in the US without having to go through the entire credential process. The reverse is also true, meaning that US CPAs can use an MRA to practice in foreign countries.
Enforcement
The Securities and Exchange Commission, Internal Revenue Service, PCAOB, and other regulators enforce laws and regulations that impact the CPA profession. Within NASBA, the Enforcement Resources Committee collects information from regulators that addresses disciplinary and enforcement issues.
Hence, the Committee collects and distributes information to the State Boards regarding individual CPAs and CPA firms so that the industry is well aware of violations and any related penalties.
---

NASBA And CPA Licensing
NASBA plays an important role in the CPA licensing process by working with the State Boards of Accountancy that issue these licenses.
Here are the steps to become a CPA and how NASBA fits into the picture:
Apply to your State Board

: Apply by submitting an application to your State Board. Each state has slightly different education requirements, but the industry is moving toward a

150 hours

of college credit standard, with a specific number of hours in accounting courses. CPA candidates send their college transcripts with the Board application.

Notice To Schedule

: After the CPA exam application is processed, pay all fees and you will be eligible to take sections of the exam. NASBA will issue you a Notice to Schedule (

NTS

). CPA candidates take the NTS to the test site and use the data contained on it to log into the test software.

Scheduling the exam

: You can use the notice to schedule your exam through

Prometric

, the testing company that administers the CPA exam. NASBA works with Prometric to determine test dates and times, time limits, and procedures for rescheduling tests.

Grading

: The Uniform CPA Examination is developed and graded by the AICPA, and the content of the exam is outlined in the

AICPA Blueprint

.
NASBA works with the State Boards on education requirements so that CPA candidates are have a clear path to meet the Board standards. For example, many students may not major in accounting and often return to school to take courses. NASBA helps each State Board to provide clear guidance on education requirements for these students.
The system of taking the CPA exam through test centers has made the process much easier for candidates. Therefore, NASBA has taken the lead in creating a web-based system that is easy to navigate and understand.
Continuing Professional Education
Perhaps the biggest NASBA impact for CPAs is the organization's oversight of Continuing Professional Education (CPE) classes. which are required to renew your CPA license every year (renewals are every two years but minimum credit thresholds are set for each year).
NASBA helps facilitate this process by setting national standards for education courses. Those standards cover the course content, delivery methods, and any review questions the CPA must answer to get credit.
The organization maintains a National Registry of CPE Sponsors, and sponsors must apply, submit course material, adhere to NASBA guidelines, and maintain a list of CPAs who have completed coursework.
While each State Board has specific requirements for annual CPE courses, the quality of the material is largely determined by NASBA's guidelines.
---

Use NASBA's Resources
Every CPA candidate should understand the role that NASBA plays in the CPA exam process, and CPA's have access to a number of resources on the NASBA site. Use these resources to enhance your career and thrive as a CPA.
If you do, you certainly won't forget it!